Yosemite National Park car rental
Our Service
|
FAQs
|
Tips for the Region
|
Important Cities
|
Climate, Cuisine & Travel with children
You can easily book online your car rental at one of our convenient locations like San Francisco Airport or San Jose Airport. If you click on the second tab of our branch menu you will open an overview of our Sixt rent a car Yosemite National Park options on Google Maps. Keep reading on down the page to find out more about our car rental deals for Yosemite National Park and gather some sightseeing tips to help you plan your road trip to Yosemite National Park. We have great insights on top destinations in the area, such as major cities like Sacramento and San Francisco.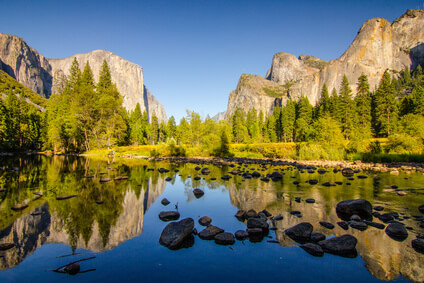 Our Service
We offer an extensive fleet of premium vehicles with our services for car rental for Yosemite National Park. With our luxury and economy car rental models you are sure to find the right rental car to match your budget and mobility needs. You can choose your rental vehicle from among a diverse selection of up-to-date models from leading brands such as Mercedes-Benz, Chevrolet, Toyota and Nissan. Booking online in advance can save you money on both your car rental and optional add-ons.
Which vehicle class is right for my trip?
Compact cars are great on narrow winding roads and for city breaks.
Sedans are the ideal rental car for longer drives as they provide extra comforts and ample leg and luggage room.
SUVs are great for family vacations in Yosemite National Park with plenty of space for outdoor gear.
Minivans and and passenger vans that can hold up to 15 passengers are the perfect way to see Yosemite National Park as a group.
Recommended optional features
Loss Damage Waiver, Supplemental Liability Insurance and Personal Accident Protection
Extended Roadside Protection
Additional drivers
Baby, child and booster seats
GPS navigation systems
Express toll service
Driving License
The renter and all drivers must present a valid original driver's license upon collection of the rental car. Drivers with a non-US driver's license must present a valid passport or a valid government-issued ID card as a secondary form of ID at the time of pickup. Driving licenses in a non-Roman alphabet will need to be accompanied by an international driving permit. European citizens can only drive vehicles with up to 8 passengers.
Minimum age and additional drivers
The minimum age to rent a car in the Yosemite National Park is 21. A surcharge and restrictions on some vehicles is applied for drivers under 25, you can find more information while booking online.
Refueling
You will receive a rental car with a full tank of gas, and it must be returned on full to avoid additional fuel costs. You could also use our convenient pick up full, return low optional add-on, with this extra you can prepay for a full tank of gas and drop off your vehicle on low.
Accidents
If you do have an accident please contact both the police and Sixt as soon as possible. You can reach the emergency services in the Yosemite National Park on 911.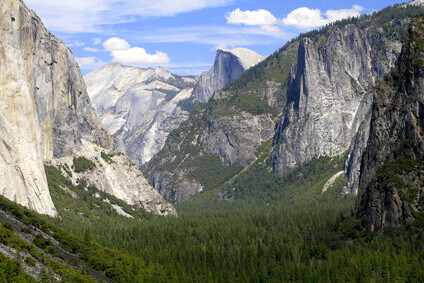 FAQs
What time periods does Sixt offer with car rental?
What documents do I need to rent a car?
Can I pick up a car and return it somewhere else?
Do I have to pay a deposit?
Can I rent a car with unlimited mileage?

Tips for the Region
There is natural beauty for everyone to enjoy at Yosemite National Park with a range of hiking trails suited to different abilities. If you visit Yosemite Valley we highly recommend parking up and taking a shuttle bus, you will beat the queues of traffic as the iconic valley gets very crowded. With over 700,000 acres of park it's not difficult to escape the crowds, a hike to Cathedral Lakes is one example. The hike is medium in difficulty but you get stunning vantage points of Cathedral Peak from both lakes. We also recommend the stunning sequoias of Mariposa Grove, the towering granite El Capitan, the road to Glacier Point for a stunning view of Yosemite Valley and the short steep trail up to Inspiration Point.
Here are some of our favorite visitor centers where you can take your car rental in the Yosemite National Park:
Valley Visitor Center: Open all year round with great access to the Yosemite Valley.
Wilderness Center: A very informative center in Yosemite Village where you can also buy your wilderness pass for full access to the park.
Tuolumne Meadows Visitor Center: Only open in the summer, this site has lots of parking, great access to Tuolumne Meadows, Siesta Lake and Olmsted Point.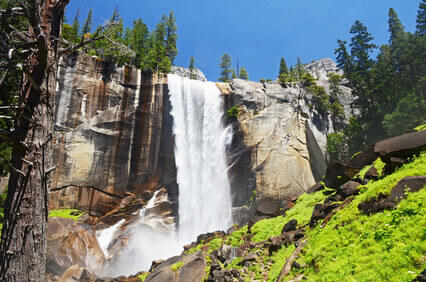 Important Cities
Sacramento
One of the nearest major cities to Yosemite National Park is Sacramento, the capital of California. Old Sacramento features many historical buildings from the 1800s and some reconstructions including California's first theater, The Eagle Theater. The city also has a thriving music scene with jazz festivals, experimental groups, classical performances and choirs in abundance.
San Francisco
San Francisco is a vacation in itself but also a great way to start a car rental road trip into the Yosemite National Park. There are also many tour companies offering trips from the city. If your staying in the city see the major sights such as the Golden Gate Bridge and Nob Hill, and be sure to visit some of the hip neighborhoods off the beaten track as well. The Mission District and Hayes Valley are exciting areas with vibrant bars and cafes. Russian Hill is another fun area with lots of old San Franciscan charm and San Francisco's most crooked street! San Francisco is also famed for its natural beauty, try surfing at Ocean Beach, a stroll in Golden Gate Park or take in the pacific views at Lands End coastal park.

Climate, Cuisine & Travel with Children
Climate
Yosemite National Park has a Mediterranean climate meaning most rain falls in the winter and the summers are hot and sunny. As you travel higher in the Yosemite Mountains expect heavier snowfall, wind and cooler temperatures. If you are traveling to the park in the winter it is best to check out your destination in advance, some parts of the park are not accessible during the winter months.
Cuisine
Though the classic fast food drive-in originated here, California's Mediterranean climate and health conscious eateries make organic, fresh produce readily available. Seafood is extremely popular as well as dishes with Mexican and Latin American roots. The region is also home to the popular Californian wineries. If you are traveling from the south to the Yosemite National Park be sure to do Madera's wine trail north of Fresno.
Traveling with Children
Yosemite National Park is a magical place for children. They will be thrilled by the groves of giant sequoias and majestic scenery all around them. Many of the trails are child-friendly and the visitor centers have activities for children. There are some great shallow spots by the rivers were kids can wade in the water, one of the best being the Merced River on the Yosemite Valley floor.