Fort Lauderdale Car Rental with Sixt
Our Service | Traffic Information | Sixt Tips | Sightseeing Destinations | Business Travel | FAQs  
Take a look at our drop down menu for more detailed information regarding Sixt rent a car Fort Lauderdale locations. Clicking on the second tab of the menu will show you a Google maps overview of where each branch is situated. In addition to our airport and downtown car rental locations we have services reaching to Pompano Beach and Pembroke Pines as well. Download our Sixt app and have the chance to reserve the car of your choice thirty minutes prior to pick up and most of our locations. While booking online you can do a quick price comparison of the vehicles on offer during your desired rental period. Please be aware, however, as specific models are subject to availability at our Fort Lauderdale branches reservations are only guaranteed for the selected car category.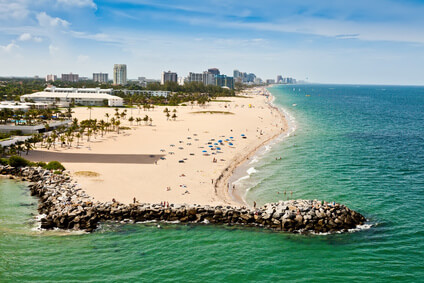 Whether a weekend away and extended stay, a business trip or are spending time in town before or after a cruise, a car rental in Fort Lauderdale helps you get around in comfort and style. Our fleet offers a range of rental cars from Mustang convertibles to Mercedes-Benz sedans and everything in between. You can rent a compact car, a minivan, an SUV or a sports car. We even have a location exclusively providing reliable vans and truck rentals in Fort Lauderdale for commercial or personal use. Whatever you have in mind our diverse selection makes it easy to find the right rental vehicle and our great deals on add-ons means you can customize it to your needs. Include any combination of optional features while you make your reservation. Stay on course with a GPS or tack on an additional driver so you can take turns at the wheel. You can also conveniently leave your child seat at home and book one of ours. More coverage is available as well, like LDW or personal accident insurance, which can provide more peace of mind on the road. Let us know what you need to feel safe, secure and have the most fun while driving your Sixt car rental in Fort Lauderdale.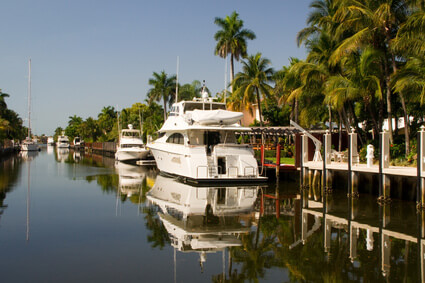 Fort Lauderdale is located 30 miles north of Miami on the Atlantic coast. One of the main roadways is the Interstate 95 (I-95) which runs north-south and connects Fort Lauderdale with the downtown areas of Miami and West Palm Beach. The Florida Turnpike is another important route that can take you north to Orlando and south to the Florida Keys. Or drive across Alligator Alley, also known as the Everglades Parkway, to hit up nature reserves and Gulf Coast hot spots like Naples.
Although streets are laid out in a grid system that is rather easy to navigate, the numerous canals of the east side of the city can make things complicated. Make sure to have a GPS or map ready to show you where bridges are located along your route so you can plan the best way to reach your destination. While visiting the fantastic Fort Lauderdale beach arrive early and plan on parking south of Las Olas Boulevard or under the Las Olas Boulevard Bridge. If necessary head north of Sunrise Boulevard where more spots are to be found on AIA.
Fort Lauderdale is one of the top destinations in Florida and is often referred to as the Venice of America due to its extensive canals. Spend time on its fabulous beach and then head to Las Olas Boulevard where you can browse the shops, visit the NSU Art Museum, and have a fantastic meal outdoors. For a nice contrast to this contemporary scene tour the Stranhahan House Museum or the Bonnet House Museum and Gardens. Both historic homes offer a chance to get an up-close feel for the rich history of Fort Lauderdale. Those who are in town during November can participate in the goings-ons of the Fort Lauderdale International Film Festival, which over the course of its thirty years has grown into a valued venue for independent cinema from around the globe. Of course with beautiful weather year round and over twenty miles of sandy beaches who could blame you for wanting to spend most of your time close to the water.
Another benefit to having a rental car in Fort Lauderdale is being able to seek out and discover lesser known locations. You can broaden your trip with some surprises just a short drive away. Take a ride to rustic Redland and spend the day picking fruit on any of the berry farms, or taking in the sights and smells at the Fruit and Spice Park or the RF Orchids gardens. Wind down at the local winery whose beautiful grounds offer respite while their wines provide the excitement as they are made not with grapes, but tropical fruits. Other alternatives to the beaches and boutiques of Fort Lauderdale are the many nature centers and state parks in the region perfect for a rage of outdoor activities. While in the area it might also interest you to learn more about the Seminole Tribe who first settled the landscape. Head west on Interstate 75, known as Alligator Alley, and keep your eye out for highway namesake as you drive to the Ah-Tah-Thi-Ki Museum on the Big Cypress Seminole Indian Reservation. Here you have the opportunity to learn about the culture and last 300 years of Seminole history from the thousands of artifacts and thoughtful exhibitions.
Sightseeing Destinations back to top
Key Biscayne
Just south of Miami Beach, Key Biscayne, is a great escape that gives you that island feeling without having to travel far. Families can enjoy a day among the calm waters and the soft, sandy beach at Crandon Park which also offers cheap and plentiful parking. The park features a marina, golf course, tennis courts and a children's playground with a restored carousel. Or you can head to Bill Baggs Cape Florida State Recreation Area. Here you can partake in a range of water activities like ocean kayaking and windsurfing. Take a tour of its lighthouse before finding a spot on the beach to watch the sunset over the beautiful turquoise water.
Distances to Key Biscayne
From Fort Lauderdale Airport: 36 miles about 1 hour
From Downtown Fort Lauderdale: 37 miles about 1 hour
From Pompano Beach: 43 miles, about 1 hour
From Pembroke Pines: 34 miles, about 1 hour
Flamingo Gardens
Another chance for a far out experience without having to go the distance is to be had at Flamingo Gardens. Featuring a botanical gardens, an Everglades Wildlife Sanctuary and the historic Wray Home it will be a full day of discovery. You can marvel at the over 3000 species of rare and exotic native plants from the tropics, or say hello to the native and other animals that have taken up residence due to their inability to live in the wild.
Distance to Flamingo Gardens
From Fort Lauderdale Airport via I-595 W: 17 miles about 25 minutes
From Downtown Fort Lauderdale via FL-84 W: 17 miles about 25 minutes
From Pompano Beach via I-95 S: 23 miles, about 30 minutes
From Pembroke Pines via N Flamingo Road and S Flamingo Road: 5.6 miles, 12 minutes
Once famous as a spring break destination, recent years have brought Fort Lauderdale to the forefront of global trade with half of its local businesses involved in international commerce. A big player in South Florida's so-called Internet Coast, it is part of a region that hosts over 6,000 high-technology firms. Many major businesses events take place at the Greater Fort Lauderdale Broward County Convention Center. Situated just five minutes from the Fort Lauderdale/Hollywood International Airport and close to many premium hotels it makes it a convenient meeting point for all kinds conferences, trade shows and more.
Distance to Broward Convention Center
From Fort Lauderdale Airport: 5 miles about 15 minutes
From Downtown Fort Lauderdale: 2.7 miles about 8 minutes
From Pompano Beach via I-95 S: 14 miles, about 25 minutes
From Pembroke Pines via Florida Turnpike: 19.3 miles, 30 minutes
Which documents are needed to pick up a rental car?
Will I be covered by my own car insurance?
What is included in the rental charges?
Can I rent a specific car model?
Can I change my booking and do I have to pay a cancellation fee?
Can I cross state lines and/or borders with my rental car?
Can I rent the car at one place and drop it off at another station?
What is Sixt's refueling policy?
What add-ons are available and how much do they cost?
Can I rent a car with unlimited mileage?
Does Sixt deliver and/or collect rental cars?
Do I have to pay a security deposit?
If you cannot find an answer to your question or require more details, please visit our car rental FAQs page.