Sixt rent a car offers a large range of rental services and add ons in the UAE.Some of the vehicle categories you will be to rent from Sixt in the United Arab Emirates are convertibles, SUVs, economy and luxury vehicles. Whether you plan to visit the Emirates for business or recreation, our car rental services are available for all budgets and tastes. We know everyone is different so we also offer flexible rental times, rent long term, monthly, or for just a few days with Sixt in United Arab Emirates. Choose Sixt at on of the cities below!
Rent a Car in the United Arab Emirates with Sixt
To ensure drivers are fully protected against any hazards on the road, Sixt also lets you add a loss damage waiver and supplemental liability insurance. When you rent a car in the United Arab Emirates from Sixt in advance either online or via phone, you can be sure you favorite vehicle will be ready to go when you arrive to pick it up at the airport or another convenient location.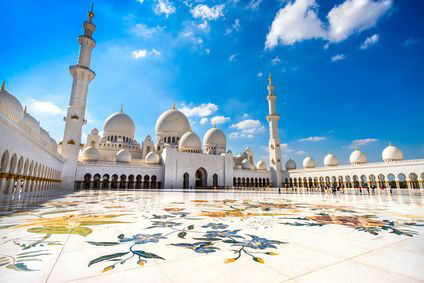 Driving Rules to Follow in the United Arab Emirates
To legally drive in the United Arab Emirates, you must be at least 18 and have an international driving permit. Keep in mind these basic driving rules before you use a car rental in United Arab Emirates:
Traffic moves on the right side of the road, so overtaking is on the left.
Talking on your phone without a hands-free feature while driving is prohibited.
Wearing seat belts is mandatory for all car passengers.
The speed limit in most urban areas is 50 mph and may range from 60 mph to 75 mph elsewhere.
Please be sure to review the other road regulations in the United Arab Emirates while using any car rental services.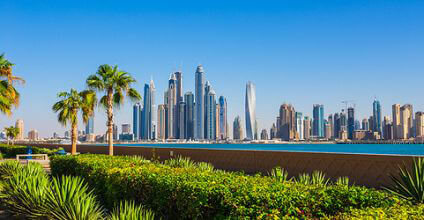 Getting around with a Car Rental in the United Arab Emirates
Using Sixt's car rental in the United Arab Emirates is a convenient way to get around. The sometimes scarce or overcrowded public transportation in such cities as Dubai or Abu Dhabi makes a rental car almost indispensable. If you plan to explore remote locations of the United Arab Emirates, an air-conditioned SUV will help you tackle the fierce heat and rough terrain of the desert roads. No matter if you want to enjoy the spectacular scene of the desert plants or even catch a view of a dust storm, you can travel across the United Arab Emirates in the comfort of your own vehicle.