Get the best of Dubai in a rental car
Click to jump to: Our Service  |  Traffic Information  | Sightseeing Destinations  | Business Travel
All of our Dubai branches offer a range of up-to-date, top quality vehicles. From sport SUVs to sleek sports cars and convertibles, you can easily find the right vehicle to match the vibe your trip. Once you have chosen the optimal location, book your rent a car for Dubai online and choose from our selection of add-ons. Please take note that as specific models are subject to availability we can only guarantee reservations for the car category. 
What to Do in Dubai in Winter 2019
As a modern city rising from the desert, Dubai is a great winter escape. In this cooler season you can visit the world's tallest building, the largest mall, and even a ski hill without breaking a sweat. In the pleasant weather you can see the Dubai Fountain Shows outside the Dubai Mall. At the Mall of the Emirates you can ski or snowboard at an indoor hill. To see some futuristic architecture, visit the Burj Khalifa, also the tallest building in the world. The Jumeirah Mosque is opulent on the inside and outside, and also open to non-Muslim guests. Visit the artificial archipelago, Palm Jumeirah to watch the sun set or do some luxury shopping. We recommend a convertible for your visit to Dubai in winter to enjoy the warm desert air.
Our Service
Whether on holiday in United Arab Emirates or have time in Dubai during a stopover on your way to another destination, a rental car can help you make the most of your time. With our flexible time period rentals and special weekend rates we can help you arrange a rental to match your budget and mobility needs. Do a quick price comparison of the models you can rent during your stay in Dubai when you go to our booking page. You can also tailor your car to your requirements with our optional extras. We have numerous add-ons to make driving in Dubai as comfortable as it can be. Include a GPS to stay on course, an additional driver to share the wheel or book a child seat so you can leave yours at home. Various coverage options are available as well, such as LDW.
Traffic Information
Dubai has a great road system and its continually expanding to accommodate the ever growing volume of traffic. As roads can get congested you can always opt for a calmer route. For example making use of Beach Road and Al Wasl Road to avoid the fast and furious driving that often takes places on the SZR. If heading in the direction of Abu Dhabi, wait until the morning truck traffic has cleared before driving on Al Khalil Road and Emirates Road. The same applies for both roads regarding the evening traffic towards Sharjah. The Dubai Bypass Road is another good option for those less experienced driving in Dubai. Furthermore, be aware that some confusion about road names might ensue due to slight differences in transliterated spellings and that the on-going construction may make finding your destination more of a challenge than planned.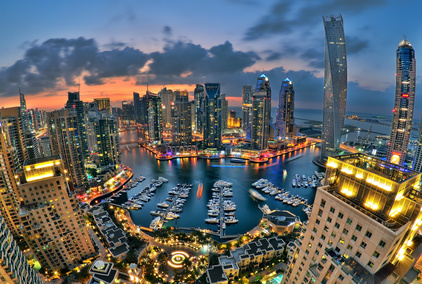 Sixt Tips
Dubai was transformed in the late 1970s from its original desert landscape into the contemporary city that it is now. In the last decade or so Dubai has quickly become the most expensive city in the Middle East and its residents enjoy a high standard of living. It is known around the globe for its decadent shopping malls, luxury resorts, an incredible array of attractions. Dubai has won many world records for its forward thinking architecture as well. According to total area, the Dubai Mall is the largest in the world while the popular Burj Khalifa skyscraper sets the record as the tallest structure in the world. Whether on a shorter or longer stay in the city you will be swept away by the size and breadth of all it has to offer.
Sightseeing Destinations
Ski Dubai
Wish you could enjoy snow all year round? Well your wishes can come true at Ski Dubai located in the Mall of the Emirates. Dubai is home to the first indoor ski resort in the Middle East so that means you can go from a morning on the beach to an afternoon on snowy peaks. Don't know how to ski? No problem! Sign up for a lesson or spend time swimming with the penguins instead.
Palm Island
The Palm Islands off of the coast of Dubai are the world's largest artificial islands, and one of only a handful of man-made structures that can be seen all the way from space. Each island is formed like a palm leaf, connected to the mainland from its trunk and extending out from its fronds. Of the three, only Palm Jumeirah is open and visitors can spent time at its fancy resorts, sporting marinas and upscale shopping areas.
Business Travel
The entire concept around the development of Dubai is rooted in commerce and trade, with Dubai being one of the most competitive markets in the Middle East and Asia. Around 70% of the Emirates population is comprised of expatriates due to its abundant job opportunities thanks to Dubai's extremely open and diverse economy. The Dubai World Trade Centre complex is the biggest convention and exhibition space in the region, with on-site accommodation and performance spaces fusing together both your business and personal needs. It's close proximity to downtown makes it easy to network and get around to different events in the Emirates by car rental in Dubai. The World Green Economy summit, GITEX technology show, and Sea Trade exhibit are among some of the 500 events hosted every year in Dubai.