Dubai has one of the best road networks in the world and driving here is an exhilarating experience. Being in a car opens a whole new side of the city for you to see, one that goes beyond the glances from a cab's window or the blurred sights you see as you speed through the city on the metro. As exciting as it might be driving in Dubai, the experience may be daunting, especially for people new to the United Arab Emirates. There's a lot to keep in mind as you navigate the city, so here are some driving tips for Dubai.
Driving rules and regulations
General
Driving is on the right side of the road in Dubai.
It is required that all occupants of a moving vehicle wear seat belts.
Children under 12 can't ride on the front row unless they are in an approved rear-facing car seat with the airbag disabled. Children under 12 riding in the rear must be in appropriate safety or booster seats with the restraints in place.
Due to religious restrictions on alcohol, it is illegal to drink and drive in Dubai. The blood alcohol limit for driving is 0%, and this law is strictly enforced. You risk an almost certain jail sentence for breaking it.
Do not use your phone or other devices as you drive.
Always keep a safe distance when driving in Dubai. Maintain at least a 5-second gap between you and the car in front.
The left-most lane on Dubai roads and freeways is the fast lane. Unless you intend to stick to the upper limit of the speed allowed, stick to the slower right lanes.
Watch for emergency vehicles with flashing lights stopped on the road or shoulders. Slow down and pass with caution and always be ready to stop when you come across emergency vehicles or staff on the road.
Always give way to emergency vehicles and never tailgate, race or pass an emergency vehicle with flashing lights.
Speed limits
Dubai has many traffic cameras to catch speeding drivers. A tip for driving in Dubai: Drive cautiously and always stick to the speed limit. If someone near you is speeding, pull over or maintain your speed and let them go around you. The speed limit in Dubai is in kilometers per hour and not miles per hour.
For highways, the speed limit is set between 60-70 mph (100-120 km/h)
For urban roads, the speed limit is set between 40-50 mph (60-80 km/h)
When driving on small suburban roads, stick to 25 mph (40 km/h).
Passing, turning and parking
Passing
Since driving is on the right in Dubai, ensure that you always pass from the left. If you're changing lanes, ensure that you check all three mirrors and do a shoulder check to confirm that the road is clear. Turn on your indicator signal to communicate with drivers behind you, then change lanes.
Turning
Do not turn right at a red light unless there is a yield sign.
Only maneuver in dedicated lanes. For instance, do not make a U-turn at non-dedicated U-turn lanes.
Parking
Parking is prohibited where the curb is painted yellow and black.
In the Dubai city center, you have the option of street parking and parking garages. Garage parking is much easier to come by than street parking.
You can pay for street parking at the parking meters or use the parking mobile app, which also warns you when your ticket is about to expire.
Special parking arrangements are made for disabled drivers with reserved spots on the streets and in parking garages.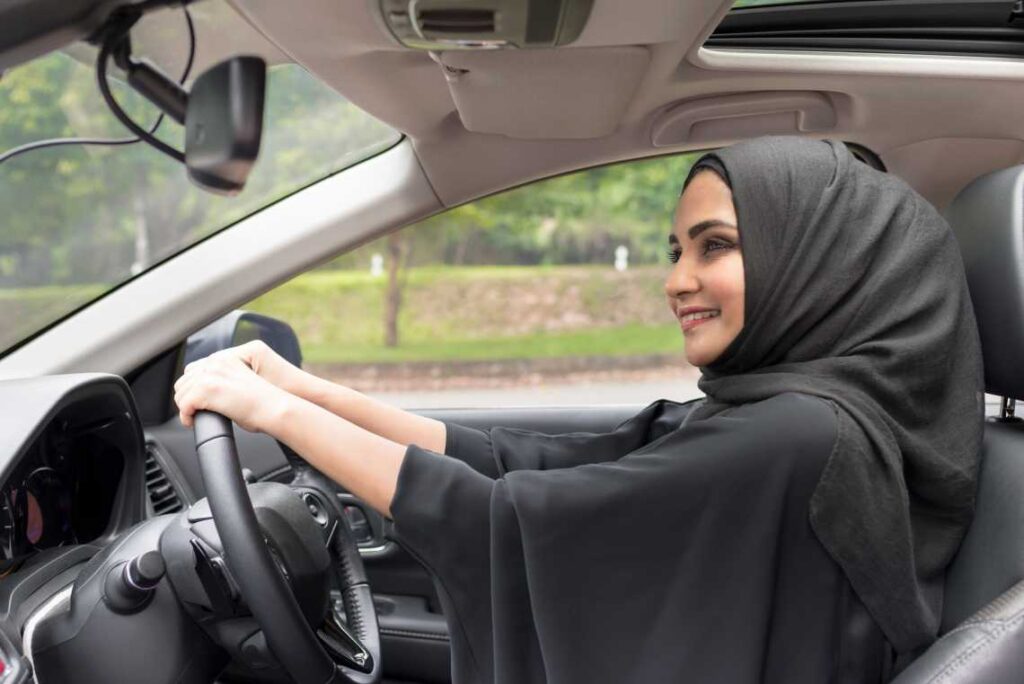 Right of way
Give way to pedestrians at a designated pedestrian crossing.
Give way to vehicles that are on major roads at T-junctions.
Give way to vehicles coming on the road when you're pulling out of a parking spot.
Give way to vehicles on a major road if you're approaching from a minor road.
Stop and give way to children boarding or alighting from a school bus with flashing lights.
Give way to emergency vehicles and military convoys.
Give way to the vehicle that arrives first at a traffic junction or traffic circle with no traffic signals.
Driver's license requirements
Foreign drivers are required to have an international driving permit and passport to accompany their license.
Even though it isn't required, it is good to carry your vehicle registration documents, proof of insurance and proof of identity when driving.
The minimum age for driving in Dubai is 18 years, but rental car companies likely have higher minimum ages.
Tolls
The following roads have tolls in Dubai:
Sheikh Zayed Road
Al Garhoud Bridge
Al Maktoum Bridge
Beirut Street
Al Ittihad Street
To pay for tolls in Dubai, you'll need to register with Salik and attach the Salik tag to your windshield. When you drive through the toll gates, the tag is scanned, and toll fees are electronically deducted so you don't have to stop to pay. Salik tags are available at gas stations.
Emergency numbers
In the case of a roadside emergency, you can call any of the following numbers while in Dubai:
Police – 999 or 112
Ambulance – 998 or 112
Fire department – 997 or 112
The DCAS SOS app for emergency ambulance services is also handy for drivers in Dubai. The app comes with an SOS feature that determines the person's exact location.
Dubai car rental with SIXT
With these driving tips, you are ready for your Dubai car rental from SIXT. We have several locations in Dubai, some downtown and others at the nearby airports, allowing you to get your own set of wheels as soon as you arrive. From convertibles to SUVs to luxury rentals, SIXT Dubai has it all. If you're going to be exploring the incredible UAE deserts, we recommend an all-wheel-drive vehicle and a GPS add-on. Convertibles are great, especially if you're looking to feel the coastal breeze in your hair. With a SIXT car rental, the historical Al Fahidi neighborhood, Hatta Heritage Village and Burj Khalifa are all within reach.