West Coast car rental with Sixt
Our Service
|
FAQs
|
Tips for the Region
|
Important Cities
|
Climate, Cuisine & Travel with children
Our car rental fleet available on the West Coast features an array of up-to-date, leading brand vehicles. Choose your car rental from models from trusted manufacturers such as Mercedes-Benz, Toyota, Chevrolet and more. Keep reading on down the page for helpful insights about travel in the region and detailed information about how to rent a car on the West Coast. We give you some great tips for driving to Los Angeles, Santa Barbara and San Diego, our pick of Top 3 cities.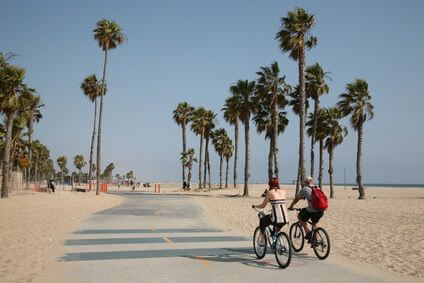 Our Service
With our friendly customer service and secure online booking process we can get you on the road quickly and comfortably. Our car rental on the West Coast options include a diverse selection of vehicles, designed to meet a range of mobility needs. No matter what your road trip on West Coast entails we can match you with the right rental car!
Which vehicle class is right for my vacation?
Compact cars are a great choice for busy cities, making it easy to find parking spots and maneuver tighter streets.
Sedans are perfect for long distance drives with their top comforts and ample luggage and legroom.
SUVs are a good option for adventures with plenty of space for friends and outdoor gear.
Minivans and station wagons are great for family vacations, making sure everyone has enough room for a relaxed ride. Some of our West Coast car rental branches even have passenger vans which can seat up to 15 passengers.
You can customize any of our car rental deals on the West Coast with numerous useful add-ons. These include a wide range of protection options as well as practical solutions for added driving convenience. You can see what is you available to include to your rental car while booking online.
Recommended optional features:
GPS navigations systems
Baby, child and booster seats
Additional drivers
Loss Damage Waiver and Supplemental Liability Insurance
Extended Roadside Protection
Diamond Service
Driving License
The renter and all drivers must present a valid original driver's license upon pick up of the rental vehicle. All drivers with a non-US driver's license must produce a valid passport or a valid government-issued ID card as a secondary form of ID. Driving licenses printed in a non-Roman alphabet must be accompanied by an international driving license.
Minimum age and additional drivers
The minimum age for car rental on the West Coast with Sixt is 21, a young drivers surcharge is applicable for divers under 25. Some further regulations apply on certain vehicle types, you can find more information when booking online.
Refueling
All of our rental cars are provided with a full tank of gas. Please remember to fill your tank when returning your vehicle to Sixt. Alternatively you can tack on our prepaid fuel option to your car rental, prepaying for a full tank of gas which enables you to return the vehicle on low.
Accidents
If you are in an accident please contact the police straight away and report any damage to the rental car to Sixt immediately. You can contact emergency services free of charge by dialing 911.

FAQs
What time periods does Sixt offer with car rental?
What documents do I need to rent a car?
Can I pick up a car and return it somewhere else?
Do I have to pay a deposit?
Can I rent a car with unlimited mileage?

Tips for the Region
A road trip on the West Coast offers a chance to experience cinematic landscapes and a thriving cultural scene. With rugged mountains rising behind the coastal cityscapes and golden beaches stretching out into the Pacific, you are never far from your nature fix. Just a few hours outside of Los Angeles there are some excellent drives, bringing you to top tourist destinations. We recommend the ski resort and mountain town Big Bear, Joshua Tree National Park, the beautiful Laguna Beach, Los Padres National Forest and the Santa Barbara wineries.
Distances from Los Angeles to Joshua Tree National Park and Big Bear:
Los Angeles to Joshua Tree National Park via I-10 E: 131 miles, about 2 hours
Los Angeles to Big Bear via CA-210: 97 miles, about 1 hour and 45 minutes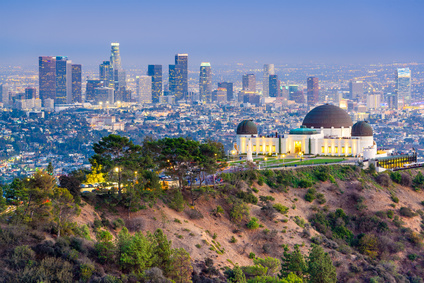 Important Cities
Los Angeles
Los Angeles, or LA, is the perfect city for a rental car, as it is very spread out. To get around you will have to travel a fair distance down well-connected boulevards or freeways. We recommend a trip to the famed Getty Center. Entry to the Getty is free, the architecture is Los Angeles at its finest with fantastic grounds and the art on view is an impressive blend of American and European works. A great family day out in Los Angeles is on Santa Monica Pier, there are great views of the waterfront, talented street performers and tasty fast food.
The more mainstream sites of LA like the Hollywood Walk of Fame are countered with a wide array grassroots galleries, music venues and artisan studios churning out innovation from LA's diverse neighborhoods. In this melting pot of cultures a plethora of tastes and styles are served. We love Koreatown for its eateries, Franklin Village for the laid back bars and a drive up to Eagle Rock for the sheer beauty of a sunset over la la land.
Santa Barbara
With its city beach front and al fresco restaurants it's easy to see why Santa Barbara branded itself the 'American Riviera'. The Mediterranean climate and the stunning backdrop of the Santa Ynez mountains also help. The Spanish architecture also adds to the city's Mediterranean flavor. If you are lucky enough to visit while the annual summer solstice party is happening in late June, don't miss it. State Street goes wild all weekend with floats, arts shows, beer and wine stands and live music.
San Diego
The waterfront city of San Diego is best taken in from Bay View Park, it's small but the view of the city skyline and Cowles Mountain peak is massive. Surfing, stand-up paddling and kayaking in sea caves are just a few of the outdoor activities on offer in this waterfront city. Theme parks and zoos are to be found in abundance across the waterfront, making it an ideal city break for a family. Mission Bay alone has 27 miles of pathways to amble along enjoying the pacific vistas.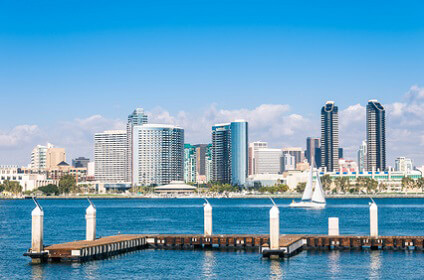 Climate, Cuisine & Travel with Children
Climate
There is huge variations in climate on the West Coast depending on where you are and how high up. In Death Valley it can get dangerously hot with some of the highest reported temperatures in the world! This contrasts massively to temperatures in the mountains, in ranges such as the Shandin Hills you can expect snowfall and freezing temperatures in the winter months.
Cuisine
The West Coast is famous for its seafood and fusion dishes. While fast food is common so is organic produce and fresh experimental cuisine. Fusion cuisine on the West Coast draws from Italian, French, Mexican, Chinese and Japanese cuisine, you will often find exciting and inventive takes on traditional dishes. A recent trend is for 'Fresh Mex' or 'Baja-style' Mexican food that often involves seafood and puts emphasis on fresh ingredients.
Traveling with Children
Beaches, natural sights and national parks provide an natural playground for children where swimming, picnics and camping in the wild are popular activities for families. In LA you have a huge number of attractions for all the family, try bouncing on the trampolines to high energy pop music at Sky High Sports or get a child friendly farming experience at Underwood Family Farms with train rides, farm animals and pony rides. The Griffith Observatory is also highly recommended, in the child friendly displays kids can check out how much they way on different planets and learn about our human relationship with the stars.