Sixt Car Hire in St Petersburg Russia
With two convenient Sixt locations in St Petersburg, Russia the sky is the limit when looking for the perfect rental car to use and enjoy on your vacation. Our Pulkovo International Airport branch has 24 hour car rental service and the St Petersburg Hotel Angleterre branch is located downtown in the center of the city and close to several sights and attractions. Both locations offer an assortment of cars to select from, be it something more spacious for lengthy road trips or economy style for the money saving customer. Some examples of our large fleet of attractive vehicles are sports cars, vans, station wagons, 4x4's, and SUV's. Whether the primary purpose of your trip is business or pleasure, reserving a car rental in St Petersburg is a convenient and leisurely way to explore the glamorous city and former capital of Russia. Drivers can feel reassured that when they rent a car in St Petersburg, we offer extra features for optimal protection such as personal accident coverage or supplemental liability insurance.
Using your Sixt Rent-a-car in St Petersburg, Russia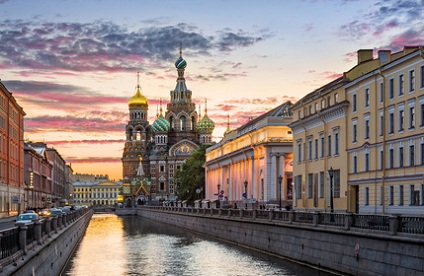 In St Petersburg there is much to be seen and to experience in this world class and historically significant city. In addition to the architecture and culture there are carefree and fun things to do such as frolicking in the Peterhof Palace Fountains. Hundreds of gravity operated water fountains interspersed with bronze sculptures and artwork are the playgrounds for adults and kids in the warmer months from May to October. Your car rental in St Petersburg will come in handy because the palace fountains are much more accessible via car rather than with public transport. Without a doubt the Hermitage Museum ranks among the top visited and most popular attractions in St Petersburg. Plan to spend at least half a day discovering the collections and galleries. The museum houses artwork from some of the worlds finest artists including Leonardo da Vinci, Rubens, and Rembrandt. Sixt Car Rental in St Petersburg is pleased to serve you and assist you find the right vehicle for your trip.