Click to jump to: Our Service | FAQs | Driving Tips | Places of Interest
Rent a car in Germany with Sixt
With downtown, train station and international airport branches all over Germany, we are ideally situated to help you quickly continue your journey. You can always easily book online and depending on the car class you can generally cancel your reservation without charge. You can drive down the famous autobahns in style with Sixt.
What to Do in Germany in Summer 2019
The weather in Germany during the summer is a bit unpredictable, ranging from hot to cool and rainy. But you will see a different side of the country full of greenery and seasonal produce, which the Germans showcase in restaurants and stands on the street. Summer is also prime time for two beloved pastimes: hanging out in beer gardens, and hiking or doing something outdoors. People flock to towns and islands on the North Sea, like Usedom, for beach vacations and fresh seafood. Most German cities have proper beer gardens, but if you happen to be in Munich, you will have no problem finding an authentic one. If visiting Berlin, it%u2019s worth the 1-hour train ride to the Spreewald, a protected biosphere with canals and a recreated traditional German village. For hiking, head to the mountains in Bavaria or the Black Forest. And if nothing else, there is no shortage of historic towns to visit throughout the country!
Our Service
With our car rental deals in Germany you can drive an array of premium brands such as Mercedes-Benz, BMW, Jaguar, and Audi. You can choose an automatic vehicle, book a child seat or arrange a one way car rental. Optional extras can be added to your rental vehicle on the bookings page.
Which vehicle class is right for me?
Compact cars are ideal for densely populated large cities.
Sedans are a good choice for weekend trips and long-distance trips between cities.
Station wagons and SUVs are ideal for ample leg and luggage room. Typically you have space for three large suitcases plus two hand bags.
When traveling with a bigger party we also have 7 to 9-seater minivans and 12, 15 and even 17-seater passenger vans.
TIP: It is generally cheaper to rent a car at least three months before any high season. Free cancellation up to 24 hours before collection is almost always possible, but is dependent on the chosen tariff.
FAQs
Driver's license
In Germany, all driving licenses from EU countries are accepted. If your license is printed using a non-Latin alphabet, for instance in Russian, Arabic or Chinese, you will need to get an International Driving Permit (IDP). An IDP can only be obtained before you leave the United States from either the American Automobile Association (AAA) or the American Automobile Touring Alliance(AATA). Generally countries that speak English will not require an IDP.
Age restrictions
All drivers aged 18 and older may rent a car in Germany with Sixt. When you are in the booking engine there is also a menu with the age requirements for specific car models. Note that a young driver surcharge applies for those under 23.
Payment Methods
Payment for your car rental in Germany must be done via credit card. Sixt accepts all major credit cards and AirPlus, while all prepaid and debit cards (such as VISA Electron) are not accepted. The payment method must have been issued in the name of the driver and this must be presented at the time of vehicle pick-up and be valid at this time.
Accidents
You can reach the rescue service in Germany under emergency number 112. For direct assistance, you can also contact us by telephone at +49 (0) 180 6269999. You can reach the rescue service in Germany under emergency number 112.
Crossing Borders
When renting a car in Germany there are restrictions on driving into neighboring countries, often based on the type of vehicle you have rented. The countries are divided into three zones and specific restrictions apply to each. For instance, you can drive into France, Italy or Sweden unrestricted, but entering Poland is dependent upon your car type and manufacturer. More information on this topic can be found here: Rental Information. In case of offense against crossing borders and territorial restrictions all coverage will be void of validity.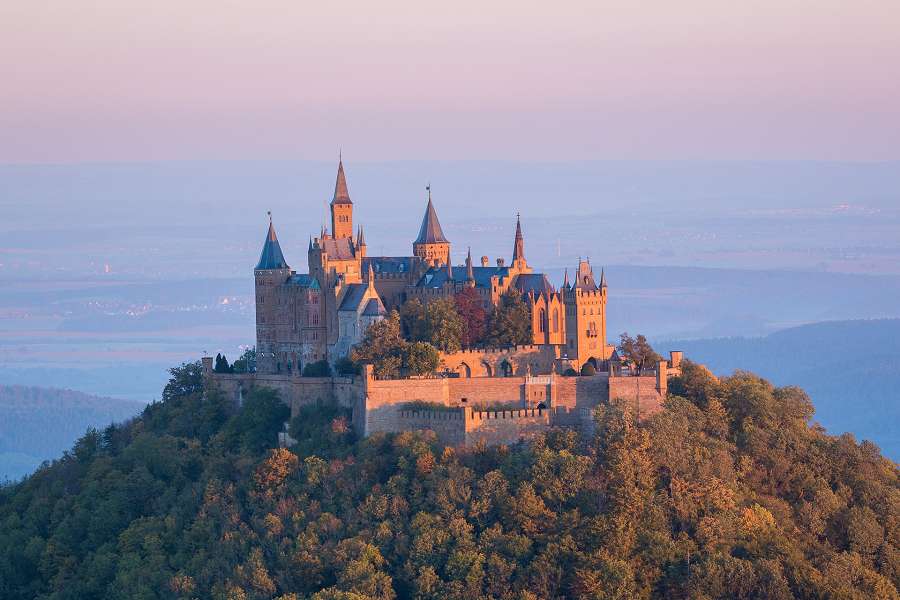 Driving Tips
The German road network is excellently maintained which makes short and long-distance road trips easy. German drivers generally hold strictly to the traffic rules, and will happily use their horns to inform someone who is not. When a multiple lane road merges into one the vehicles in the lane that is ending are expected to drive to the end of their lane before yielding into traffic.
Here are some more tips for driving with your rent a car in Germany:
Remember that distances are calculated in kilometers and the speed limit will be posted in kilometers per hour.
German roads are divided according to size, the letter B is designated for main roads and the letter L refers to smaller, rural routes.
In Germany highway signs are marked in blue and federal roads in yellow. Three-lane connecting highways are known as Autobahns. Each kind of roadway has its own speed restrictions.
Drivers must stop at crosswalks for pedestrians and should take caution when driving behind public buses, and be aware that trams always have the right of way.
If the rental car is damaged during journeys over unpaved roads you will be responsible for the cost of repairs. It is advisable to completely avoid driving on any unmarked or unofficial roads.
General speed limits in Germany:
In urban areas, a maximum speed of 50 km/h (30 mph) is generally permitted, although sometimes limited to 30 km/h.
On country roads a maximum speed of 100km / h (60 mph) is generally permitted although sometimes limited to 70 km/h (40 mph).
Some sections of the German Autobahn network have no maximum speed limit; when speed is restricted the maximum speed limit will be posted.
Sightseeing in Germany
The third-largest church building in the world, the Cologne Cathedral is a UNESCO World Heritage site and a masterpiece of Gothic architecture. The Sanssouci Palace in Potsdam is one of the most beautiful historic palaces in Germany and often referred to as the Prussian Versailles. The Mercedes-Benz Museum in Stuttgart shows the 130-year history of the automotive industry from its start. The center of Dresden's historic old town is full of stunning baroque architecture home to find examples such as the Semperoper, Frauenkirche, and Zwinger.
Top 4 Natural Sights
The Jasmund National Park on the island of Rügen is the smallest and most beautiful national park in Germany, with thick forests growing next to the coast's high white chalk cliffs. The Volcanic Eifel region in the far west of Germany boasts crater lakes such as the Daun Maar and numerous other signs of volcanic activity. The Saxon Switzerland National Park is an El Dorado for hikers with its imposing views of the Elbe Sandstone Mountains. From Krun you are offered a breathtaking view of the Karwendel Mountains, four large mountain ranges that rise to over 200 meters.
* more than 500 Locations in Germany
Popular Car Rental Locations in Germany
Berlin
Munich
Hamburg
Dusseldorf
Cologne
Frankfurt
Nuremburg
Stuttgart
Hannover
Additional Sixt Services