There are so many GPS navigation apps available to download on your smartphone. It's often difficult to decide which ones are worth taking up storage space, and which ones aren't worth your time or money. Here, in no particular order, we give you the pros and cons of 20 apps that are worth a look and will get you where you need to go. Some are simply for navigation or finding the best route based on traffic, while others have integrated features like location sharing on social media or routes for backwoods hiking. The basic versions of all of them are free, although many of them offer premium features for a monthly or yearly fee.
1. Google Maps
The granddaddy of GPS navigation options for almost any type of transportation.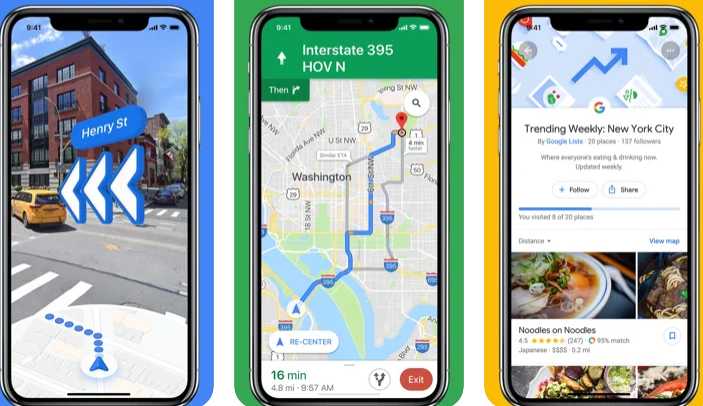 Pros:
Works for many forms of transportation
Tells you about traffic issues
Gives you departure and arrival times for driving.
Real-time ETAs based on traffic conditions
Offers automatic rerouting due to traffic, accidents or other road conditions.
Available offline
Cons:
No social media sharing function
Some reviews complain about next-turn directions that are missing or incorrect, with people missing their exits.
GPS can drain your phone battery
If you make a wrong turn, it will often redirect you back to the original route, even if a new route would be shorter.
User reviews from 2021 mention issues with app updates like the removal of features like upcoming turns and automatically changing the route due to accidents.
Download availability: iOS and Android
2. Waze
This app stands apart due to its crowd-sourced traffic information.
Pros:
Lets you know about accidents, construction, police, road closures and other traffic-related items in real-time so you can choose an alternate route.
Community editors are constantly updating the maps to keep everything up to date.
Users can share current gas prices.
Feature to connect the app to Facebook so your location is posted in your timeline.
Can save you time by allowing you to find the most efficient route based on traffic conditions.
The more you use the app, the better it gets to know you, learning your frequently used routes and destinations, as well as the hours when you commute.
Cons:
Icons for roadwork and other obstructions can clutter up the map, obscuring your view.
Social aspects can be distracting if you are getting a lot of notifications with sounds.
Phone battery can be drained quickly because the app is always updating with new information.
Download availability: All smartphones and tablets with GPS functionality
3. MapQuest
One of the original navigation services in desktop format also exists in app form.
Pros:
Focus is mostly on maps and driving directions, although it also offers turn-by-turn navigation and traffic information.
Offers multiple routes to choose from based on what you prefer
Can see traffic issues both in the map and in webcams.
Live traffic camera feature allows you to see how many cars are on the road.
The colored "traffic bar" at the top of the page shows route progress and traffic flow.
Can tell you where to find best gas prices.
Allows you to search for and book hotel and restaurant reservations in the app.
Cons:
Pop-up ads turn some users off.
Map size can be too small to see details
Mobile version can give inaccurate directions.
Not available offline.
Download availability: iOS, Android
4. Maps.Me
This app is for the globetrotter, as its main feature is high-quality maps around the world for use offline.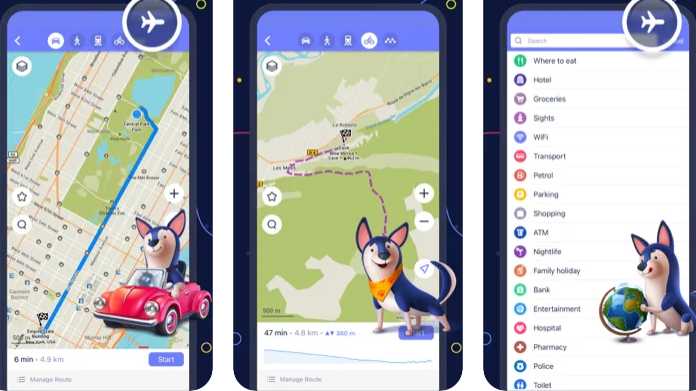 Pros:
Offers an array of features including auto-follow mode, turn-by-turn directions and traffic data.
Full offline functionality, including a search function, navigation and the ability to find things like restaurants or ATMs.
When online you can share your location with friends.
Because everything is offline, this app uses less battery power than others that run in the background.
Cons:
Businesses on the maps are not updated frequently.
Users have reported that updates have made the maps load slowly, the interface is difficult to use, and maps can be hard to read.
Download availability: iOS, Android
5. Scout GPS
Bills itself as the "only social navigation app".
Pros:
Has normal features including turn-by-turn navigation, real-time traffic information and speed updates
Offers social features like nearby restaurants recommended by users.
Can notify one or more of your contacts with your estimated time of arrival.
See in real time when your friends are arriving at your destination.
Cons:
Basic version is free, but premium features like GPS cost $4.99 per month or $24.99 per year.
Can decrease the battery life of your phone due to the app running in the background.
Some users have noted safety and privacy concerns due to location sharing.
Notifications about traffic congestion may not be accurate.
Download availability: iOS, Android
6. InRoute Route Planner
For the control-freaks out there, this app is good for multi-stop, non-direct trips.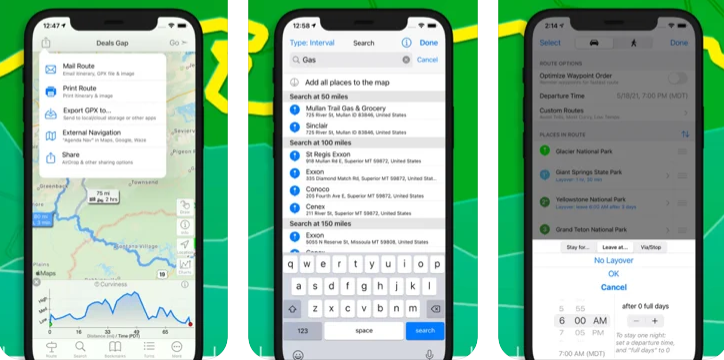 Pros:
Plot your course dependent on weather, elevation and road curviness.
Drop pins in places you want to go and the app configures a route.
Search along a route for things like hotels and gas stations.
Turn-by-turn directions also factor in severe weather (in the US, Canada and the EU).
Great features for motorcycle rides, RV and truck routes.
Cons:
Free version only lets you plan routes with up to 8 locations.
inRoute Pro costs $4.99 per month or $39.99 per year for routes with up to 150 locations. You can, however, test it for 1 week for free.
Eats up your battery by running in the background.
Sometimes hard to get back on track if you go off the route.
Users report difficulty moving and changing pins.
Download availability: iOS only
7. Apple Maps
The most direct rival of Google Maps, due to it coming preloaded on iPhones and other Apple products.
Pros:
Provides features like turn-by-turn directions and voice navigation.
Tells you the fastest way to get to your predicted destinations based on traffic, location, time of day, and your schedule.
3D map view for directions includes buildings.
Gives you guidance on what lane you should be in based on traffic and where you're going.
Offers a Flyover tool to give you a virtual tour of your destination.
Weather and air quality for your destination are shown on the map.
Cons:
Some users say the exit directions and information about businesses are inaccurate.
Points of interest on the maps can be lacking compared to other apps.
No option for offline use of maps.
Look Around street view function doesn't have images for everywhere in the US and is only available in 5 countries.
Download availability: iOS only
8. MapFactor Navigator
This one is only for offline use, allowing you to download maps for countries, regions and cities around the world.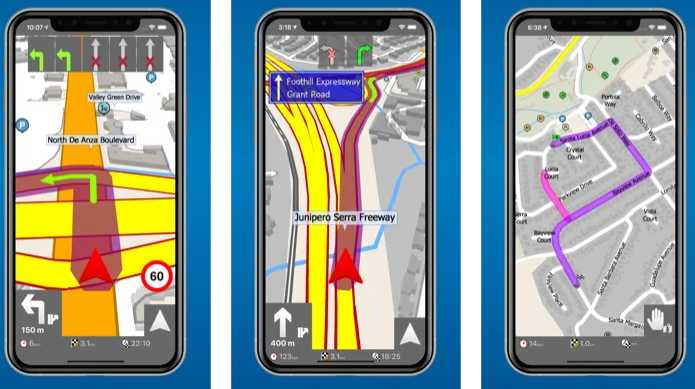 Pros:
The maps are up to date and the points of interest database is vast due to OpenStreetMap data.
Has current maps for more than 200 countries.
Offers voice turn-by-turn navigation in different languages.
Cons:
Doesn't give you up-to-date traffic information.
Some reviewers say maps have inaccuracies, are slow to load or crash, and voice navigation sometimes doesn't work.
Premium features and online search functions require a yearly or monthly payment.
Download availability: iOS, Android
9. CoPilot GPS Navigation
Focuses on route planning not only for cars but also RVs and larger trucks.
Pros:
Customizable routes for all vehicle types, taking road width or low clearance into account.
Can be used offline to find locations like restaurants.
Premium version has audio navigation, traffic information and 3D maps.
Works worldwide with an additional subscription.
Cons:
Premium map and traffic subscriptions cost between $5.99 to $119.99 per item.
Reviewers have said some routes don't take large vehicles into account, the search function needs work and the app is slow in loading or it crashes.
Download availability: iOS, Android
10. OsmAnd
Map-focused app using OpenStreetMap data.
Pros:
Works online or offline.
Can upload a GPX file and use it as a route.
Features voice guidance, lane guidance, ETA and even cycling routes.
Has a plug-in for ski resort routes in some countries.
Can plot routes for different kinds of vehicles, with different map styles.
Cons:
Some users have complained about a poor interface and difficulty finding app functions.
Address search function needs improvement.
Download availability: iOS, Android
11. TomTom GO Navigation
The smartphone app from the popular GPS device maker.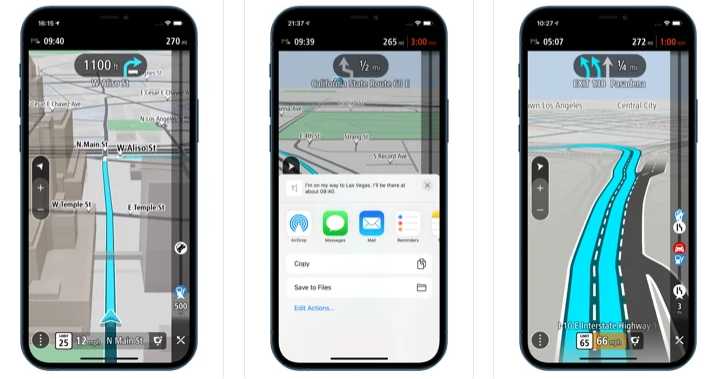 Pros:
Features live traffic information, voice navigation, offline functions and 3D maps.
Has speed camera warnings where it's allowed.
Includes maps for 150 other countries, in case you'll be taking an international road trip.
Allows you to share your estimated time of arrival with family and friends.
"Drive to a photo" feature allows you to upload a photo to the app and get directions to it.
Cons:
Only the first 50 miles of navigation are free each month. After that you need a monthly or yearly subscription.
App is not updated frequently.
Free, but only for a trial period. Then you have to sign up for a subscription of 1 month for $4.99, 6 months for $14.99 or 12 months for $24.99.
Users have reported the search function needs improvement; it can load slowly, and sometimes gives odd routes.
Download availability: iOS, Android
12. HERE WeGo Maps & Navigation
A GPS app targeted towards city navigation.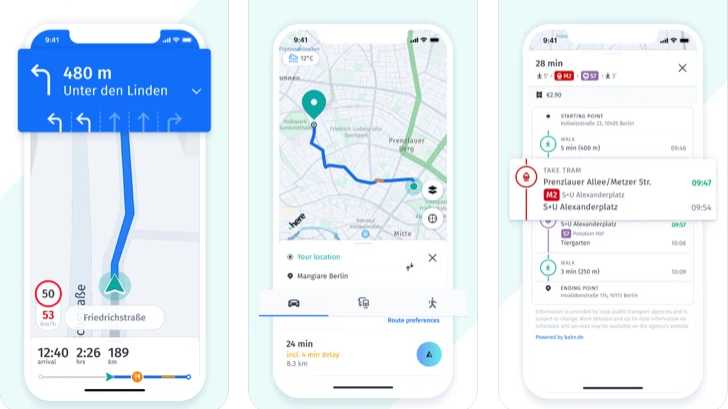 Pros:
Can be used offline worldwide.
Can save frequently visited locations in a collection.
Gives traffic information.
Cons:
Users report that after an update in 2021, offline functions like search and accurate routing no longer work.
Has ads.
In some models of smartphones, maps don't go full screen.
Download availability: iOS, Android
13. Gaia GPS
Explore the backroads and download hiking routes with this GPS app that excels at offline navigation.
Pros:
Gives topographic and road maps.
Can share maps and waypoints with others.
Offers features for outdoor activities like hiking, skiing, hunting, camping, mountaineering and even for firefighters and search and rescue teams.
Has offline capability.
Cons:
Free version has limited map selection and no offline capability. You will need a Premium GPS subscription for $39.99 per year or GPS subscription for $19.99 per year for more maps and features.
Focus on the outdoors and offroad locations rather than driving routes.
Download availability: Android, iOS
14. Karta GPS
Map download is free, and you can customize the app with different voices and navigation icons.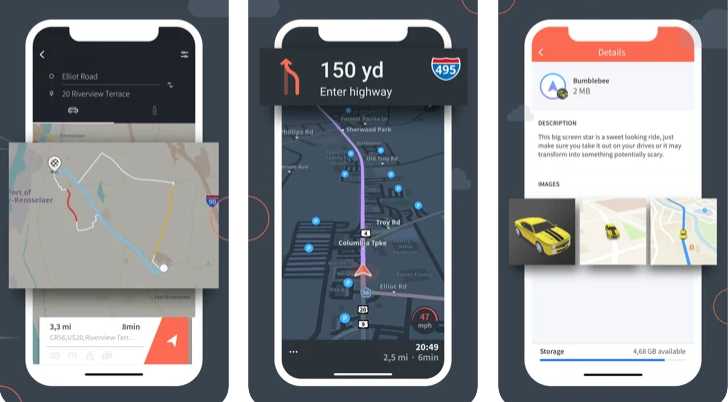 Pros:
Can be used offline.
Calculates routes using traffic information and gives turn-by-turn directions.
Gives warning of upcoming speed-controlled zones and traffic alerts.
Helps you find parking.
Find restaurants and tourist attractions.
Cons:
Some users have said the navigation can be inaccurate and it doesn't show construction or other traffic hazards.
Has ads unless you pay for an ad-free version.
Download availability: iOS, Android
15. Polaris GPS Navigation
The navigation app for outdoor adventurers and water enthusiasts.
Pros:
Gives turn-by-turn driving directions based on information from other navigation services.
No limits to offline vector and raster map downloads.
Provides navigation for outdoor activities like offroad driving, hiking, biking and boating, even in remote locations.
Has a compass for waypoint navigation.
Cons:
This is not an app you will use on a daily basis.
Some users say the display is old-fashioned looking, but if you plan to go on a trip off the grid it's worth downloading.
Premium version, GPS Waypoints Navigator, is ad-free and has added features, but costs $4.99 to download.
Download availability: Android only
16. Roadtrippers
As the name suggests, this app is a great tool for planning a road trip.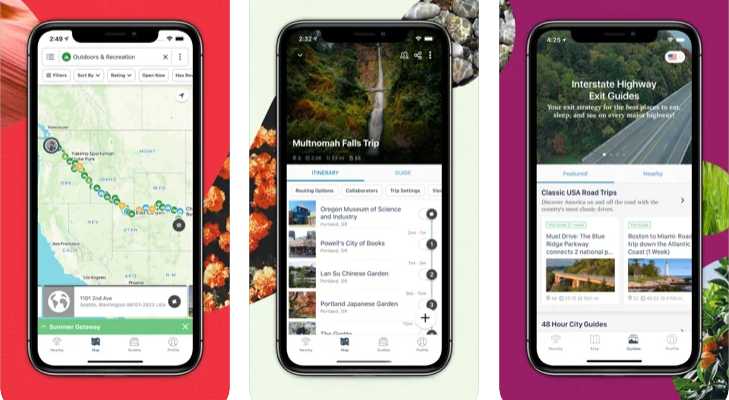 Pros
Let's you plan a road trip route and discover places to stop along the way.
Gives you turn-by-turn directions along the route.
Has pre-planned routes and trip guides with restaurant and sightseeing ideas.
Saved routes or sites will sync across devices.
Cons
For long road trips with more than 7 waypoints you need a subscription to Roadtrippers Plus, which costs $6.99 per month or $29.99 per year.
Some features like collaborating with friends is only available with a subscription.
Only has content for road trips in the USA, Canada, Australia and New Zealand.
Users note that sometimes it's difficult to select or change a route.
Download availability: Android, iOS
17. Traffic Spotter
The navigation app combines traffic and weather information worldwide based on information from community spotters.
Pros
Gives up-to-date traffic, road hazard and weather information at both your current location and destination.
Works worldwide.
Traffic spotters can report traffic and other dangerous conditions.
Users can report how road conditions are due to weather (slippery, icy, snowy, etc.)
In the US, the weather radar and weather station components of the app let you see how conditions will affect your trip.
Cons
Users reported problems with how the map followed their position along the route.
Sometimes asks for access to photos and other data on your phone.
Download availability: Android only
18. Sygic GPS Navigation & Maps
This app gives you comprehensive navigation, even offline, plus traffic features.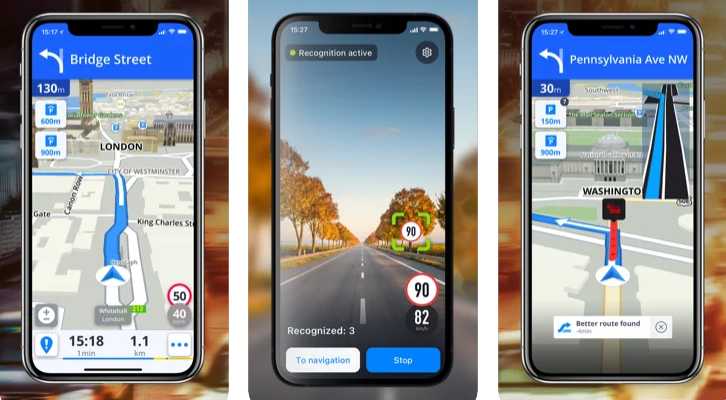 Pros
Has offline maps from every country in the world.
Has voice-guided driving navigation as well as pedestrian navigation.
Gives real-time traffic information.
Has safety features like lane assistance, speed-limit warnings and a heads-up display for safer night driving.
Cons
Premium subscriptions required for some features after 7 days of use. Sygic Premium+ costs between $12.49 and $26.99 depending on the features and country.
Users report the search function needs work, and the navigation function can be unclear or incorrect.
Download availability: Android, iOS
19. Glob
The social traffic app also alerts you to traffic problems and speed cameras.
Pros
Gives alerts for traffic information, road events like accidents, and speed cameras.
Ability to confirm other users' alerts when you are traveling the same route.
Report the location of speed cameras, and see other users' reports of where they are.
Have the app's alert widgets visible while using another navigation app.
Cons
No offline mode.
Users report the map within the app is not good, speed limit alerts often don't function and there are not enough users reporting traffic information.
Can drain your battery.
Download availability: Android
20. ETA Live Traffic Alert
ETA uses your favorite maps app and current traffic conditions to estimate the travel time to your destination.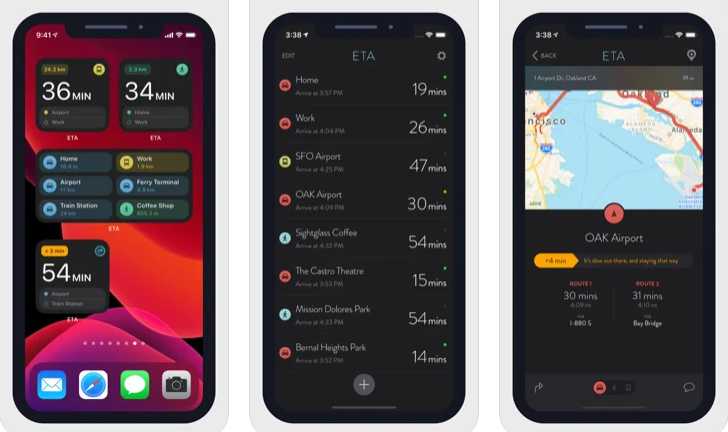 Pros
Gives you an estimated arrival time at your destination, as well as driving directions.
Allows you to share your estimated time of arrival (ETA) with friends and family.
Shows you traffic conditions alongside your ETA.
Cons
Users report that it doesn't always function with an Apple Watch.
You need to always have your location on for the app to work properly.
Users report the app doesn't always refresh or show the current ETA.
Download availability: iOS only
Written by Andrea Heisinger, Senior Online Editor for the US at SIXT