One of the most exciting adventures anyone can take is a road trip through Europe. With so much to see and do SIXT has made it easy to decide where to drive with some suggested Europe road trip routes. Whether you have time for a 1-week European road trip, or can tour around for a few weeks, plan an amazing journey with our Europe road trip ideas.
HOW TO PLAN A ROAD TRIP IN EUROPE
A trip to Europe can involve so many different kinds of experiences. You can explore the beaches of the Mediterranean during the summer months or ski the Alps in the winter. There are plenty of exciting cities suitable to visit year-round with incredible art and cultural offerings as well as unforgettable shopping and dining experiences. Here are a few things to consider when choosing where to go and when:
SELECT YOUR TRAVEL SEASON: Decide if it makes sense to travel during peak season or the off-season. Peak season typically means more crowds and higher prices, but might also be your chance to catch the best weather or the best events. Off-season travelers should make sure tourist sights are open and adequate accommodation options are available.
CHECK THE WEATHER: Do you hate walking around in the rain or find high temperatures unbearable? Before choosing your destinations, have a look at the yearly average temperatures to ensure a match with your travel style or the activities you have planned.
DECIDE WHAT YOU WANT: Are you traveling to Europe to dive into the local culture, or are you there for an international event? If you are looking to mix and mingle with locals, make sure you don't arrive as they leave for vacation.
POPULAR CAR RENTAL LOCATIONS IN EUROPE
Your next rental car is closer than you think. We are happy to assist you with superior customer service and one of the best car rental fleets in Europe. Pick the country where you are located and discover our car rental branches near you.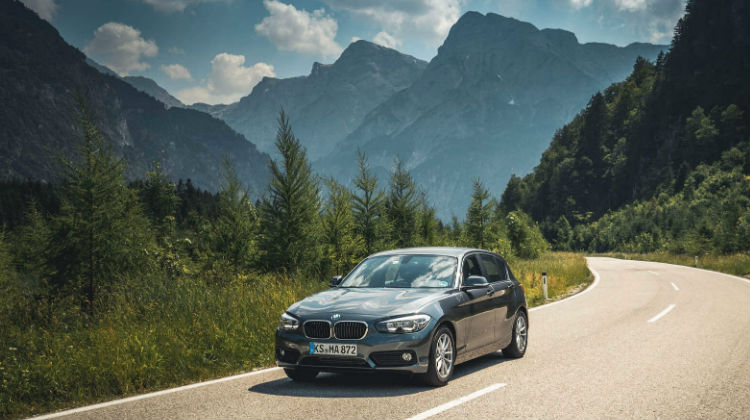 THE BEST EUROPEAN ROAD TRIP ROUTES
1. CULTURE + CUISINE
PARIS > LYON > MARSEILLE
For a Europe road trip that offers the best in both culture and cuisine, drive from Paris to Marseille. Start by diving into the fashion and art scenes of Paris before discovering the delights of fine dining in Lyon, the center of French gastronomy. Before arriving onto the vibrant shores of the Mediterranean in Marseille stop in Avignon to admire the well-preserved Roman ruins or detour to experience the vineyards and lavender fields of Provence.
2. CLASSIC EUROPE
PARIS > AMSTERDAM > BERLIN
For a first visit to Europe, take a road trip that brings you to the best cities and most famous sights. You will get the perfect mix of old and new as you tour historical attractions and contemporary culture. Your itinerary can include iconic landmarks like the Eiffel Tower and the Berlin Wall, plus viewing remarkable works of art at top museums like the Louvre and the Van Gogh Museum. Each city also has easy to find trendy districts offering an amazing choice of shopping, dining and nightlife.
3. OUTDOOR ADVENTURE
GERMAN ALPINE ROAD
The German Alpine road offers an unforgettable journey with plenty of opportunities for adventure. The route stretches for 280 miles across the Alps from Lake Constance to Lake Königsee near Salzburg, Austria. The road is well marked and it is possible to start your exploration from either end or anywhere along the route. In addition to incredible mountain views, the drive gives you the chance to swim in crystal-clear lakes, hike different areas of the German Alps, and in winter, ski some amazing slopes. With famous attractions such as Bad Tolz, Neuschwanstein Castle, Zugspitze and Reit im Winkl it will be hard to choose a favorite memory from the destinations you will visit.
4. ROMANTIC ESCAPE
ROME AND THE AMALFI COAST
The classic beauty of Rome and the panoramic coastal views en route to the Amalfi Coast are the perfect combination to help you celebrate your love. Start by touring the iconic sights of Rome and then drive on to Naples and get inspired by its historic city center. Next stop is Sorrento, a magnificent backdrop to create special memories. Stroll around and take in the stunning views of Mount Vesuvius and the Isle of Capri before embarking on the gem of the journey, 'The Amalfi Drive'. Connecting Sorrento and Amalfi, this breathtaking route weaves along high cliffs overlooking the Tyrrhenian Sea. Stop overnight in either idyllic Positano or the gorgeous village of Salerno, where you can capture the passion with the perfect photo at Castello di Arechi before ending the tour in Tivoli. With welcoming weather throughout the year there is no bad time to enjoy this marvelous region of Italy.
5. SPANISH FIESTA
BARCELONA > MADRID > SEVILLE
With your own set of wheels, take a 2-week Europe road trip that will immerse you in the diversity and deliciousness of Spain. Begin the journey in Barcelona where you can catch some sun on the beach, stroll Park Guell and Las Ramblas and sample Catalan cuisine. Admiring Antoni Gaudi's Sagrada Familia and the artworks on exhibit at the Picasso Museum should be on your itinerary as well. The next stop is the modern metropolis of Madrid to marvel at the collections of the Museo del Prado and Reine Sofia Museum and try out the latest tapas bars. The last stop lets you see a different Spain as you discover the more traditional side of Seville. Step back in time with visits to the UNESCO listed Real Alcazar, the Cathedral, and the Giralda. For an authentic Andalusian experience, an evening at a Flamenco performance is not to be missed.
EUROPE CAR RENTAL FAQ's
Important Car Rental Documents

Renting a car in Europe for those coming from abroad is not complicated. Besides a valid driver's license, you might also need an international driving permit before your trip from either the American Automobile Association (AAA) or the American Automobile Touring Alliance (AATA). You must be 18 years old or older with a valid US driver's license to apply. A valid passport and an accepted payment method, like a credit card, will also be needed for your European car rental. As regulations may vary, please find country-specific information on our Rental Information page.
Crossing borders in your rental car

Taking a road trip through Europe will probably entail visting more than one country. It is possible to travel across borders with your Sixt rental car, however some restrictions may apply. If arranging a one-way car rental for your Europe road trip please be aware that unless specified, you may be subject to additional fees. Other limitations may apply when crossing borders with a specific car rental category. You can find further details about our one-way fees and border crossing restrictions by visiting the Rental Information page.
YOU MAY ALSO BE INTERESTED IN