If you were to drive from coast to coast in the United States, you would see such a diverse collection of architecture styles you might feel like you're traveling through several countries. But because of its size, array of climates and topography, and indigenous and immigrant cultures, the US has many different building styles. You'll find historic homes and skyscrapers on the East Coast, adobe houses in the Southwest, midcentury modern in California, and everything in between. We've gathered some of the top cities for architecture in the US, and you'll find everything from flashy skyscrapers to the (supposed) oldest home in the US. If you visit one, be sure to pay attention to the buildings and maybe even take an architecture tour to learn more about what you see.
Chicago, IL
The Midwestern city of Chicago may not immediately spring to mind when thinking about the best places to see notable architecture. But there are numerous buildings built by bold name architects, and two styles of building skyscrapers originated in the Windy City! The Frank Lloyd Wright Trust is based in Chicago, and you can find the famed architect's home and studio in the suburb of Oak Park. If you are short on time and want a focused overview of Chicago's buildings, there are many architecture tours available, whether it's by boat, bus or bike.
Notable buildings: Tribune Tower, Marina City, Willis Tower, the Merchandise Mart, 875 North Michigan Avenue, Rookery Building, Minerals and Metals building at the Illinois Institute for Technology
New York, NY
Perhaps the US city most well known for its architecture, New York has so many unique buildings that it's hard to know where to begin. And with more and more groundbreaking structures being built, the list will only grow. There are the standbys like the Empire State Building, Chrysler Building and Grand Central Station in Midtown, the Flatiron Building, One World Trade Center and the Woolworth Building further downtown, the Guggenheim and Metropolitan Museum of Art near Central Park, and The Cloisters in far north of Manhattan. Then you have newer additions from bold-faced architects like the Oculus (aka, the World Trade Center Transportation Hub), the Shed and VIA 57 West. Luckily, New York (or at least Manhattan) is extremely walkable, which makes it easy to simply wander and take in all the different architectural styles.
Notable buildings: The Cloisters, Empire State Building, Chrysler Building, Seagram Building, 30 Rockefeller Plaza, Grand Central Station, the Flatiron Building, the Woolworth Building, the Brooklyn Museum, One World Trade Center, the United Nations, Lincoln Center, Solomon R. Guggenheim Museum, Metropolitan Museum of Art, the Dakota, the Oculus, the Shed, VIA 57 West, the Vessel
Palm Springs, CA
Unlike other cities on this list, Palm Springs is mostly known for its houses. Specifically, the city is famed for its large number of houses in the mid-century modern style. That is partly due to the Alexander Construction Company that starting building subdivisions of homes here in the 1950s in a style that was later replicated in other parts of the US. You can still find some of these original Alexander homes in Palm Springs. Basically, if you drive around Palm Springs, you will see several architecturally interesting houses and other buildings.
Notable buildings: The Kaufmann House, Alexander homes, Bob Hope House, Edris House, Elrod House, Coachella Valley Savings and Loan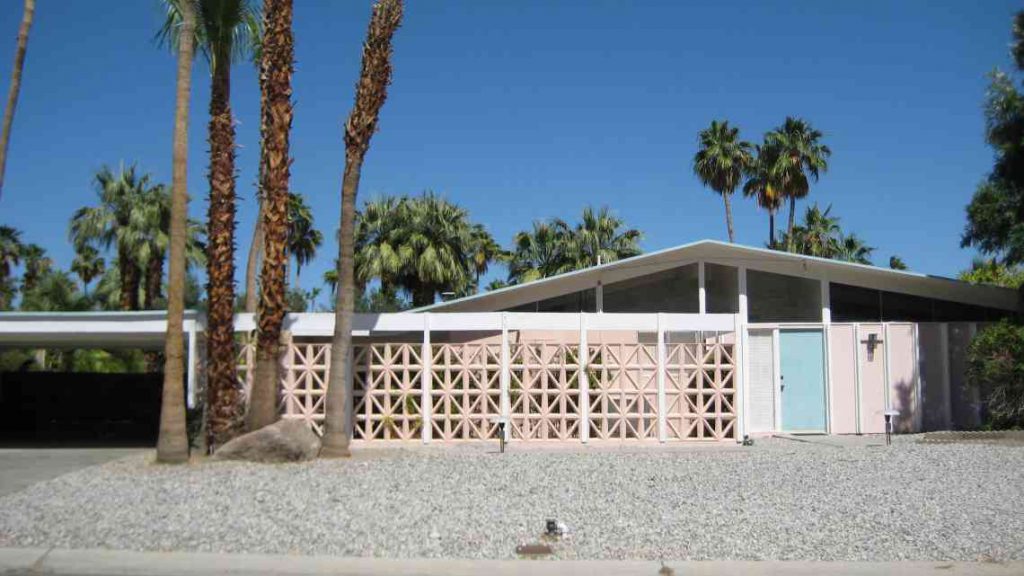 New Orleans, LA
New Orleans is not only culturally unique, but its architecture sets it apart from other American cities. You have the French Quarter with its distinctive wrought iron touches and Creole cottages, the Garden District's grand mansions, and narrow "shotgun houses" with a door at each end. The city's history, with Spanish, French and Caribbean influences, has also left its mark on the architecture.
Notable buildings: St. Louis Cathedral, the Cabildo, the Presbytère, Degas House, Longue Vue House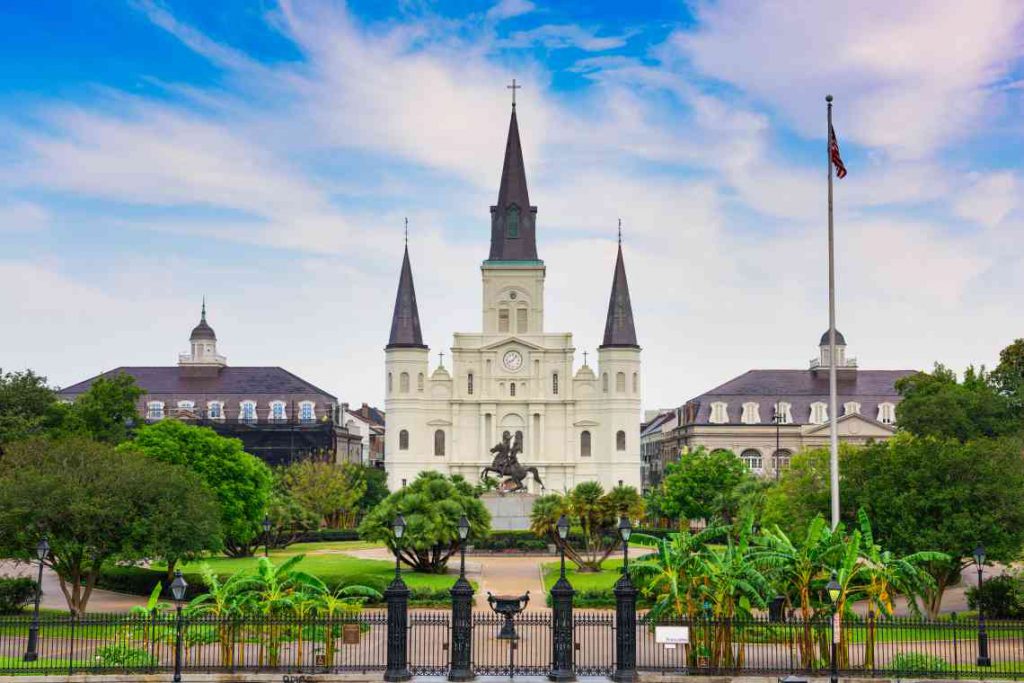 San Francisco, CA
This northern California city on the bay has a wide variety of buildings, both old and new, that are worth walking up and down the steep San Francisco hills. There are unique skycrapers, modernist churches, a row of colorful Victorian houses, an iconic building owned by director Francis Ford Coppola and a Chinatown landmark.
Notable buildings: Chinese Consolidated Benevolent Society building, San Francisco City Hall, St. Mary's Cathedral, the Painted Ladies, 2500 Steiner, Palace of Fine Arts, The Sentinel, Phelan Building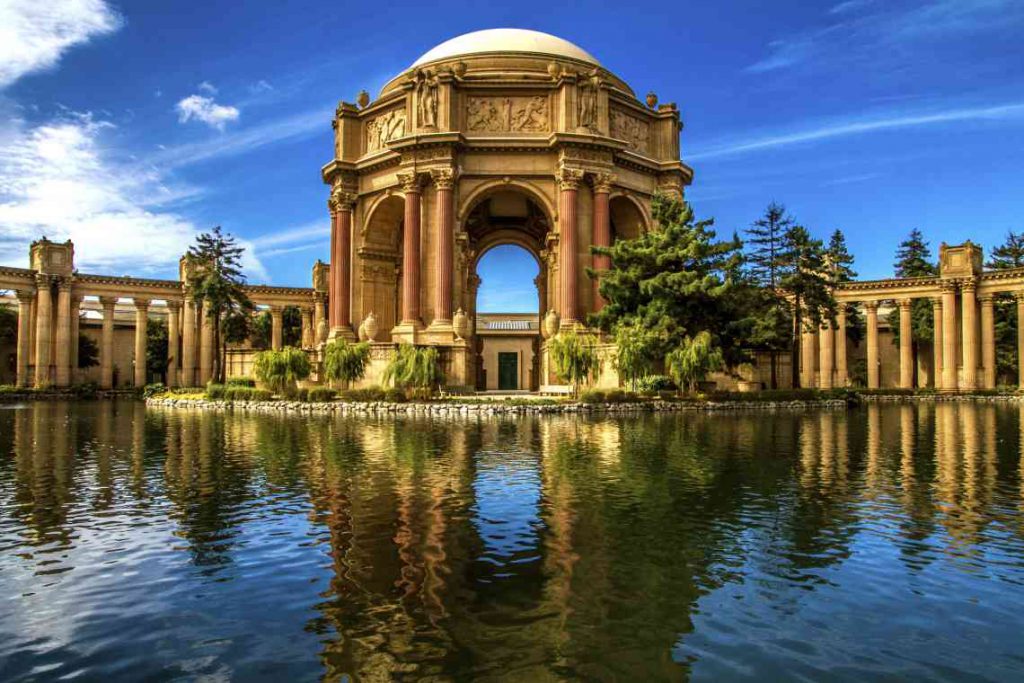 Philadelphia, PA
Although it is a city steeped in US history, Philadelphia often gets overshadowed by New York when it comes to architecture. But there are some real gems to be found here! For instance, Philadelphia City Hall is not only the largest municipal building in the US, but it took 30 years to build and was the tallest building in the world when it opened in 1901. Other buildings to keep your eyes out for include the post-modern Vanna Venturi House, some boathouses, a couple of art museums and a famous prison.
Notable buildings: Vanna Venturi House, Independence Hall, Philadelphia City Hall, Barnes Foundation art museum, Philadelphia Museum of Art, Eastern State Penitentiary, Boathouse Row, Cira Centre, Margaret Esherick House
Detroit, MI
The Motor City has had its ups and downs, as have its buildings. But there are many examples of notable architecture, from grand old hotels to revived theaters to new skyscrapers. There's the Renaissance Center, or RenCen, which opened in the late 1970s and juts into the sky like a glass grain silo, the Art Deco Fisher Building, or One Detroit Center, a skyscraper with Neo-Gothic spires that make it look older than it is. If you want to be wowed, go to a concert at the Fox Theatre, which opened as an ornate movie theater in the 1920s and was restored in the 1980s.
Notable buildings: Fisher Building, Fox Theatre, One Detroit Center, Renaissance Center, Grand Army of the Republic Building, McGregor Memorial Conference Center, Book Tower, Penobscot Building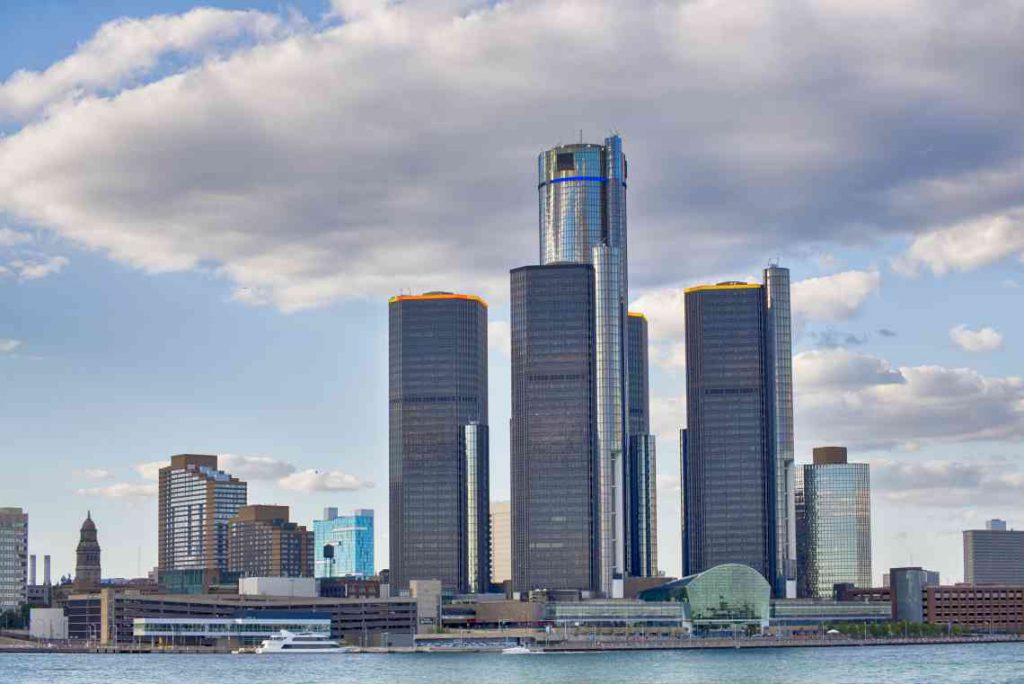 Savannah, GA
This Southern city is known for its charming buildings, many of which are historic in some way. In fact, more than 40 percent of the buildings in the city are architecturally or historically significant! The wide variety of architecture styles found in Savannah includes Georgian, Federal, Gothic Revival, Greek Revival and Modern. If you want to see the range of styles on offer, simply head to the city's National Landmark District where you'll see restored and well-maintained examples of the Savannah's finest architecture.
Notable buildings: Green-Meldrim House, Davenport House, Andrew Low House, Cathedral of St. John the Baptist, First African Baptist Church, Olde Pink House, Congregation Mickve Israel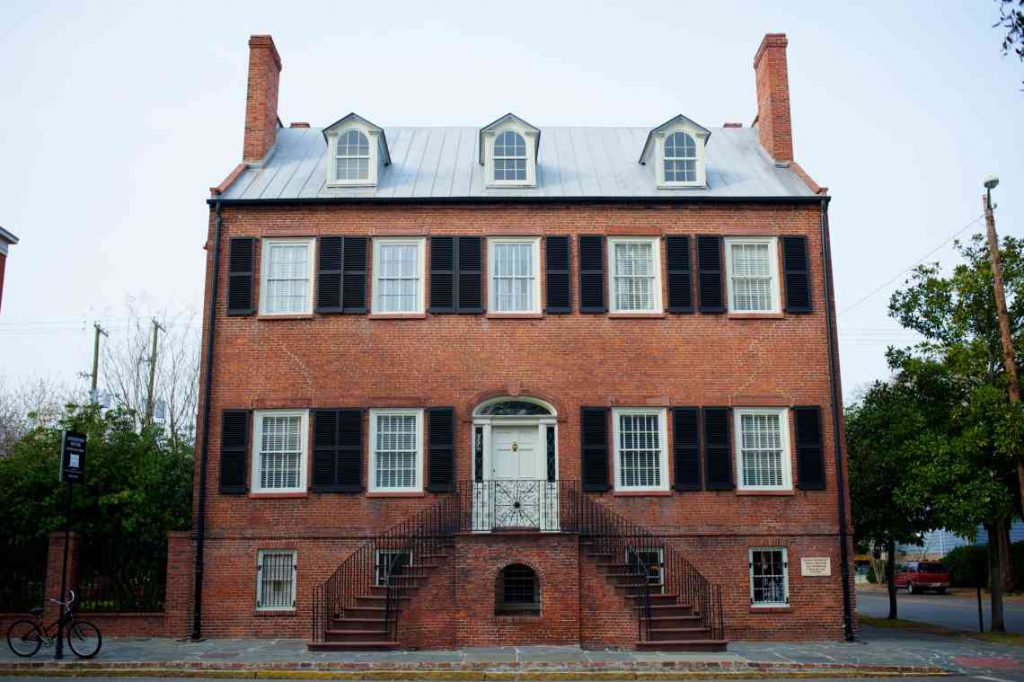 Santa Fe, NM
Touted as the oldest capital city in the US, Santa Fe has roots as a Spanish settlement, and it shows in the city's architecture. While you'll find adobe homes here, you'll also find modern architecture like the mostly open-air Santa Fe Opera, imposing churches, and a Japanese-style spa. There's even the oldest house (Oldest House Museum) and oldest church (San Miguel Chapel) in the continental US. For a unique day trip, head a bit outside of town to the pueblo cliff dwellings and painted caves at Bandelier National Monument near Los Alamos.
Notable buildings: San Miguel Chapel, Cathedral Basilica of St. Francis of Assisi, Palace of the Governors, Ten Thousand Waves, Scottish Rite Masonic Center, Santa Fe Opera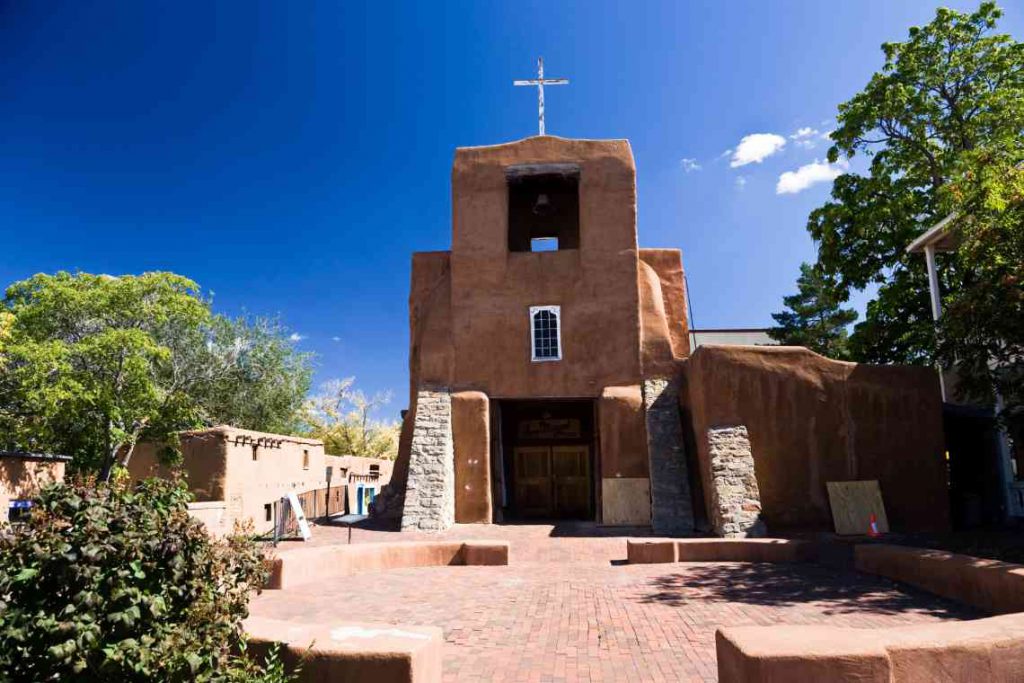 Miami, FL
While Miami may be well-known for its beaches and nightlife, it's not really on most lists of the best cities for architecture. However, all you have to do is drive through Miami Beach and see all of the art deco buildings to know that the city has something to offer in the way of unique architecture. You'll find a wide array of styles here, from the modern open-air 1111 Lincoln structure to the massive Fontainebleau hotel made famous in the James Bond movie Goldfinger. There are skyscrapers both old and new, and you can even go swimming at a pool that used to be a rock quarry.
Notable buildings: The Fontainebleau, 1111 Lincoln, One Thousand Museum, Freedom Tower, Venetian Pool, Miami Tower, the Biltmore Hotel, Pérez Art Museum Miami