Driving from Washington, D.C. to New York City can take as little as 4 hours if you take the most direct route. But if you are feeling adventurous, there are other more scenic options that take slightly more time but might be worth your while if you are not in a rush. We have a couple of route suggestions, and also offer tips on places to stop between Washington, D.C. and NYC plus some ways to make the road trip go smoothly. And if you are relocating or are not sure what your plans are after arriving in New York, a one-way rental might be the right option for you.
The Fastest Route
The drive from Washington, D.C. to New York is a relatively quick one and can easily be done in a day. Just be advised that traffic along the way can be brutal, especially during morning and evening rush hours. For the fastest route, all you have to do is get on Interstate 95 North toward Baltimore, Maryland, and you can take that all the way to Lower Manhattan and then everywhere else you need to go in New York City.
The Most Scenic Route
There are several ways to get to New York from Washington, DC where you will have a bit more to see and explore than interstate gas stations and fast food. Yes, the route we propose below, passing through parts of Maryland and Pennsylvania before entering New Jersey, will take you at least an hour more than the straight shot up I-95. It's worth the detour if you have the extra time.
5 Stops to Make Along the Way
1. Inner Harbor, Baltimore
No matter which route you take from DC to New York, you are likely going to pass by Baltimore and this historic city is worth a stop. Head to the Inner Harbor, an area that was once an important seaport. Here you will find old military ships, a science center and plenty of restaurants to try some fresh crab. A short distance away is Fort McHenry that was an integral part of the War of 1812 and a source of inspiration for what became the song "The Star Spangled Banner".
What to see: Head to the National Aquarium to see all kinds of creatures from the sea. Or for a sweeping view of the city, head to the 27th floor of the World Trade Center to the Top of the World observation deck.
2. Lancaster County, Pennsylvania
Why should you drive through this county in southeast Pennsylvania? It's a great way to see first-hand how the Amish live. Also known as the Pennsylvania Dutch, the group largely lives without modern technology and you can see their farms while driving through and buy their homemade products.
What to see: There are several ways to experience how the Amish live, including the Amish Village, the Amish Experience interpretive center or the Amish Country Homestead & One-Room School.
3. Annapolis Historic District
If you choose to go east from Washington, D.C. on Highway 50 through Annapolis you will have a lot to see. The capital city of Maryland has a historic district featuring buildings from the 1700s, a harbor, and is home to the United States Naval Academy.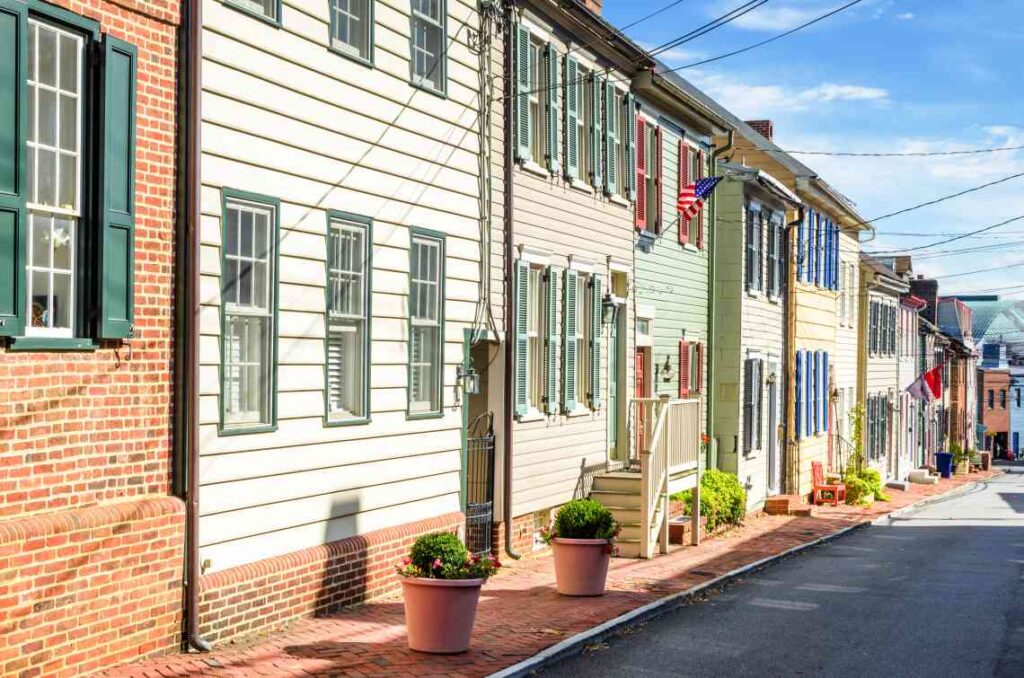 What to see: Visit Hogshead to see a surviving historic home in Annapolis. This 18th-century building is a good representation of how people lived during that period, and is thought to have been used as barracks during the Revolutionary War.
4. The Philadelphia Museum of Art
There is so much to see and do in The City of Brotherly Love, Philadelphia, but one of the best-known landmarks is the Philadelphia Museum of Art. Yes, the art inside is superb, but you can also take a picture running up the stairs out front, just like Rocky Balboa did in the movie "Rocky".
What to see: There is enough art in the museum to take up multiple days of your time if you choose. If you are short on time, take a tour, check out the works of famous artists like Renoir and Degas, or explore the comprehensive American art collection.
5. Staten Island, New York
Sure, you can take a free ferry from Lower Manhattan to Staten Island, but then you'll be on foot and only able to see the area around the ferry terminal. Why not drive in on Highway 440 and then you can drive back into New Jersey and from there get to Manhattan? Visit Historic Richmond Town where you can see what life was like for the first settlers in the area, or stop at Fort Wadsworth.
What to see: Head to the Snug Harbor Cultural Center and Botanical Garden and spend some time walking around the grounds and visit 28 historical buildings and a museum. History buffs can also head to the Conference House, which dates to 1680, and was the site of a 1776 meeting between notable names like Benjamin Franklin and John Adams and British commander Lord Howe, in an attempt to end the Revolutionary War.
Road Trip Tips
While the drive from Washington, D.C. to New York will likely only take you a day, there are ways to make it easier for everyone in the car.
Suggest Games Early: If you want to play any games, whether it's Old Maid or I Spy, it's a good idea to do them as soon as you get on the road. That way everyone's fresh and can enjoy playing!
Pack an Overnight Bag: If you are planning a drive that will require at least one overnight stay, do yourself a favor and pack a separate smaller bag with pajamas, changes of clothing, toiletries and anything valuable you don't want to leave in the car overnight.
Have Non-Perishable Food Available: Even for shorter road trips, it's always a good idea to have water and non-perishable food like beef jerky, peanut butter, nuts or other items handy in the car. That way if you break down or would just like to eat something without stopping you are all set.
One-Way Car Rental
Renting a car one way ensures that you get to drive a new-model vehicle with the latest safety and entertainment technologies, while also riding in comfort. Whether you are relocating in New York, had a flight from Washington, D.C. canceled, or New York is simply the first part of your journey, a one-way rental is an affordable option. SIXT offers a selection of car models for your journey, whether its a budget economy car, a premium sedan, a spacious SUV or minivan with plenty of cargo space, or a fun sports car or convertible. We also have competitive rates, whether you need a one-way rental for just 1 day or for 28 days or more.