First things first: If you're heading to Vail in the winter, you should like snow. This Colorado ski destination in the Rocky Mountains can get upwards of 30 inches of snow in a month in December and January. But even if you don't like skiing, there are other things to do in Vail and the surrounding area in the winter. So pack your warmest coat and see what kinds of activities you can do during the coldest months in this charming small town.
Skiing
The town of Vail might now exist if it weren't for skiing, as it was founded along with the ski resort. The massive Vail Ski Resort is world-renowned for its trails and snow quality. It's been there since the 1960s and is modeled on the ski resorts found in Bavaria and elsewhere in Europe. Now it's the third-largest ski resort on a single mountain in North America, and its variety of terrain means you'll never get bored.
Scenic Gondola Ride
If you want to see the mountains and ski slopes, but not be out in the elements, perhaps a gondola ride is in order. You can choose from two different gondolas in the area, either the Eagle Bahn Gondola that departs from Lionshead or Gondola One that leaves from Vail Village. To save time, it's best to buy tickets online beforehand. With both gondola rides you'll get great views of the surrounding mountains both on the way up and at the top. Just keep in mind that to ride the Eagle Bahn Gondola you will need either a valid ski pass or a Vail Scenic Ride Ticket.
Shopping
There are many options for some retail therapy in Vail Village and neighboring Lionshead. Of course you can be outfitted with the latest gear for skiing, snowboarding or other sports. Or you can find a great outfit for dining at one of the best restaurants in Vail. Outside of clothes, Vail is also well-known for its galleries and shops where you can buy eye-catching art to take home with you.
Spas
What better way to relax after spending time in the cold than at the spa? Luckily, there are several options for places to pamper yourself and hit the sauna, get a massage or treatment, soak in a whirlpool or go swimming in a heated pool in the winter. Most of the spas in and around Vail are at high-end resorts and hotels. Among the options are the Four Seasons Vail Spa, The Lodge at Vail Spa, Sonnenalp Spa, Arrabelle Vail Spa and the Spa at Grand Hyatt Vail. If you only want massages or another type of treatment, there are options for that too, like Dryland Fitness & Spa inside the Gravity House Vail.
Nature Discovery Center
If you're visiting Vail with kids, or are simply interested in the flora and fauna of the area, you should visit the Nature Discovery Center. You can access it via the Eagle Bahn Gondola (don't forget you need a ski pass or Vail Scenic Ride Ticket to use the gondola before 3:30 pm during the winter). Inside the yurt at the Nature Discovery Center you can see exhibits on local wildlife and other natural history topics.
Snowmobiling
Get out on the snow in a different way by going snowmobiling in the mountains around Vail. There are several companies offering tours and snowmobile rentals, so if you are new to the activity you can just show up and be shown how the machines work and where to go. The tours can be from a couple of hours to part of a day or more. There are also options to book a private tour if you have a large group or simply want to explore with a guide on your own. If you are a seasoned snowmobile rider and just want to rent one, you can do that at hourly or daily rates.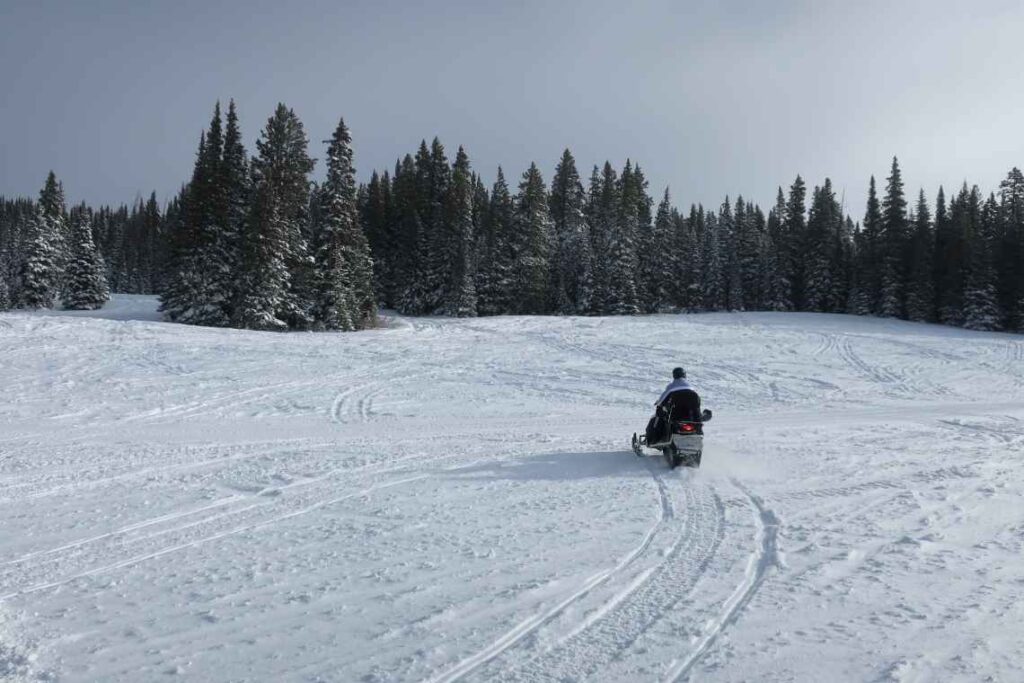 "Alternative" winter sports
We're not talking about X Games level alternative sports, but rather alternatives to skiing, like snow tubing, snow biking and snowshoeing. You can do most of these activities at Vail Adventure Ridge. There's a large tubing hill here with several lanes, and a lift to take you back to the top. You can book 1-hour time slots, and kids under 6 years old need an adult with them to go down the hill. To access the tubing hill and snow biking and snowshoeing trails, you can take the Eagle Bahn Gondola to the top.
Restaurants
Whatever kind of dining experience you want, there is probably an option in Vail. There are casual places to eat both on the mountain and in Vail Village if you want to refuel before, during or after a day spent skiing. There are also fine-dining restaurants for French, Japanese and other cuisines. Don't worry if you want something in between casual and fancy restaurants, because you can also find family-friendly Italian, pan-European and American fare.
Ice Skating
Enjoy the quaint town centers of Vail Village and Lionshead while zooming around an ice skating rink. The Alderhof Ice Rink is outdoors in the center of Vail Square, and there is also the rink at the Solaris residences in Vail Village. If you want to be protected from the elements, you can head to the John A. Dobson Ice Arena, although be sure to check ahead of time when the public open skate times are. All of the ice rinks offer skate rental, so all you have to bring with you is warm clothing.
SIXT rent a car in Vail
Explore Vail and the surrounding area to the fullest in a premium SIXT rental car. You can find us at locations throughout Colorado, and our fleet has something for every need. Fly in and pick up a luxurious SUV that's perfect for handling snowy conditions. Or choose a premium sedan with the latest features so you can arrive in style. For a long trip, get your favourite ride from SIXT weekly rental cars.