If you are taking a road trip in the region, you won't want to miss taking a few days to explore everything Oklahoma has to offer. If you enter the state after driving up from Texas, you can drive a roughly circular path through Oklahoma, stopping at amazing places where you will make unforgettable memories. You can see the famous open prairies where thousands of bison still roam as well as landmarks and museums commemorating the history and culture of American pioneers and Native Americans. Friends and families alike will enjoy Oklahoma's expansive outdoor recreational areas as well as its small but bustling cities that feature unique museums and Oklahoma cuisine.
Since Oklahoma is vast and since many of its attractions are far apart, seeing it by car is your best option. Public transportation might get you to a location, but not necessarily on your schedule and it certainly won't get you around and throughout many of the places you'll want to explore. Whether you are on a budget or you want to travel in comfort, SIXT is the place to find the perfect vehicle for your road trip. A pick-up truck or SUV would provide comfort over the miles and would be ideal for handling the terrain, especially in the colder months. Or book a sedan for a comfortable trip for a smaller group.
Must-see attractions in Oklahoma
1. Turner Falls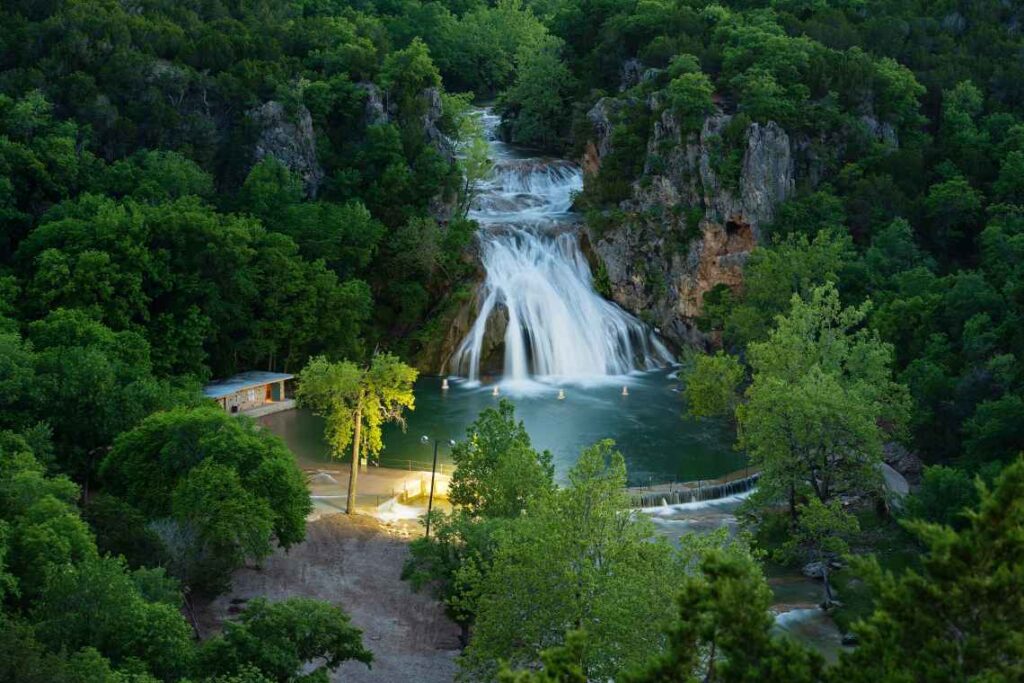 At 77 feet high, Turner Falls is Oklahoma's largest waterfall. But aside from just the size, the waterfall is breathtaking to behold as it cascades down into a natural spring pool. Visitors can hike, swim and explore. And you'll want to see the castle made of rock built in the 1930's.
Address: I-35 & US Highway 77, Davis, OK 73030
Entry fees: More information
Hours: When to visit
Time required to see the attraction: Spend the day here or camp for longer.
2. Chickasaw National Recreation Area
The Chickasaw National Recreation Area attracts well over 1 million visitors a year, and it's no wonder, since the 10,000 acres offer opportunities to enjoy outdoor sports, relax, explore and learn. You can fish, camp, swim and boat, as well as ride both bikes and horses. You can walk or hike some of the country's most unspoiled trails, and hunting is an option as well. Just outside the park, 10 minutes from the entrance, the Chickasaw Cultural Center is a must-see. Experience the living history of America's First People through interactive exhibits, tribal performances and so much more.
Address: 901 W. 1st St., Sulphur, OK 73086
Entry fees: You don't need to pay to enter the recreation area, but there are fees for campgrounds, boat launches and picnic pavilions.
Hours: When to visit
Time required to see the attraction: It all depends on what you want to do. You could spend an afternoon at the Chickasaw Cultural Center, spend a day boating or swimming, or spend the night or a few days camping.
3. Oklahoma City National Memorial & Museum
When you visit Oklahoma City, you'll want to stop at the profoundly moving and thought-provoking Oklahoma City Memorial and Museum commemorating the 1995 bombing of the nine-story Alfred P. Murrah Federal Building. In the museum, you can see thousands of artifacts and photographs of the bombed building and hear the stories of the people affected in their own words and voices. Outside, you can see the Field of Empty Chairs, the Reflecting Pool, the Survivor Wall and the Survivor Tree. This incredibly poignant place hopes to convey the message of how hope can triumph over violence.
Address: 620 N. Harvey Ave., Oklahoma City, OK 73102
Entry fees: The outdoor memorial is free, but you need to pay for the museum.
Hours: When to visit
Time required to see the attraction: 2-4 hours
4. National Cowboy & Western Heritage Museum
Oklahoma has an open landscape that recalls cowboy hats and Western movies. So one of the most perfect places to visit is the National Cowboy and Western Heritage Museum. The museum houses an unequalled collection of artifacts and art that encapsulates the history of the cowboy and myriad aspects of life in the American West. The museum both documents the history of real people and celebrates their struggles, triumphs, and everyday lives through art.
Address: 1700 Northeast 63rd St., Oklahoma City, OK 73111
Entry fees: More information
Hours: When to visit
Time required to see the attraction: 2 hours
5. Oklahoma City Zoo
This zoo was one of the first in the country to keep its animals in their natural habitats instead of cages. You can see animals in the Cat Forest and from the Lion Overlook. You'll see hoofed animals as well as marine mammals, as well as apes, elephants, amphibians and birds. For an extra charge, groups of up to 10 people can go on specially guided Wild Encounters, where you can get closer to animals such as bears, bison and rhinos. You can also ride a camel or see a giraffe face to face from a platform.
Address: 2000 Remington Place, Oklahoma City, OK 73111
Entry fees: More information
Hours: When to visit
Time required to see the attraction: You should plan a full day here.
6. Oklahoma Route 66 Museum
There are many museums dedicated to the culture and history of one of the world's most renowned roads, but Oklahoma's Route 66 Museum is the biggest. You'll learn all about The Mother Road's creation and evolution as the country changed, through the sights and sounds of different eras. Changing exhibits feature different aspects of this iconic road and all it's meant to this country.
Address: 2229 West Gary Boulevard, Clinton, OK 73601
Entry fees: More information
Hours: When to visit
Time required to see the attraction: 1-2 hours
7. Joseph H. Williams Tallgrass Prairie Preserve
This is the biggest piece of protected tallgrass prairie not just in America, but in the world. You can see wildflowers, mammals and birds by the hundreds, and over 2,000 bison. Drive along the 15-mile Bison Loop and see the beasts up close, along with hundreds of bison calves.
Address: 15316 County Road 4201, Pawhuska, OK 74056
Entry fees: Free
Hours: Open during daylight hours.
Time required to see the attraction: 4-6 hours
8. Will Rogers Memorial Museum
Open since 1938, this museum commemorates America's cowboy philosopher, Will Rogers, who is famous for his pithy witticisms. You can enjoy memorabilia and see everything he wrote in the museum's 12 galleries, a library, a theater and a children's museum. He and his wife Betty, along with some other family members, are buried on the grounds.
Address: 1720 W. Will Rogers Blvd., Claremore, OK 74017
Entry fees: More information
Hours: When to visit
Time required to see the attraction: 2-4 hours
9. The Center of the Universe
The Center of the Universe is an acoustic anomaly in downtown Tulsa that you'll want to experience for yourself. If you stand in this cement circle with a bigger circle of bricks around and say something, your voice comes echoing back much louder. To those standing outside the circle, your voice sounds oddly distorted. These odd effects have not been fully explained, and they can be both fun and eerie to experience.
Address: 20 E. Archer St., Tulsa, OK 74103
Entry fees: Free
Hours: Open 24/7
Time required to see the attraction: 20 minutes
10. The Philbrook Museum of Art
You will feel like you've been transported to Tuscany when you see Villa Philbrook, which serves as the museum. And the 25 acres of formal gardens that surround the villa enhances the romantic effect. The art within the museum features a diverse array of talent from all over the world.
Address: 2727 S. Rockford Road, Tulsa, OK 74114
Entry fees: More information
Hours: When to visit
Time required to see the attraction: 3-5 hours
Best Places to Eat & Drink in Oklahoma
To truly experience Oklahoma as you drive through it, you must taste the food the state is famous for.
BurnCo Barbeque, Tulsa: Oklahoma is known for its barbeque, and BurnCo is the place to enjoy that iconic smoky flavor. You can get sandwiches and salads, as well as all manner of smoked meat, including brisket, baby back ribs and bologna – yes, bologna!
Cattleman's Steakhouse, Oklahoma City: In a state known for its cattle ranching, you won't find a better steak than at this historic restaurant located in the middle of what used to be Stockyards City. Cattleman's Steakhouse is the oldest continuously running restaurant in Oklahoma – undoubtedly because it features such delectable steaks.
Eischen's Bar, Okarche: Eischen's is the oldest bar in Oklahoma, opened in 1896. Its antique bar was carved in Spain and shipped to California, and part of that bar survived a fire in 1993. At Eischen's, you can enjoy some of Oklahoma's cuisine, including a fried whole chicken, Frito pie and fried okra.
Foggy Bottom Kitchen, Broken Bow: At the Foggy Bottom Kitchen, you can enjoy some of Oklahoma's most famous dishes like chicken fried steak, catfish or a campfire hobo dinner. At Foggy Bottom, you will truly feel like you are in Oklahoma.
More about Oklahoma