For some, a trip to Alaska is a once-in-a-lifetime destination. Because it's closer to Russia than it is to the rest of the United States, it takes both time, money and planning to get there. Once you arrive you'll have an array of Alaska travel destinations to explore, whether you want to see the sights on a cruise, explore the national parks and mountains or visit cities and towns to get a sense of the state's unique culture. Your destinations and activities will vary greatly depending on if you visit in the warmer part of the year or in winter. Because of this, we've listed when the best time to visit our top 10 Alaska travel destinations is, so you can plan ahead.
1. Denali National Park & Preserve
If you have any interest in the outdoors, you have probably heard of Denali. This national park is about a 4-hour drive north of Anchorage and contains Denali, the highest mountain peak in North America. But you'll find a lot more in the park's more than 6 million acres, including forests, fields of wildflowers and a dazzling array of wildlife including grizzly bears, moose, caribou, wolves and sheep. Be sure to bring along bear spray if you plan to visit, and be aware that there is only one road in the park, so at some times of the year you might have to park and take a bus in. This is also a great place to see the Northern Lights if you visit in winter.
If you don't want to camp in Denali, you can stay in nearby Talkeetna, where the Denali ranger station is located. This is also a great base to go salmon fishing or rafting on the Susitna River or arrange a "flightseeing" tour.
Best time to visit: You will see more wildlife and beauty in the park in the summer. Plus, the extra-long days of sunlight are perfect for hiking. In winter you can still hike, ski, snowshoe or bike, but the days are short.
Closest airport: Fairbanks International Airport is just over 2 hours from Denali. You can also fly into Ted Stevens Anchorage International Airport, which has more flight options but is more than 4 hours away.
2. Anchorage
This city of nearly 300,000 is the largest in Alaska and sits on the water amid gorgeous wilderness. You can use Anchorage as a starting point if you have plenty of time to explore the state, or just a stop if you are on a cruise. If you get tired of looking at the scenery surrounding the city, you can visit the Alaska Zoo, Anchorage Museum or Alaska Native Heritage Center if you want to learn about the indigenous people who inhabit the state.
Best time to visit: There are things to do in Anchorage year-round, so this is a toss-up. If you come in the winter there is more to explore indoors than elsewhere in the state, but in the summer you can fly into Anchorage and go explore the nearby national and state parks.
Closest airport: Ted Stevens Anchorage International Airport
3. Misty Fjords National Monument
Located in the very south of Alaska is a popular spot for cruise ships to stop, for good reason. If you make the journey here you'll be rewarded with views of towering fjords, glacial lakes, waterfalls and mountains. It's part of the Tongass National Forest, which is the largest intact coastal rainforest in the US. You can travel by boat on the Behm Canal or take a floatplane to take in the scenery and look for wildlife like killer whales, bears and mountain goats.
Best time to visit: It's best to come here in the summer since you'll likely have to be on the water at some point on your visit to the Misty Fjords.
Closest airport: Ketchikan International Airport
4. Wrangell-St. Elias National Park
Drive 4.5 hours east from Anchorage and you'll find Wrangell-St. Elias National Park, which is the largest national park in the US. If you make the drive you'll be rewarded handsomely with views of the park's volcanoes and the greatest concentration of glaciers in North America. Did we mention how huge this park is? It covers 13.2 million acres and is home to numerous species of birds, bears, sheep and even bison. A big perk of the park is there is no fee to use it, unless you want to go hunting or fishing in it.
Best time to visit: It's best to visit this vast park in the summer unless you're experienced with survival in the outdoors when it's very cold. While the park is open in the winter for cross-country skiing, hiking, snowmobiling and snowshoeing, there are no visitor's centers or ranger stations open and roads in the park may be poorly maintained.
Closest airport: Ted Stevens Anchorage International Airport
5. Fairbanks
Sitting on the Tanana River almost in the center of the state, Fairbanks is roughly 2 hours from Denali and a great place to start your Alaskan adventure. With a population of just over 30,000 people, Fairbanks is the state's second-largest city and a popular waypoint for those exploring Alaska's interior or heading further north to the Arctic Circle. It's also a popular destination in the winter to see the Northern Lights.
Best time to visit: Winter is a magical time in Fairbanks. If you're lucky you can see the Northern Lights which appear frequently between August and April.
Closest airport: Fairbanks International Airport
6. Glacier Bay National Park and Preserve
You'll find the magnificent Glacier Bay National Park and Preserve between the Gulf of Alaska and Canada. This is a popular stop for cruise ships, for good reason. This World Heritage Site and Biosphere Reserve is full of protected wildlife, indigenous culture and untouched beauty. If you want to experience the park's wonders, you'll have to get here either by a commercial plane from Juneau to Gustavus (only in the summer) or by ship or boat.
Best time to visit: It's easiest to get here in the summer when Alaskan Airlines operates flights. If you want to come in the winter you'll have to arrange for an air taxi or charter service.
Closest airport: There are daily flights during the summer to the airport in Gustavus.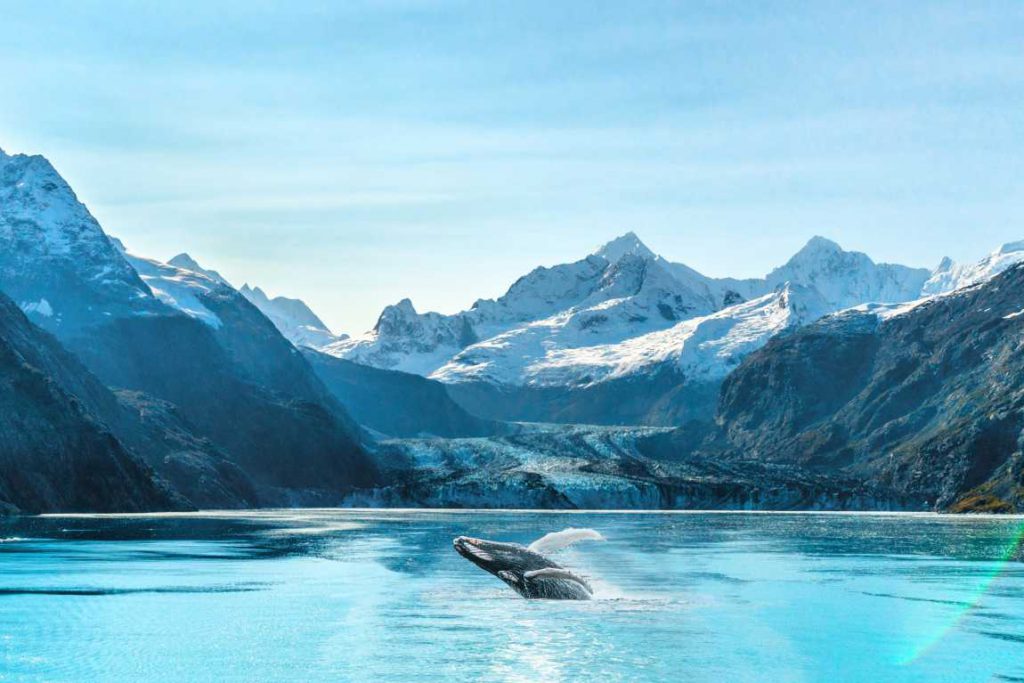 7. Ketchikan
If you're visiting the nearby Misty Fjords National Monument, be sure to take the time to stop in Ketchikan. The town sits at the southernmost entrance to the Inside Passage is known for its Native American culture and totem poles, which you can find everywhere. The so-called salmon capital of the world is a popular destination for fishermen and there is plenty of wilderness nearby to tempt those who get off the cruise ships and explore.
Best time to visit: Summer is the best time to visit if you want to do many of the activities that Ketchikan is known for
Closest Airport: Ketchikan International Airport is located on neighboring Gravina Island. It's then just a 5-minute ferry ride to Ketchikan itself.
8. Kodiak Island
The largest island in Alaska is Kodiak, which is separated from the mainland by Shelikof Strait. In addition to being an important fishing port, people also come to Kodiak Island in search of a glimpse of a Kodiak brown bear. The island's lush greenery earned it the nickname "The Emerald Isle", and more than two-thirds of the island is taken up by the Kodiak National Wildlife Refuge, which is home to 3,500 of the island's famous bears. People also visit for fishing, whale watching, kayaking and other outdoor activities. If you plan to visit Kodiak Island, be sure to pack water- and wind-resistant clothing.
Best time of year to visit: If you want to have a comfortable hiking or boating experience, it's best to visit in the summer months. However, because of the North Pacific current, temperatures rarely get below 30 degrees in the winter.
Closest airport: You can fly to Kodiak from Ted Stevens Anchorage International Airport
9. Kenai Fjords National Park
Head to the Kenai Peninsula and get ready to be blown away by the scenery in Kenai Fjords National Park. Drive roughly 2.5 hours south of Anchorage to see more than 40 glaciers flowing from the Harding Icefield, plus fjords and wildlife. You can explore on a boat tour, by kayak, or by hiking the strenuous 8.2-mile Harding Icefield Trail. As you see the sights, you can also keep your eye out for numerous birds, mammals like bears, goats and moose, and marine life including seals, sea lions, porpoises and several species of whales.
Best time of year to visit: Summer is a great time to visit, as many services are only offered from June to August, although the park is open year-round. If you visit in winter be aware of increased hazards, and road closures.
Closest airport: Ted Stevens Anchorage International Airport is 2.5 hours by car. There is also a small airport in Homer.
10. The Aleutian Islands
When you look at a map of Alaska and see the string of islands jutting off the bottom of the state like a comma, those are the Aleutian Islands. It will take commitment to explore this sparsely populated archipelago of 144 islands with about 3,000 native residents. You can get to Amaknak Island by flight to the Unalaska Airport, by cruise ship or by taking the Alaska Marine Highway System of ferries. Many people visit to see the World War II buildings and structures on the island. If you want to feel like you're at the end of the world, you can fly to Atka Island, population 95, where there are volcanoes to explore, as well as the small village of Atka.
Best time of year to visit: Alaska Airlines operates flights from June to August to some of the Aleutian Islands, so summer may be your only opportunity to visit unless you want to take a ferry for several days.
Bonus: Dalton Highway to Deadhorse
If you want to take the road trip of a lifetime, get a vehicle that can handle the elements and drive all the way to the Arctic Circle and Deadhorse on the James W. Dalton Highway, aka, the Dalton Highway. The highway runs for 414 miles from the town of Livengood just north of Fairbanks all the way to the oilfields of Deadhorse and the Arctic Circle. The road is dirt and gravel, and can obviously be treacherous in the winter, so you'll need to rent a vehicle from a specialty car rental company. There is only one gas station at the midway point, then you have to make it to Deadhorse to refill. If you're up for seeing some true Alaska wilderness, the Dalton Highway is for you.
Best time to visit: If you want to enjoy the drive without worrying about what the extremely cold temperatures might do to your vehicle, it's best to do this in the summer.
Closest airport: You can fly into Fairbanks International Airport and rent a car from a specialty outfitter.