Whether you're driving around town or planning a road trip in your electric vehicle (EV), you are probably looking for an easy way to find charging stations. Luckily, there are several apps to choose from that can help you charge your EV and get where you need to go. Whether you need to search by connector type, charging speed, distance from a hotel or want information from other users, there is an EV charging app for you.
EVHotels
This app helps you find hotels with EV charging stations or charging stations near hotels. You can search based on the type of charger you need and can also search on the walking distance to a public charging station if the hotel doesn't have one on-site. You can also book a hotel room through the app and search based on chain or hotel name.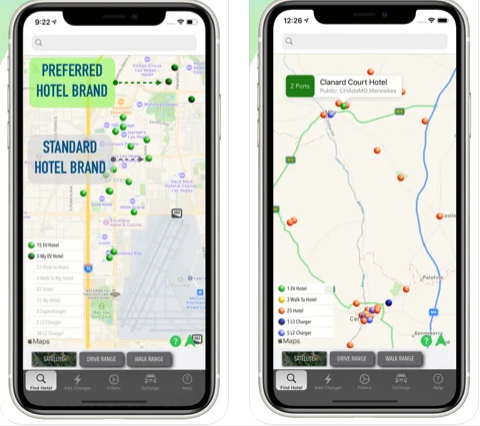 Availability: iOS only
Price: $2.99
Google Maps
The popular Google Maps app lets you search for "EV charging stations" and find out what's currently available, with real-time availability. See port types and charging speeds, as well as what's around the charging station. Read user reviews and questions and see ratings and photos, or submit your own information.
Availability: iOS, Android
Price: Free
PlugShare
This app lays claim to the most accurate and complete public EV charging map worldwide. It shows charging stations from major EV providers in the US, but also in Europe and Australia. You can search for charging stations compatible with your EV, see station ratings and use the EV trip planner.
Availability: iOS, Android
Price: Free
Chargemap
Chargemap gives you crowd-sourced information with charging point photos and reviews from users. You can plan a road trip and find charging points on or near the route and see availability, both in the US and European countries.
Availability: iOS, Android
Price: Free with ads; in-app purchases from $5.49 to $14.99
ChargePoint
ChargePoint is the world's largest EV charging network, and you can find one of its more than 100,000 charging spots in the app. You can find a station, see availability and start charging in the app. It's also possible to use the "roaming" feature and use a ChargePoint account to use charging stations from other providers. Set filters in the app to find charging stations for your EV and also use the app to monitor charging progress.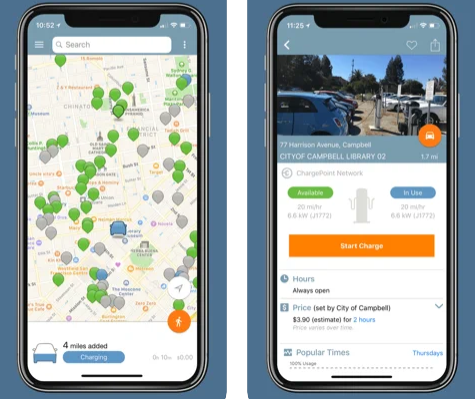 Availability: iOS, Android
Price: Free
ChargeHub
You can use ChargeHub to find public EV charging stations in the US and Canada. Get driving directions to the station, see live availability for certain EV charging networks, search by type of charger and more. Since you might have some time to kill, you can also see what is around the charging stations. And the app is interactive, allowing you to rate and leave comments about stations you used, as well as add new public charging stations you come across.
Availability: iOS, Android
Price: Free
EVgo
The EVgo app focuses on fast chargers, so you can quickly charge your car and be on your way. See available chargers in real-time, get directions to the charger and then start charging in the app once you get there.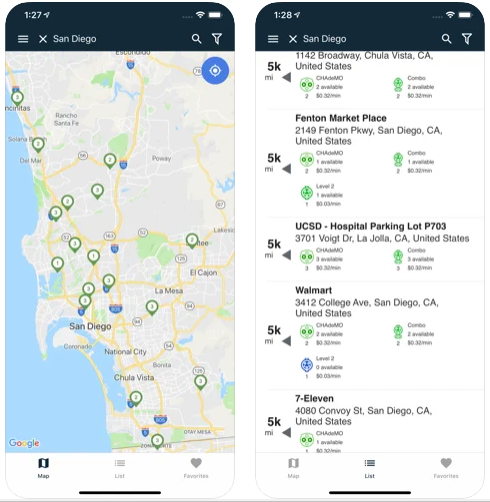 Availability: iOS, Android
Price: Free
EVmatch
Unlike most of the other apps on our list, EVmatch is a peer-to-peer EV charging network. Find and reserve a private EV charging station in the US, and also pay in the app. You can filter your search based on the type of connector you need, charging speed, availability and price.
Availability: iOS, Android
Price: Free
Open Charge Map
Find EV charging stations anywhere in the world with the Open Charge Map app. With this open-source project, users can search for and submit charging stations, and enter ratings, photos and information about charging stations. Filter for the type of connector and speed of the charger, get driving directions to the charging station you choose and plan your route based on available chargers.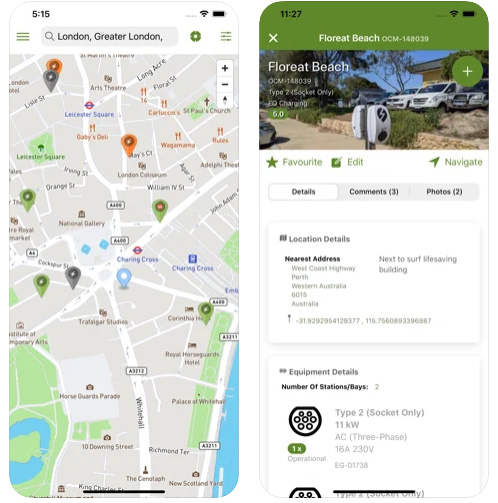 Availability: iOS, Android
Price: Free