Sixt wants to make sure that you are aware of the important road safety rules and tips before you start your travels in Austria. While enjoying the stunning scenery in this country, you will come across a variety of roads and driving situations. Whether you are going to the mountains or the city, the following tips can prove helpful on your journey through Austria. Just be sure to do a bit of research before you get behind the wheel.
Speed Limits in Austria
An important thing to note is that unlike their neighbor to the north, Austria has strictly enforced speed limits on their highways. And although you may not see any law enforcement monitoring speeds, there are cameras and you will get a ticket in the mail. If you do get stopped for speeding, be aware that the fine often must be paid on the spot. Because there is often bad weather in the country, it's important to know that the speed limit reduces to 50 km/hr if visibility is less than 150 feet.
| | |
| --- | --- |
| Within city limits: | 50 km/hr (31 mph) |
| Outside city limits: | 100 km/hr (62 mph) |
| On highways or autobahns: | 130 km/hr (80 mph) |
Austrian Traffic Laws and Rules
General
If you plan to use certain roads like expressways, you will need a motorway tax sticker (vignette) displayed in your vehicle. You can usually buy these at gas stations near the Austrian border in neighboring countries, when you come across into Austria, or at AMTC offices. They are valid for 10 days, 2 months, or 1 year.
Drivers approaching a traffic jam on highways are recommended to switch on the hazard warning lights.
Using, operating, or holding of mobile phones is prohibited while the engine is running and/or vehicle is moving.
Most highways have electronic displays providing information on the latest traffic conditions, speed limits, traffic jams or accidents.
If an emergency vehicle is approaching, do not overtake. If you are in a multi-lane road, a channel should be cleared in the middle for the emergency vehicle to get through. That means if you are in the right lane, move over to the right shoulder, and if in the left lane, go further left.
Overtaking & Turns
Turning right on red is generally not allowed unless otherwise noted with a sign.
Passing in the right lane is prohibited. Use the left lane and return to the right lane as soon as it is safe to do so.
Parking
When parking, respect the local regulations and check if you need a parking disk or ticket, or need to pay a parking meter.
Overnight stays in public parking areas are allowed but camping is not. Please note any additional parking regulations indicated by signs.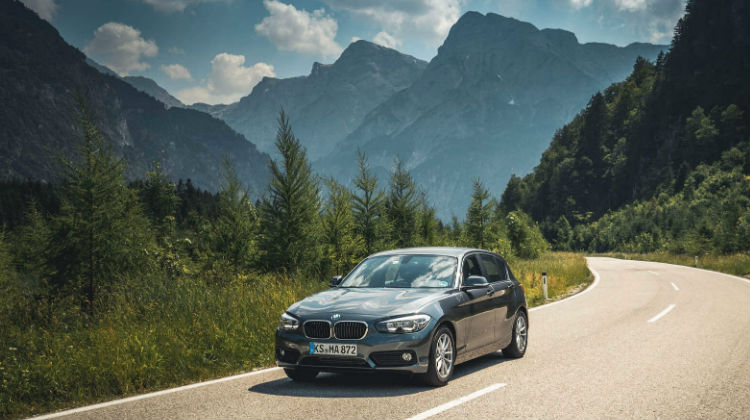 Emergency Phone Numbers
Call 133 for the police
Call 144 for an ambulance
Driver's License
Be sure to have your driver's license with you at all times when driving.
If you have a driver's license from outside the US written in non-Roman characters, like Chinese or Russian, you will also need an international driver's license.
It's also a good idea to have your passport handy in case it's needed in addition to your driver's license.
Choose Sixt Car Categories For Your Perfect Drive
Our extended fleet of luxury car rentals in Austria are made by world-class manufacturers like BMW, Jaguar, and Audi and offered at affordable rates. Choose your rental car from our fantastic selection and drive away in style and comfort on your next trip. If you're planning a road trip or extended vacation, we also offer long-term car rentals in Austria.