Whether you want to dip your feet in the ocean, go for a hike, see an active volcano or relax with a craft beer at the end of a day of exploring, this Oregon road trip has it all
Oregon may be most well-known as the home to all things hip, Portland, but it has so much more to offer. On the route we've chosen for a road trip through Oregon you can explore cities, enjoy ocean views, see an active volcano and get up close and personal with nature. In the summer there are many opportunities for hiking, boating, going to the beach, rock climbing and biking. In winter, you can go skiing and snowboarding or soak in hot springs.
Stops
1. Portland
2. Cannon Beach
3. Eugene
4. Willamette National Forest
5. Bend
6. Mount Hood National Forest
Highlights
Hike or ski around Mount Hood, an active volcano that's the highest point in Oregon.
See Haystack Rock and take a dip in the Pacific Ocean at Cannon Beach.
Explore neighborhoods and take in the culture of Portland, Oregon's largest city.
Spend time in Willamette National Forest, home to 7 major mountain peaks and more than 1.5 million acres of woodlands.
Relax and check out the craft breweries in Bend before or after spending time in nature.
Getting to the start
The road trip starts and ends in Portland. If you're coming from another part of the country, you can fly into Portland International Airport and rent a car. By car, you can take Interstate 5 from the north or south or I-84 from the east. You can also get to Portland by train, with the Amtrak Cascades, Empire Builder or Coast Starlight lines all stopping downtown at Union Station.
When to visit
If you plan to do any outdoor activities, visit between May and October. The summer months offer a chance to walk along the ocean, hike and more without so much rain. You will want to pack for a variety of weather conditions, including a packable rain jacket, a fleece jacket for cooler weather, a swimsuit, and shorts, pants, T-shirts and long-sleeved shirts to suit a variety of weather conditions. And don't forget the sunscreen, especially if you're going to the beach!
Driving tips
The speed limits are the same throughout Oregon. Passenger vehicles can drive 65 miles per hour on the interstate, and 55 mph on highways. In cities, you can drive 25 mph in residential areas. There are 2 bridges with tolls in Oregon, the Bridge of the Gods and Hood River Bridge, although neither of them is on our road trip route. Keep in mind when stopping to get gas that Oregon is one of 2 states that doesn't allow you to pump your own.
What to know about the route
On this 620-mile Oregon road trip, you'll drive west on Highway 26 to Cannon Beach, then south on Highway 101 along the Pacific Ocean. After that, you'll head east on Highway 126 to Eugene for a night or two in this vibrant college town. Then you'll head further east into the mountains of the Cascade Range and the Willamette National Forest before going around the mountains and then driving slightly south to the craft beer mecca and the high desert town of Bend. When your time there is done, drive h on Highway 97 to Highway 26 to Mount Hood National Forest. Depending on the time of year you can either go hiking or skiing. An SUV with an all-wheel drive is a great choice for traversing the mountain roads on this road trip and stowing all your outdoor gear.
---
Portland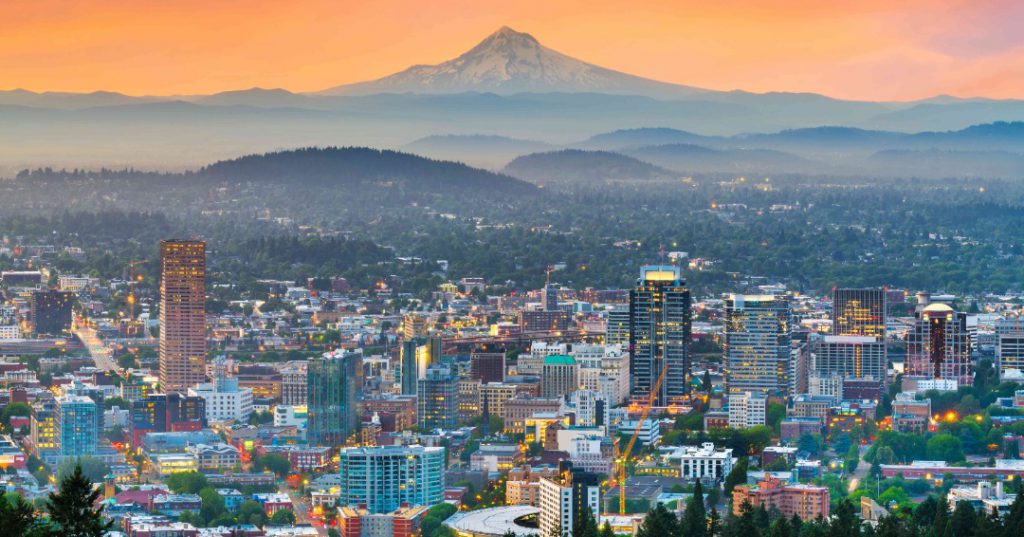 The largest city in Oregon has a lot to offer. Get a taste of culture at a concert, art gallery or a famous chain of bookstores. Or enjoy the food scene, coffeehouses and craft beer found throughout the city. Rent a bike and ride along the Willamette or Columbia rivers or explore one of Portland's Parks.
Points of interest
Rain or sunshine, you'll always find something to do in Portland. Head to Washington Park where you'll find the Oregon Zoo, Portland Japanese Garden and International Rose Test Garden. Then go to the nearby Pittock Mansion, built in 1914. If it's raining, visit the Portland Art Museum or Powell's City of Books.
Where to Eat, Drink and Sleep
If you like craft beer, coffee or inventive food, Portland is for you. Eat some inventive treats at Voodoo Doughnut, then walk to Deschutes Brewery. If you are staying overnight, there is a range of hotels, from budget to luxury to quirky. For a unique experience, spend the night at McMenamins Kennedy School, a WWI-era elementary school turned into a hotel.
Sixt Insider Tip
Visit Mill Ends Park, the world's smallest park, complete with a tiny swimming pool and diving board for butterflies.
From Portland to Cannon Beach (80 miles)
Next, we're off to Cannon Beach and the Pacific Ocean. To get there, get on Highway 26 west and it will take you all the way to the ocean. You'll be driving through towns that are part of the Portland metro area, like Beaverton, that's home to the Nike world headquarters. Then you can enjoy seeing forests, farmland and vineyards on the 1.5-hour drive.
---
Cannon Beach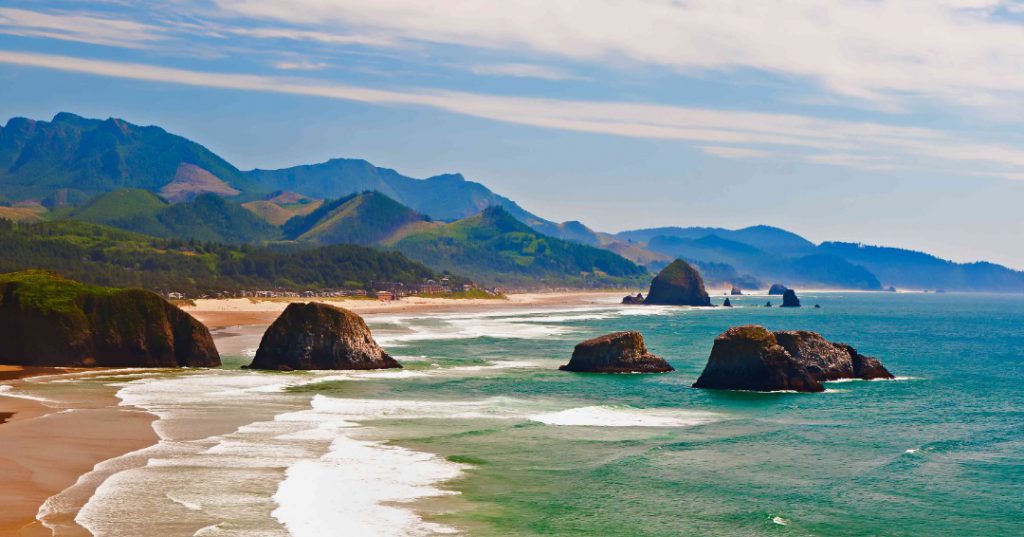 Cannon Beach is a popular destination for the beach and ocean. The town itself is small, but it doesn't matter because there are so many outdoor activities to enjoy, whether it's hiking in Ecola State Park, swimming or spotting the local wildlife like tufted puffins. And while the beach is the main draw here, downtown Cannon Beach also has art galleries to enjoy if the weather is bad.
Points of interest
Haystack Rock is an Oregon landmark rising out of the water off Cannon Beach. Featured in movies like The Goonies, the rock has colorful tidepools and is home to many kinds of birds. For something active, head to Ecola State Park sitting above the water on Tillamook Head. There are hiking and walking trails and lookout points for whale and bird watching.
Sixt Insider Tip
Indian Beach in Ecola State Park is a great spot for surfing. You can get there via the Indian Beach Trail in the park or drive there. Even if you're not into surfing, you can also take advantage of the viewpoints at Indian Beach for bird watching.
From Cannon Beach to Eugene (220 miles)
To get to the next stop, Eugene, you will be driving on Highway 101 for about 4.5 hours. The highway mostly runs along the Pacific Ocean, so there are plenty of stops you can make to enjoy the scenery. Stop in Tillamook to sample the famous cheese and ice cream. If you have kids along, visit the Oregon Coast Aquarium in Newport. To see something unique, go to the Sea Lion Caves outside Yachats, where you can see hundreds of Steller sea lions from December through August.
---
Eugene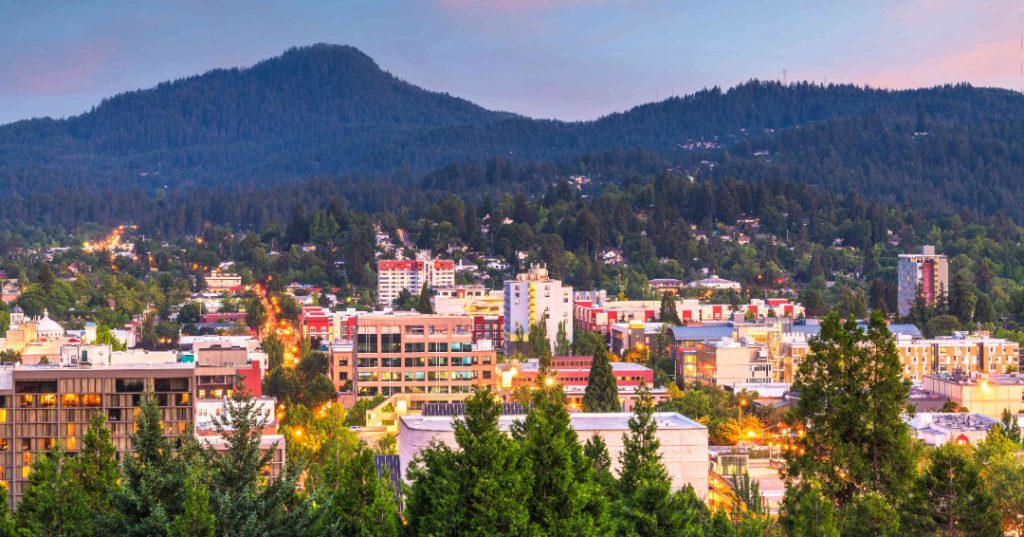 Located where multiple rivers meet, and a great spot for urban hiking, Eugene is a great overnight or weekend stop before heading further inland to the great outdoors. As home to the University of Oregon, and where elite track and field athletes from around the world come to train and compete, there is a lot to do and see.
Points of interest
Eugene is a great place for a short visit, and you can stay active while here. Hike to Spencer Butte or Skinner Butte for great views of the city or go for a run on one of the many trails in and around the city. You can also bike the Willamette River path or rent a canoe and go out on the water.
Where to Eat, Drink and Sleep
If you visit on a Saturday, head to the Saturday Market for food and items from artisans. The Market District is an indoor/outdoor shopping area with charming cafes to visit. Or for a hipper vibe with breweries and wine bars, go to the Whiteaker neighborhood.
Sixt Insider Tip
Eugene is known as TrackTown USA, and you can soak in all things running while here. Visit Hayward Field, where many elite track and field events are held, or try out one of the many running trails, like Pre's Trail, named for the legendary Steve Prefontaine, or the Ridgeline Trail that goes up to Spencer Butte.
From Eugene to Willamette National Forest (70 miles)
Fans of The Simpsons TV show should stop in Springfield on the 1.5-hour drive to the Willamette National Forest. See homages to the show around town or visit the exhibit at the Springfield Museum. Then enjoy the scenery and look out for landmarks like the covered Goodpasture Bridge on your way east.
---
Willamette National Forest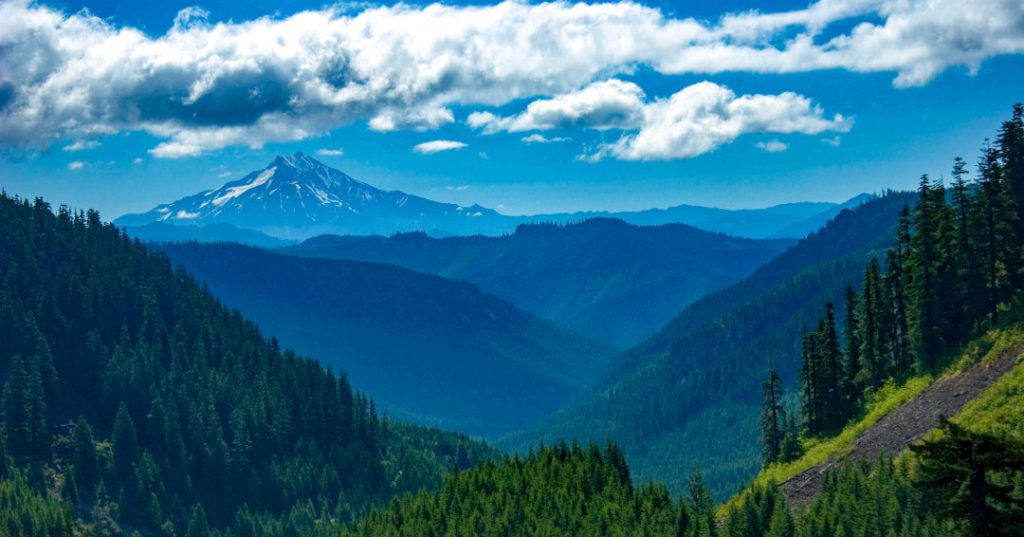 Covering more than 1.5 million acres, The Willamette National Forest is a great place for camping, hiking, skiing and other outdoor activities. The Cascade Range runs through the forest, with 7 major mountain peaks also found here. Even if you're not into backpacking or major hikes, you can still enjoy the canyons, wildflowers and waterfalls within the national forest.
Sixt Insider Tip
There are 7 volcanic peaks to explore within the park's wilderness areas. Three Sisters, Diamond Peak, Mt. Jefferson and Three Fingered Jack are just some options. For great views, head to the Dee Wright Observatory, where you can also see lava flows that are so unique that NASA astronauts used them in the 1960s to prepare to go to the moon.
From Willamette National Forest to Bend (68 miles)
Stop at the Three Sisters viewpoint along Highway 20 on the 1.5-hour drive to Bend. You can see the 3 snow-capped volcanic peaks that are part of the Cascade Range, just before getting to Bend.
---
Bend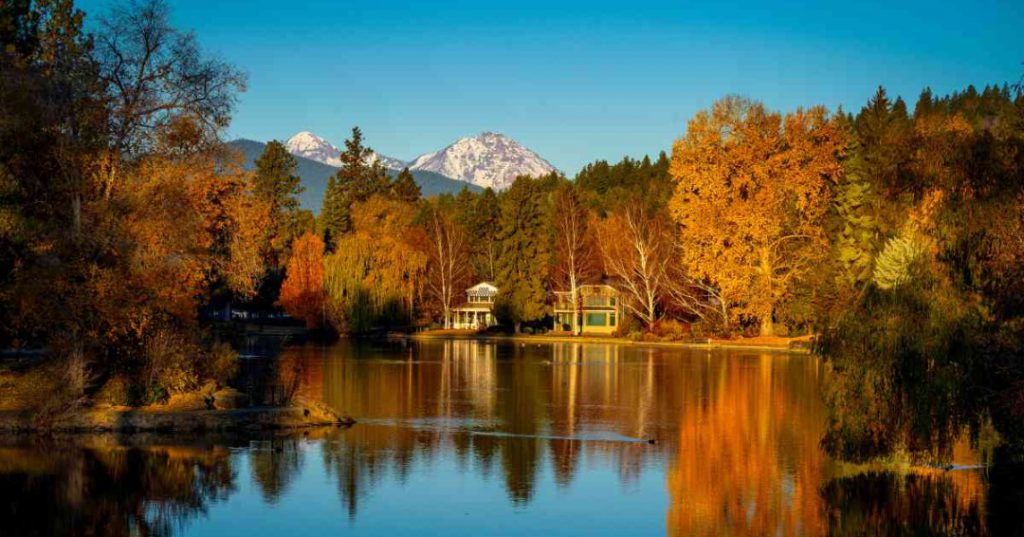 Sitting in the high desert of central Oregon, Bend is a great basecamp for outdoor activities. To the west, there are mountains and forests for hiking, rock climbing and skiing, and there are rivers and lakes for swimming, boating and fishing. And when you need to relax, you can head downtown to one of the restaurants or breweries.
Where to Eat, Drink and Sleep
The Deschutes Brewery was started in 1988 in Bend and was among the first wave of craft breweries in the Pacific Northwest. You can go on a brewery tour or just enjoy the beers at one of its 2 locations in the city. Stay at McMenamins Old St. Francis School, a unique hotel in an old Catholic schoolhouse.
Sixt Insider Tip
Although there are lush forests to the west, Bend sits near the arid Oregon Badlands Wilderness where you can see sand, juniper trees and sage. You can also find several lava tubes and caves just outside of town.
From Bend to Mount Hood National Forest (113 miles)
Head north for just over 2 hours on Highway 97 and Highway 26 to the next stop, Mount Hood. Stop in Smith Rock State Park to see the dramatic canyon and rock formations, and at the end of the drive make a detour to Government Camp, the closest town to Mount Hood, which is styled as an Alpine village.
---
Mount Hood National Forest
Less than 1 hour east of Portland sits Mount Hood, a stratovolcano that's the highest point in Oregon. It sits in Mount Hood National Forest, a popular destination for hiking, skiing and other sports. You can camp here, and there are also nearby towns and a lodge in the park to stay at.
Points of interest
See the clear alpine waters of Trillium Lake with Mount Hood in the background, or go for a hike past waterfalls, like Umbrella Falls or Tamanawas Falls. Seeing each of these requires a hike of 2 to 4 miles. If you come to climb Mount Hood, keep in mind that you need a wilderness permit, and the round-trip climb will take you more than 12 hours.
Sixt Insider Tip
Stay at the Timberline Lodge & Ski Area to the south of Mount Hood. Its exterior was used in the movie The Shining as the Overlook Hotel, and its location gives you great views and it has ski slopes in the winter.