New forms of mobility are on the rise and the way we move around is constantly changing. With more environmentally friendly mobility that saves money and time, new solutions are emerging every day in the transportation industry. One of them is a small revolution: It's the first autonomous robotic assistant. Its name? Stan. Its ambition? To make drivers' lives easier. Stan has been fulfilling this objective for a few years now, since, among other things, this robot parks your car for you. While this is a small niche for Stan, it's a big step towards the infinite future of mobility (and beyond!).
We spoke with Mathieu Lips, the vice president of engineering and chief operating officer at Stanley Robotics, which created Stan. He talks about his career, how Stan came to be, and the future of autonomous vehicles and mobility in general.
At Stanley Robotics, we believe that there can be no smart mobility without smart parking. That's why we manage these non-mobility phases in public parking lots so that users can save time.

Mathieu Lips
SIXT: HELLO MATHIEU. CAN YOU TELL US ABOUT YOUR CAREER AND WHAT YOU WERE DOING BEFORE YOU CAME TO STANLEY ROBOTICS?
Mathieu Lips: I developed a large part of my career in the automotive industry, with a manufacturer (Renault), where I was able to evolve in a wide variety of positions; mainly in engineering. I then had the opportunity to work on different vehicle systems and actively participate in the introduction of innovative features. I was also very lucky to be able to lead an electric, connected and autonomous demonstration vehicle project. A real projection into the future of the use of these key technologies for the automotive industry. This project, carried out in entrepreneurial mode, made me want to take on the world of entrepreneurship. This is the reason for this change towards a small company.
WHY DID YOU CHOOSE STANLEY ROBOTICS?
Lips: The Stanley Robotics project appealed to me in several ways. First of all because they work in a field that is relatively close to the one I knew well (the automobile). Then, because the project focuses on a specific life phase of automobile use and in a controlled environment, which allows for immediate and useful implementation of autonomous vehicle technologies. I was also impressed by the level of mastery of advanced technologies integrated into the robot and the quality of the achievements for a small company. And finally, because I was immediately attracted to the team and the benevolence that drives the company.
STANLEY ROBOTICS OFFERS THE "WORLD'S FIRST ROBOTIC VEHICLE STORAGE SERVICE". WHAT IS YOUR ROLE IN THE EVOLUTION OF STAN?
Lips: When you create an autonomous mobile robot, the goal could simply be to make sure that you no longer have to do a certain task. But in real life and especially in the development phase, things are not as simple as that. My first action was to establish a way to measure the robot's autonomy (its ability to handle itself without human intervention). This indicator has been a fundamental compass for the development teams and has allowed us to make considerable progress in a very short time. Beyond the robot, what is at stake is the autonomy of the entire system.
IN THREE WORDS, HOW WOULD YOU DESCRIBE YOUR WORK?
Lips: Three words, it's not easy! I would say agility, adaptability and composure. To tell you the truth, it's difficult to talk about daily life, since it can be so varied. Being part of the management team of a company that develops such an innovative service requires a great capacity for adaptation. Not a day goes by without a surprise. In addition, the various crises that are hitting our target markets hard, whether it is the health crisis and its impact on airports (and their parking lots) or the shortage of components that is affecting the global automotive industry (and therefore the associated logistics), have important and very direct consequences on the company. It is therefore necessary to know how to steer constantly while staying the course. Knowing how to create windows of stability in an extremely unstable world.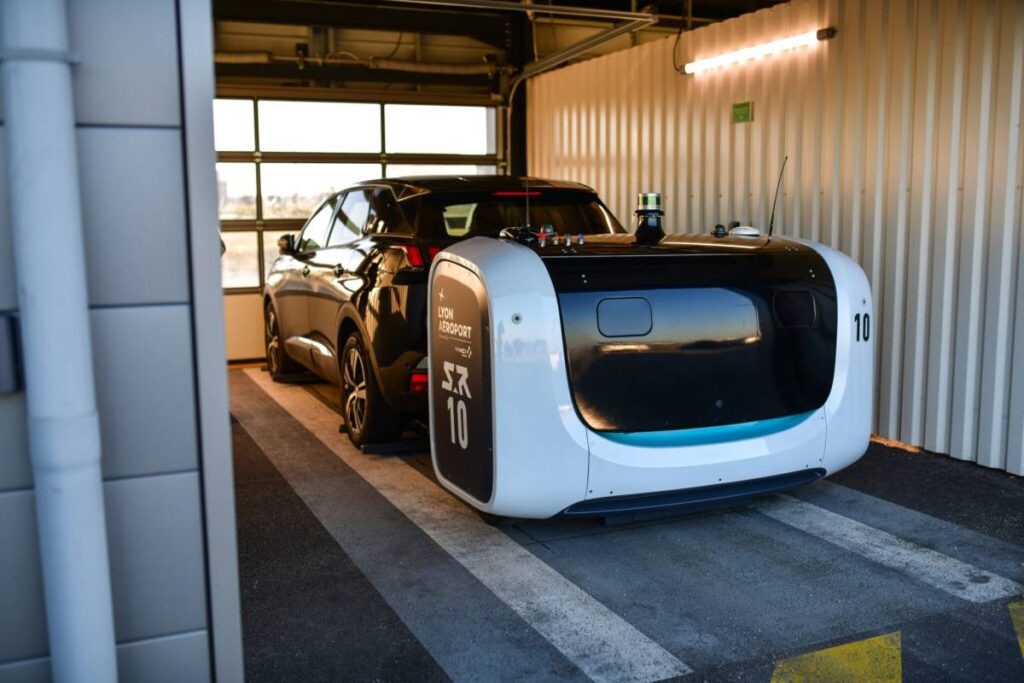 SINCE 2019, STAN ROBOTS HAVE BEEN IN THE P5+ PARKING LOT AT LYON SAINT-EXUPÉRY AIRPORT IN FRANCE. WHERE WILL WE SEE STAN ROBOTS IN THE COMING YEARS?
Lips: Unfortunately, the pandemic broke the momentum we had when we were implementing the service in several new airports. This market is currently dormant pending the resumption of air traffic growth. This was an opportunity to accelerate our expansion into another market, downstream automotive logistics (called Finished Vehicle Logistics or FVL). This is everything related to the logistics of new vehicles between the factory that produces them, the dealership or even the end customer.
We are also seeing an expansion in the world of used vehicles with a strong trend towards the industrialization of vehicle reconditioning to increase and extend their residual value. This fundamental trend of the circular economy in the automotive sector offers an interesting perspective of using our system to optimize the flow of vehicles in and out of these reconditioning plants. We have also signed a strategic partnership with Mitsubishi Heavy Industries in Japan and are exploring new applications for our system. With driving habits changing, especially for urban populations that own fewer cars and rely on rentals for their vacations, we see opportunities in this area in the future.
THANKS TO STAN, MANY DRIVERS WILL SAVE A LOT OF TIME WHEN IT COMES TO PARKING. TO DATE, HOW MANY USERS HAVE OPTED TO USE THIS SERVICE?
Lips: More than 16,000 families have benefited from this experience, i.e., leaving their vehicle in the parking lot without having to look for a parking space, and unloading their luggage near the shuttle bus stop leading to the airport terminal. [It's a] very peaceful way to start a trip. The level of satisfaction reported by users is extremely high. But all this time saved is also safer. No more wandering around with luggage and children in large parking lots where the vigilance of the drivers is very often reduced by the search for space and the stress of being late for your flight.
WHAT ARE YOUR MAIN CHALLENGES AND THOSE OF STANLEY ROBOTICS IN GENERAL?
Lips: My position makes my challenges merge with those of the company. I would say that the main challenge is to take the right directions in a field of possibilities that is very wide. There are technical challenges with the [Stan] robot that we want to make even more agile by expanding its ability to perceive its near environment by merging different vision technologies. We are also looking at the U.S. market, which features larger and heavier vehicles that require the robot to be reinforced. We are also working to optimize inter-robot cooperation by assigning each robot the most relevant mission in terms of overall efficiency. This requires a strong ability to predict trajectory conflicts over time. Our research on this topic is beginning to bear fruit.
In the context of a startup operating in an industrial environment, it is essential not to disperse efforts. It is sometimes frustrating but necessary. It is important to give time to our ambition. Therefore, the main challenge is to make the right decisions at the right time.

Mathieu Lips
WHAT ARE THE PLANS FOR THE FUTURE OF STAN? ARE YOU GOING TO DEVELOP OTHER AUTONOMOUS VEHICLES?
Lips: First, Stan will become stronger, more agile and faster with the aim of expanding its playing field and evolving closer to users. But we also have broader diversification projects in the world of outdoor freight in our portfolio. Our ambition is to bring value to all logistics in the outdoor environment based on the expertise we have developed through our two current use cases (public parking lot robotics and logistics parking lots).
WHAT IS THE BEST PIECE OF PROFESSIONAL ADVICE YOU HAVE RECEIVED?
Lips: The real career advice I received on a recurring basis was to seek to do things that made sense, at least to me. The common denominator for me has always been to look for something that I liked technically; and I have always loved things that move by themselves since I was a child. However, the first robot (the washing machine) revolutionized household life. This is one example among many that technology can provide solutions.
WHAT ARE YOUR DREAMS AND PROJECTS FOR THE COMING YEARS?
Lips: We have managed to create a club where there is a huge climate of trust. Finally, my first dream is to bring this project to life; if only because the team and the friendliness that reigns there are exemplary. That doesn't mean it's easy every day, between the car crisis and the Covid crisis.
We want to get our robots out of the parking lots; get them as close to the needs as possible.

Mathieu Lips
Either [the robots are] going to transport something other than cars, or they're going to worry about cars, but closer to where you want to put them. The dream, for the airport, would be for us to pick up cars in front of the terminal. In short, to free these robots to move around and make themselves known outside the parking lots. Just before the crisis, we had signed an extension at the Lyon airport but also with Basel-Mulhouse Airport; and London-Gatwick airport was opened to the public. In 3 weeks covid wiped all that out. Despite this, we remain optimistic and are open to new opportunities; today we are working a lot with Japan. We are running two robots there. With Covid, the borders were closed and we had to implement the system by training the teams and having them operate the robot while staying in France. So we were watching from a distance, but it worked.