Sixt Rent a Car in Seattle, Washington
Click to jump to: Our Car Rental Service | San Francisco Driving Tips | Sixt Travel Tips | Additional Services
The American Pacific Northwest is known for being one of the most beautiful areas in the United States. The region is home to stunning natural landscapes and eclectic urban centers. Plan ahead and book a rent a car in Seattle easily online or in the Sixt app. When you make your reservation in advance you have a chance to getter an even better deal on our already affordable premium vehicles. We also offer a variety of different rental arrangements for maximum flexibility. We can accommodate your plans no matter if you are renting a car for a day, a week, a month or longer.
Convenient locations at the airport and downtown
High quality rentals from a wide choice of vehicles including exotic models
Great prices with affordable deals, no hidden costs or credit card fees
Flexible opening hours with bookable out-of-hours vehicle returns
Friendly customer service: our well-trained staff are always eager to help
Unlimited Mileage comes as standard with most vehicles
What to Do in Seattle in Summer 2019
With mild summer temperatures, Seattle is a perfect place to visit when the rest of the US is too hot. There is plenty to do in the city, and its location on the water and near national parks means it is a good base for outdoor adventures. Visit Gas Works Park for a picnic along the water with a great view of the Seattle skyline. If you like music, there is the Capitol Hill Block Party in the neighborhood of the same name, as well as the Bumbershoot music festival. Head to the NOAA Sound Garden on a hill overlooking Lake Washington to experience pipe installations that make music from the wind. On warmer days, head to Alki Beach across the water from downtown Seattle. July 4th fireworks displays are plentiful, including those at Lake Union and in Capitol Hill.
Our Services
We offer a diverse selection of rental cars at each one of our Seattle car rental locations. There are fast and fun sports cars and convertibles, which are a perfect way to make a weekend getaway even more special. A selection of compact cars, sedans, and SUVs from leading brands such as BMW and Mercedes-Benz are also featured in our up-to-date fleet. To tailor your rental to your needs you can tack on any combination of extras. Add-ons such as a GPS, additional driver or protection coverages can help enhance your car rental Seattle. Plus, we have child seats suitable for babies to small children so you can have the conveniently leave yours at home.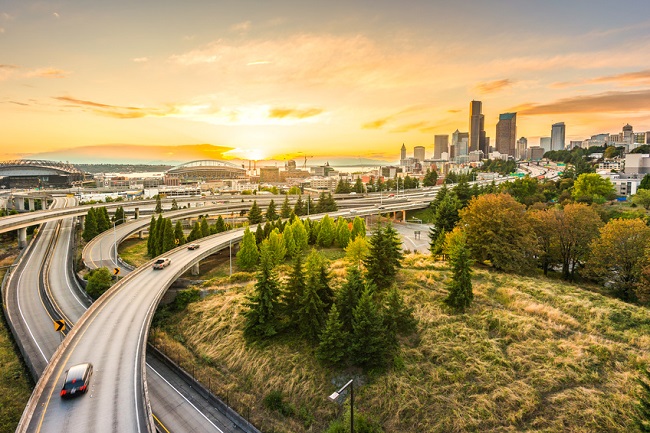 Traffic Information
Overall, Seattle is an easy city to make your way around with a vehicle. It doesn't take too long to reach your destination from anywhere in the city and both drivers and pedestrians in Seattle are known for being polite and careful. When arriving at our Seattle airport location you can take Interstate 5 into downtown. The I-5 is one of the most important roadways in the area as it runs through popular downtown districts and can take you to sightseeing destinations like Mount Rainier National Park. While driving downtown, be aware that many streets are one-way so making use of your booked GPS or smartphone can help you to navigate better.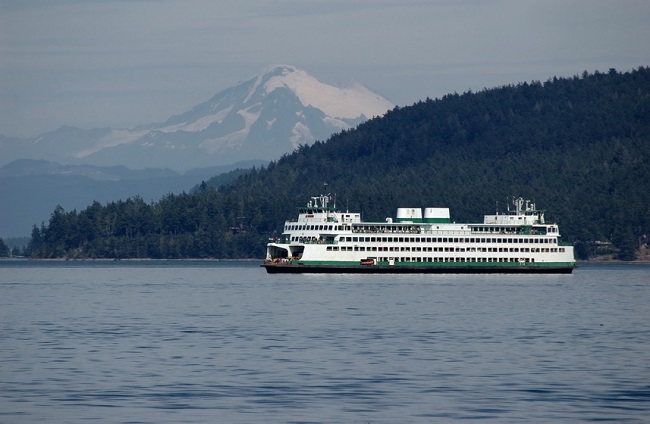 Sixt Travel Tips
Seattle is the largest and one of the most visited cities in the Pacific Northwest region. It is also one of the fastest growing urban areas in the country home to a vibrant music, cultural and culinary scenes. You can visit amazing museums like the Experience Music Project, the Olympic Sculpture Park, and the Seattle Art Museum which has a remarkable collection of works from the Native American communities of the Northwest Coast. Or take advantage of Seattle's geographical location between Puget Sound and Lake Washington and get out on the water. Of course, you should also check out iconic Seattle spots like Pike Place Market and the Space Needle. Visit all of this and more by choosing Sixt for your car rentals Seattle.
Seattle is known for being the birthplace of grunge rock and rock and roll icons like Kurt Cobain and Jimi Hendrix. While those days are not forgotten, the city has cleaned up a bit and is now considered to be one of the most vibrant tech hubs in the US. Today Seattle is home to some of the world's biggest tech giants including Microsoft, Amazon, and Google. Thus, the city enjoys an exciting, energetic vibe with lots of tech meetups and networking events organized by popular platforms like GeekWire. The main conference and convention centers are Bell Harbor International Conference Center with its excellent waterfront location and the premier Washington State Convention Center.
Additional services from Sixt in Seattle