Ford Explorer Rental Sixt rent a car
With leg room for five or more, extra storage space and improved fuel economy, the Ford Explorer can be an idea car rental option. The Sixt fleet hosts the some of the newest Ford Explorer models replete with upgraded cabins and improved technology. Make your next journey both manageable and memorable with the comforts provided by Ford Explorer from Sixt!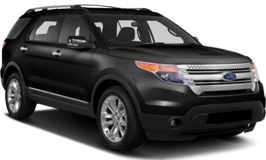 Doors
4
Seats
5
Transmission
Automatic
Air Conditioning
Yes
Minimum Age
25 Years
Luggage
4 Suitcases /
3 Bags
The Advantages of Renting a Ford Explorer
Total Package: Ford Explorers have become the total package in a rental vehicle with its balance between function, class, room and fuel economy.
Versatile Driving: Its 4 cylinder or V6 options make it a great choice for optimal driving regardless if needed for work or play. Whether considering to rent a Ford Explorer for a long distance trip, hauling objects, or a group outing, a Ford Explorer car rental can easily accommodate.
Reliably Safe: Ford vehicles are known for their reliability while the Explorer is ranked as one of the safest in its class, so you can drive relaxed and reassured. Each vehicle comes standard with traction control, stability control and received a 4 out of 5 on the government crash test rating system.
Rent a Ford Explorer with Sixt
Sixt offers affordable Ford Explorer car rental at most of its US branch locations. Browse our website to find the best deal for your travels. It is also recommend that you book in advance online or directly with our team. Please note, however, that Sixt cannot guarantee you to receive a Ford Explorer, but can guarantee an equivalent vehicle in the same chosen category.