Explore Washington State with Sixt rent a car
Our Service
|
Tips for the Region
|
Important Cities
|
Climate, Cuisine & Travel with children
We offer affordable rates on a diverse fleet of premium vehicles at all of our car rental in Washington branches. Click on the second tab of the branch menu to see where we are located on Google Maps. Keep reading on this page for further information about our car rental services and insights into how to make the most of your time in the region. We provide some insightful tips on the climate and cuisine of Washington State, as well as some great activities to do when traveling with children.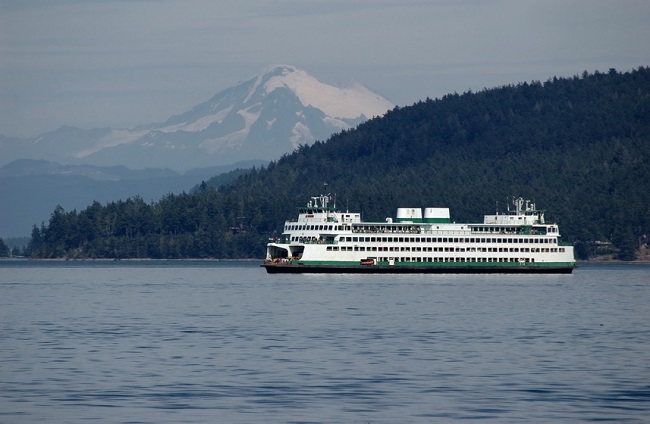 Our Service
Our extensive fleet features up-to-date vehicles from an array of leading brand like Mercedes-Benz and Toyota among many others. Whichever model you choose for your car rental road trip in Washington State you can expect to drive a rental vehicle that is well-maintained and held to strict international safety standards. Additionally, our car rental deals in Washington can be customized while booking online by including any number of our useful add-ons or extras to your reservation.
Which vehicle class is right for my trip?
Compact cars are great for a city break in places like Seattle. You will have an easy and economical way to navigate around the urban landscape and find parking.
Sedans are a good choice for those looking for comfortable travel on longer drives. With their top amenities and ample space you are sure to enjoy the drive.
SUVs, station wagons and minivans are all ideal for a family road trip in Washington while a passenger van can make group travel possible.
Optional features available with car rental in Washington:
Additional drivers
Baby, child and booster seats
Loss Damage Waiver, Supplemental Liability Insurance and Personal Accident Protection
GPS navigation systems
Driving License
To rent a car in Washington the renter and all drivers must have a valid original driver's license which needs to be presented at time of the rental. All drivers with a non-US driver's license must produce a valid passport or a valid government-issued ID card as a secondary form of ID at the time of pickup. Driving licenses in a non-Roman alphabet must be accompanied by an international driving license.
Minimum age and additional drivers
The minimum age required for a car rental in Washington is 21, a surcharge is applicable for young drivers under 25. Certain vehicle types have further age requirements, you can find our more during the online booking process.
Refueling
All of our car rentals in Washington are provided with a full tank of gas. Please remember to refill your tank when returning your car rental to your Sixt branch. You can also opt for our prepaid fuel add-on which allows you to prepay for a full tank of gas and return your car rental on low.
Accidents
If you are in an accident please report any damages to your rental car to Sixt and inform the police straight away. You can contact the emergency services in Washington on 911.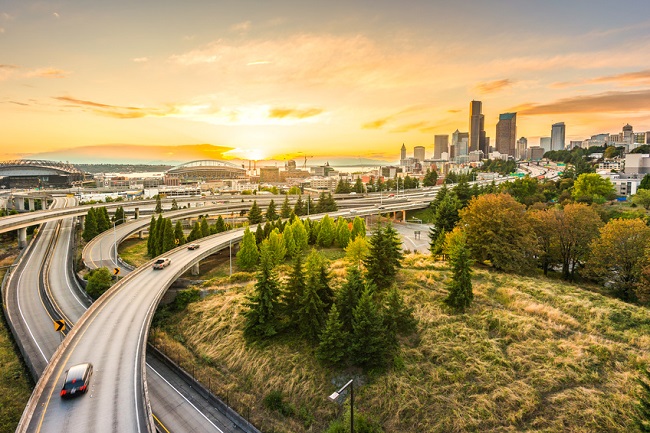 Tips for the Region
Outdoor adventurers will not be disappointed in Washington. On the west coast you are only a short drive in your rental car from national parks, and Washington has some of the most scenic in the United States. For hikers the region offers walks up to the Cascade Mountains or Mount St. Helens, while you can find astounding scenery and sights at Olympic, Mount Rainier and North Cascades National Park.
As well as acting as gateways to several national parks, Washington's cities are also exciting cultural hot spots themselves. Many are known for their political and musical contributions, which paved the way for countless museums and institutions. From the big city hustle of Seattle to the small town charm of Olympia, Washington offers a diverse range of city breaks to suit different tastes.
Distances from Seattle and Olympia to nearby national parks with your rental car:
Seattle to Mount Rainier National Park via WA-167 S and WA-165 S: 65 miles, about 1 hour
Olympia to Olympic National Park via US-101 N: 46 miles, about one hour

Important Cities
Seattle
This laid back seaport city is the origin of grunge music and the birthplace of rock legend Jimi Hendrix. The city's music scene continues to be a cultural driving force with venues like the Crocodile, the Showbox and Cafe Racer hosting hip-hop groups, touring bands and experimental acts. As Washington's largest city Seattle has more than its fair share of iconic buildings. Get the ultimate city vista from the giant Space Needle tower or find out more about the city's musical icons with a visit to the Museum of Pop Culture. The city also has innovative parks, we recommend the Gas Works Park at the site of a former oil plant for its incredible city views and the 9-acre Olympic Sculpture Park which sites its artworks in a staggering landscaped setting.
Olympia
A political and artistic hot spot, Olympia is the origin of the riot girl movement and home to the progressive Evergreen College. Although relatively small in population, the city bursts with creativity, has a passion for the arts and is also the political capitol of Washington State. The Washington Capitol State Campus is an impressive neoclassical building perched on Capitol Lake, definitely worth a visit for architecture enthusiasts. Situated just south of the enormous Olympic National Park, Olympia is also a magnet for outdoor enthusiasts. The park covers an area of just under 1 million acres, and with no access by road to its interior, to reach the splendid Olympic Mountains you will have to hike!
Spokane
Inland on the eastern reaches of Washington lies Spokane. Though the city is less advertised as a tourist destination, it offers remarkable sights and experiences. Situated on the Spokane River, the city's centerpiece is the Spokane Falls that are right in the middle of downtown, for a close up view try the SkyRide. The Riverfront Park where the falls are situated also has a stunning sculpture park, you can start the Spokane River Centennial Trail here which runs 37 miles to the Idaho border.

Climate, Cuisine & Travel with Children
Climate
The climate in Washington has two distinct zones roughly separated into East and West. Inland on the eastern side expect hot summers and cool winters, while on the western coast summers are milder and humid. The varied terrain means you have many microclimates. Up high in the mountain ranges expect lower temperatures and heavy snowfall in the winter months.
Cuisine
The cuisine of the pacific northwest draws heavily from the coast's abundant seafood and Native American traditions. A stroll through Pike Place Market in Seattle will give you a quick overview of this region culinary delights as well as offering the best of this area's produce for you to cook up your own.
Traveling with Children
Misty forests, crystal clear lakes and snow tipped mountain peaks are a magical backdrop to a road trip in Washington State. In Seattle boat and ferry rides from the waterfront offer great days out for children while the city's museums such as the Museum of Flight have fantastic interactive displays. Out on the Olympic Peninsula you will find a range of hikes suitable for kids, along with lakes to swim in, campsites and flower-filled meadows.