Discover our cheap car rental deals at Dallas/Forth Worth Airport
To rent a car with Sixt at Dallas/Fort Worth airport is easy. Our team is ready to accommodate your every need. You can choose from a broad range of economy cars, minivans, SUVs, sport cars, and convertibles from premium brands and you can enhance your trip with affordable extras, like GPS, child seats. With luxury car rental, Dallas and Fort Worth can be explored in style with top quality prestige cars from BMW and Mercedes. Or when travelling with a large group, comfortable passenger vans are available. Whether your here for a few days or a few weeks, we will have a flexible solution for you with one-way car rental and long term car rental in the USA. Whatever you want, we look forward to finding the perfect vehicle for your travels in the Dallas/Fort Worth area.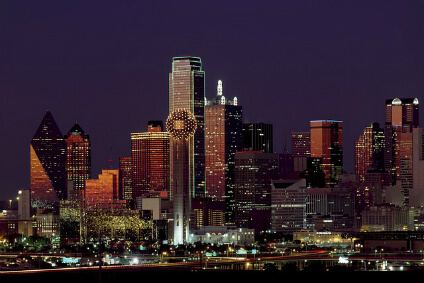 Rent a Car Dallas/Fort Worth Airport
Here at Dallas Fort Worth airport (DFW), car rental is reached by taking the courtesy shuttle located on the lower level of all terminals. Once there you can find the Sixt counter on the right hand side, we are easy to see with our classic orange design. To make your transition even speedier you can reserve a rent a car with our iPhone App prior to pick up or use our express counter. After picking up your car rental, Fort Worth, Texas, and Dallas can be conveniently enjoyed. Both are about a 30 minute drive away and so you can quickly start your exploration of North Texas.
Where to go in Dallas/Fort Worth with Sixt rent a car
With your Dallas/Fort Worth airport car rental, both of these Texas "twin cities" are yours to explore freely and on your own schedule. Your car rental allows you to easily navigate and get around to many of the top destinations in the Dallas/Fort Worth area. With attractions for all ages, Dallas/Fort Worth will be sure to keep you busy from the time you arrive until your departure. If you are looking to dive into the immense Texas culture, Dallas will not disappoint. To experience the historic "wild west" a stop at the Fort Worth Stockyards National Historic District is a must. From there, you can further branch out to cultural attractions such as the Sixth Foor Museum and Dealy Plaza, Sundance Square, Kimbell Art Museum and the Dallas Museum of Art. Dallas/Fort Worth has plenty of great options for family adventures as well with stops at the Fort Worth Zoo, Perot Museum of Nature and Science and the renowned Dallas World Aquarium. If you are looking for outdoor adventures, there are many places to discover in the area starting with the beautiful Dallas Arboretum and Botanical Gardens and the Texas Discovery Gardens. Venture a little further outside of the city limits to White Rock Lake Park or Trinity River Audobon Center to enjoy the peaceful reserves of nature. No matter what your reason for your travels to Dallas/Fort Worth, Sixt rent a car allows you to experience everything the great cities have to offer and beyond. Choose Sixt for your car rental at Dallas/Fort Worth airport for all of your travel needs and enjoy the North Texas lifestyle and culture in whichever way you choose.
What are other popular destinations of travel from Dallas/Fort Worth airport?
Sixt offers the unique services of one-way and long term car rental to make your Dallas airport car rental experience easier to explore more places. If you are heading to another area with a Sixt branch, our one-way car rental gives you the ability to pick up your vehicle at one branch and return it to another. If you are going to be in the Dallas/Fort Worth area for an extended visit, our long term car rental is the perfect way to save money and be able to explore many of the scenic destinations in Texas and Oklahoma. Some of the top day trip destinations from Dallas include:
Fredericksburg: This iconic town still holds the unique structure of the early German settlers. Known as a top destination in Texas, this 4 hour drive (250 miles) from Dallas allows you to experience the town created by the original Texas German settlers
Enchanted Rock State Natural Area: Right outside of Fredericksburg is this public protected area which features the largest pink granite rock formations in the United States.
Longview: This city, only about a 2.5 hour drive (150 miles) features plenty of family oriented activities including ziplining, trampoline parks and theatres.
Jefferson: This unique town features pristine historic homes, monuments and landmarks from decades past. Only a 3 hour drive (190) miles, blast into the past with an easy day trip.
Turner Falls: Venture into the Arbuckle mountains to view this scenie 77 foot high waterfall and explore some of the caves and hiking trails known to the area. About a 2 hour drive (115 miles) from Dallas to Davis, OK
No matter what your reason for your travels to Dallas, Sixt makes it easy to create an adventure that will leave a lasting impression. By choosing your Dallas aiport car rental from Sixt, you have the option to go above and beyond to create lasting memories on your trip to the Dallas/Fort Worth airport.


Find out what our customers say about us!

Additional Sixt Services in Dallas