Rent a Car in Switzerland with Sixt
Click to jump to: Our Service | FAQs | Driving Tips | Places of Interest
Our speedy and efficient online booking service lets you find the easily find the right rental vehicle for your trip and allows you to tailor your car rental in Switzerland with optional extras so it is fully prepared for you and the road upon arrival.
What to Do in Switzerland in Winter 2019
Winter is the best time to visit Switzerland if you want to experience the best the country has to offer. Skiing enthusiasts cannot go wrong by coming here in the winter for some of the best skiing in the world in the Swiss Alps in the southern part of the country. Other activities include snowshoeing and dogsledding, as well as snowmobiling. In the month of December you can enjoy Christmas markets in Zurich and nearly every other city. For something truly authentic on New Years Eve, head to Hospental for some sledding. Bring warm clothes, and plan on renting an SUV on a winter trip to Switzerland. Also be sure to check on the availability of winter tires and ski racks.
Our Service
Our fleet in Switzerland is features a variety of car categories with vehicles from leading brands such as BMW, Peugeot and Mitsubishi. To get the best out your car rental deals in Switzerland opt in for our useful add-ons on the booking page. Booking extras online ahead of your trip can often be cheaper than trying to include them once you pick up your rental car. Our car rental deals in Switzerland can be tailored to include roadside protection, GPS navigation systems, tire and windscreen coverage and child seats. You can also expect a safe and reliable service with Sixt, as we keep our rental fleet in line with internationally standardized rules regarding their age, and all vehicles undergo frequent safety checks.
Which vehicle class is right for my trip?
Compact cars are great idea for city breaks. Their small size ensures you easy maneuvering and is ideal when having to deal with the tighter parking spaces typically found in urban areas.
Sedans are more suited to long distance trips between cities or day trips out into the hills and mountains. No one will complain if the drive is long with their extra comforts and top entertainment systems
Station wagons and SUVs are more spacious and their strength and durability might be what you want on some of Switzerland's steeper roads. Larger groups can see about our minivan and passenger van options.
To rent a car in Switzerland you can use a non-EU (except Switzerland) passport if:
no visa has been entered in the passport
The customer has a visa in their passport and, at the time of the rental, has not been in Europe for longer than 6 months
However, if they have been in Europe for longer than 6 months, they must present a driver's license from an EU country.
FAQs
Driver's license
If your driving license is in a non-Roman Alphabet (Arabic, Chinese, Japanese, Cyrillic etc.) it must be accompanied by an international driving license. For driving licenses from countries not part of the international driving license treaty, an official translation of the license must be presented with the original license. An IDP can only be obtained before you leave the United States from either the American Automobile Association (AAA) or the American Automobile Touring Alliance (AATA).
Age restrictions
The minimum age to rent a car in Switzerland is generally 20, but this depends on which vehicle class you choose. During the booking process you will be given more information on the age restrictions for particular rental vehicles. A surcharge applies for younger drivers under 25.
Payment methods
In Switzerland all major international credit cards are accepted whereas prepaid and debit cards are not accepted. The card must be issued in the name of the driver. The deposit varies according to the vehicle and hire price so will be calculated on collection.
Accidents
In the event of an accident, please inform the police immediately. It does not matter whether the vehicle is only slightly damaged, the accident was self-inflicted or if no other vehicles were involved. Any damage to the vehicle must be reported directly to Sixt during the rental period. Please fill out the accident report form enclosed with the vehicle documents. The general emergency number for police, ambulance or fire brigade in Switzerland is 112.
Crossing Borders
Restrictions on crossing borders to various countries is dependent on your choice of vehicle. These restrictions are divided into 3 zones. Most EU countries are permitted but please read through all the Cross Border Rentals and Territorial Restrictions on our Rental Information page.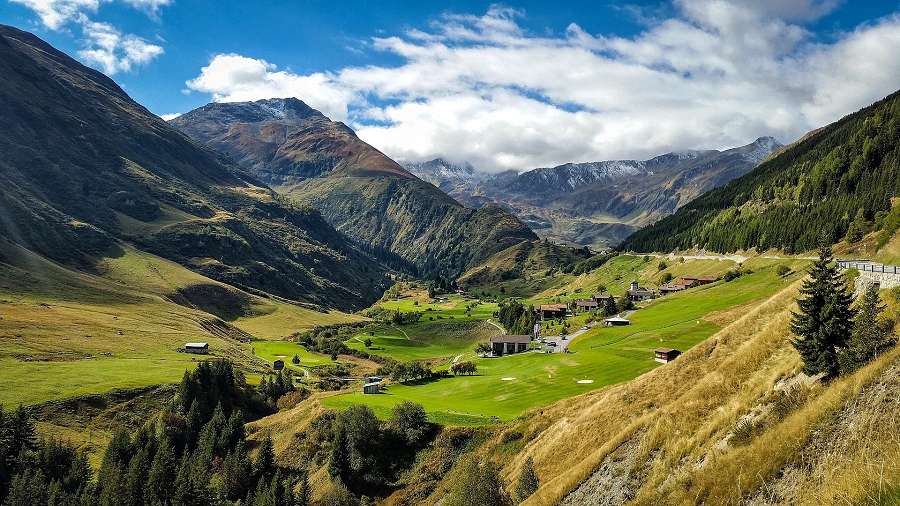 Driving Tips
Switzerland is a mountainous country with some impressive roads. It is a small country so traffic jams can be frequent but the roads are in excellent condition and accidents are relatively uncommon. Due to its Alpine terrain be prepared for lots of driving up and down, round corners and plenty of long tunnels!
Here are some important rules for driving in Switzerland:
Always wear your seatbelt.
Driving under the influence of alcohol is illegal, the maximum limit is 50 mg of alcohol per 100 ml of blood.
Speed limits are 120km/h on motorways, 80 km/h on open roads and 50 km/h in built up areas.
Children under the age of 7 cannot sit in the front seats
When driving in tunnels use your dipped headlights.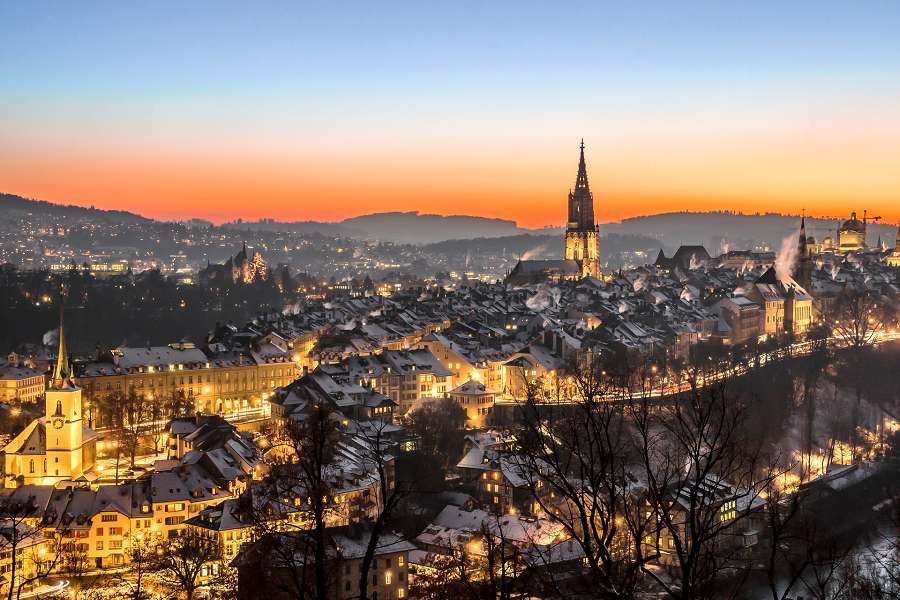 Places of Interest
Top 4 Architectural Sights
Goetheanum, Dornach
Haus Bethlehem and Haus Nideröst, Schwyz
Kapellbrücke, Lucerne
Chateau de Chillon, Geneva
The Goetheanum in Dornach is a masterpiece of modern architecture built in decorative concrete. It is the world center of the anthroposophical movement and was designed by Rudolf Steiner. Haus Bethlehem and Haus Nideröst are the oldest wooden house buildings in Europe. At over 800 years old Haus Nideröst was disassembled and put into storage, but the 700 year old Haus Bethlehem still stands in the idyllic village of Schwyz. The Kapellbrücke (Chapel Bridge) is another beautiful wooden structure. This footbridge in the city of Lucerne was damaged in a fire but its stunning interior paintings have since been restored to their former glory. Chateau de Chillon is a staggering island castle on Lake Geneva. Set against a backdrop of mountains the castle is open to visitors and offers guided tours.
Top 4 Natural Sights
Vierwaldstättersee (Lake Lucerne)
Rheinfall, Neuhausen am Rheinfall
Rheinschlucht
Aletschgletscher
Surrounded by mountains Vierwaldstättersee (Lake Lucerne) is beautiful from any angle. We recommend taking a cruise on the lake or trying out one of the many paths into the mountains. The Rheinfall ,or Rhine Falls, is a huge waterfall 150 m wide and 23 m high. There are spectacular views from the platforms either side of the Rhine or you can take a boat trip which takes you right up to the front of the falls. The Rheinschlucht,or Ruinalta, is Switzerlands answer to the Grand Canyon. A railway runs through the scenic gorge, while forest paths make ideal routes for hikers. The Aletschgletscher ,or Aletsch Glacier, is a UNESCO World Heritage Site. Bettmerhorn and Eggishorn mountains are fantastic viewpoints, both are accessible via cable car.

Popular Car Rental Locations in Switzerland
Geneva
Basel
Zurich
Lugano
Bern
Schaffhausen
Lucerne
Aargau Region
Neuenburg Region
Additional Sixt Services