Sixt rent a car in Poland
Click to jump to: Our Service | FAQs | Driving Tips | Places of Interest
Our car rental deals in Poland mean that all of these attractions are easily accessible, allowing you to experience the breathtaking natural beauty, stunning architecture and exciting cities that the country has to offer. Our convenient branch locations are ready to get you on the road so you can get your journey in Poland underway.
What to Do in Poland in Winter 2019
Poland offers a variety of destinations in winter, whether you like more urban adventures or want to head to the mountains (yes, mountains!). Krakow and Warsaw have lovely architecture and history and also offer many museums and attractions for cold weather. The Warsaw Royal Castle is worth a visit, while in Krakow you can see the Bonerowski Palace. Both of these cities, plus others like Poznan and Gdansk have lovely Christmas markets that are open from the end of November through December. The southern part of the country has the Tatra Mountains and Mt. Gubalowka. Visit the mountain town of Zakopane and go skiing from there. You might be surprised that ski slopes are free, although you do need to pay to use the lifts. The weather will hover around or below freezing, depending on where you are. A sedan will get you around in the flat north, but in the mountainous south, an SUV and winter tires are recommended.
Our Service
Our diverse fleet means it is easy to find the right rental vehicle for your driving requirements. Browse our range of car categories and securely book online. Next, tailor your rental with numerous add-ons for an optimal ride. We have great deals on optional features such as child seats, GPS, additional driver and protection coverages. Reserve your car rental for Poland ahead online or by phone and ensuring a better rate than waiting to your arrival.
What kind of vehicle is right for my trip?
Compact cars are great for city travel as they can make it easier to navigate in narrow streets and fit into more parking spaces./li>
Sedans are ideal for longer road trips as they provide top comforts and amenties.
SUVs and minivans are good for family vacations or group travel ensuring you have the right amount of leg and luggage room.
FAQs
Driver's license
Poland accepts driving licenses from all EU countries and many other nations. US drivers will also need to show an international driving permit, which can be obtained before leaving from the Automobile Touring Alliance (AATA) or American Automobile Association (AAA).
Age restrictions
You must be 18 or older to drive in Poland and further age restrictions apply when you rent a car in Poland. Our booking engine will show you the age limits on each model.
Credit card payment
Payment for your rental car must be made using a credit card. The credit card must be in the driver's name and it must be presented to branch staff upon collection. Prepaid cards and debit cards are not accepted.
Accidents
Dialing 112 in Poland will connect you to the emergency services. You can also reach our own support staff 24/7, further information is enclosed with your rental documents. Our car rental deals in Poland also include the option of Roadside Protection, providing enhanced breakdown coverage.
Crossing Borders
If you wish to extend your visit into other European countries a car rental in Poland from Sixt gives you plenty of opportunity. You are allowed to cross into neighboring countries such as Germay, the Czech Republic and Slovakia. Please refer to our Rental Information page for more information.

Driving Tips
Poland's road network is generally good and has enjoyed much investment in the last few years. Main motorways are tolled, such as on the A1, A2, A4 and A8 but driving elsewhere is free. The E65/E30 is the main route from Germany in the west, running through Poznan and Lodz on the way to Warsaw. The E75 and E77 run north to Gdansk from Lodz and Warsaw respectively and both roads continue south to Katowice and Krakow.
Additional tips for driving in Poland
Keep your driving license and ID with you at all times.
Wearing of seatbelts in the front (and back if fitted) is compulsory.
Children under 12 must use a seatbelt adapted for their height or be seated in a special seat.
General speed limits
20 km/h in residential areas
50 km/h-60 km/h in urban areas
90 km in non urban areas
100 km/h on single carriageways, 120 km/h on expressways and 140 km/h on motorways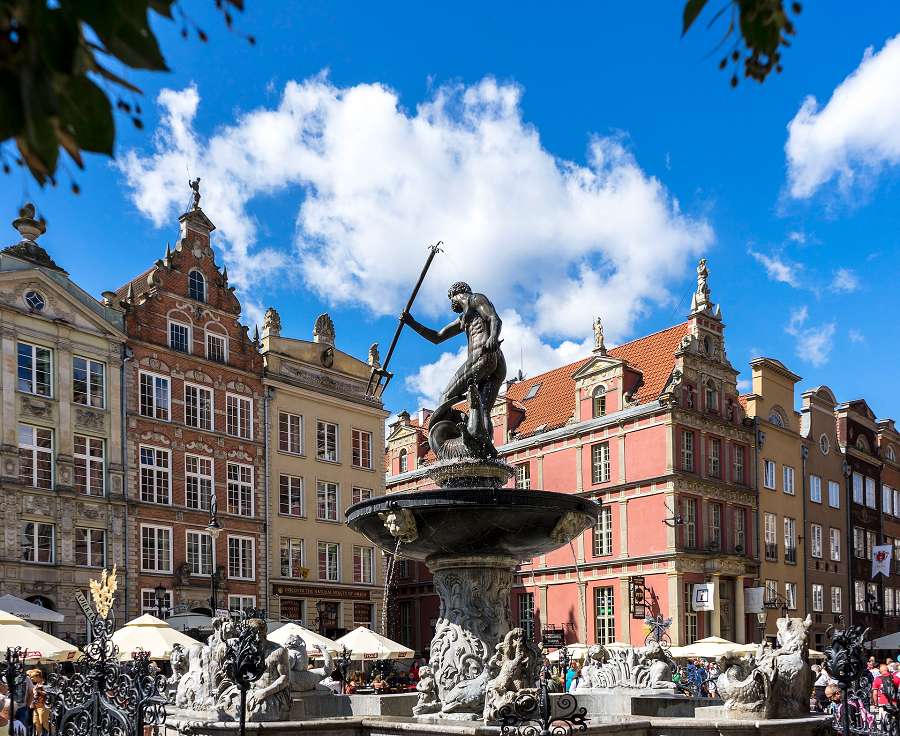 Places of Interest
Top 4 Architectural Sights
Wieliczka Salt Mine
Wooden Tserkvas of the Carpathian Region in Poland
Centennial Hall in Wroclaw
Malbork Castle
Not far from Krakow is the Wieliczka Salt Mine, one of Poland's largest tourist attractions. A national Historical Monument produced table salt from the 13th century up until 2007 and is home to four chapels and many sculptures that were carved by miners out of rock salt. The UNESCO listed Wooden Tserkvas of the Carpathian Region are a group of wooden Orthodox churches which were built between the 16th-19th centuries. Wroclaw's Centennial Hall is a designated Historic Monument built by Max Berg in 1911-1913 and is an early example of reinforced concrete architecture. When measured by land area the Malbork Castle is the world's largest castle. Built by Teutonic Knights it is a classic example of a medieval fortress and has been UNESCO listed since 1997. Situated on the bank of the Nogat River it is considered to be one of the most beautiful spots in all of Poland.
Top 4 Natural Sights
Island of Wolin
Ojcowski National Park
Bialowieza National Park
Hohe Tatra
Wolin is an island in the Baltic Sea and home to the Wolin National Park, home to a beech forest and bison reserve. Ojcowski National Park is near to Krakow, which despite its small size, is one of the most scenic natural areas of the country. The area features tall limestone rock formations, the most famous of them is the Hercules Bludgeon. Bialowieza National Park in the east of Poland is the last primeval forest in Europe and is a UNESCO listed World Heritage Site. It is home to massive ancient oak trees and herds of wild bison. The High Tatra Mountains are a range found along the northern border with Slovakia and include 29 peaks that climb over 8,200 feet.