Rent a car from Fort Myers International Airport (RSW)
Choose a Sixt car rental from Fort Myers Airport for affordable car rental deals and a premium service. Southwest Florida International Airport is the main airport serving this part of Florida with domestic and international flights. Our huge fleet is made up of rental vehicles from world-class car manufacturers such as Hyundai, Mercedes-Benz and Toyota. We have compact city cars that are great for city breaks as well as sedans that are ideal for family vacations. If you want to make the most of your trip by traveling in style, try a sports cars or luxury rental car. If you are on a budget, we have plenty of reliable economy rental vehicles. Our SUVs and station wagons provide plenty of room for luggage while our minivans and passenger vans offer perfect solutions for large group trips.
Convenient location at Fort Myers Airport with free shuttle service
High quality rentals from a wide choice of vehicles including exotic models
Great prices with affordable deals, no hidden costs or credit card fees
Flexible opening hours with bookable out-of-hours vehicle returns
Friendly customer service: our well-trained staff are always eager to help
Free One Way Rentals within Florida*
Sixt car rental at RSW Airport
The Sixt branch is located just outside of Fort Myers Intl. Airport. You can reach our car rental location via our Sixt courtesy shuttle, arriving every 10-15 minutes. We pride ourselves in taking care of our guests like family, so relax & refresh yourself with free coffee, tea and water offered at our comfortable and modern branch. The airport is located right next to Interstate 75, which runs to the north and south of this incredible coastline, meaning you only have a 20-minute drive north to Fort Myers downtown or to the southwest to visit Estero Island. For those with an early or late flight out of Fort Myers airport we offer 24 hour returns on our rental cars for added convenience and more flexible travels.
Directions to Sixt in Fort Myers Airport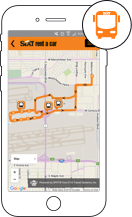 Sixt shuttle info
Our courtesy shuttle makes it easy to reach our branch from the airport as they run continuously every 10-15 minutes during business hours. Once at arrivals, exit through door one from the baggage claim. Cross the street and follow the sidewalk to the left to reach the Shuttle Pickup Area. The pickup area is at the end of the garage, under the canopies, and you can also live track the shuttles.
Find out what our customers say about us!
Things to do in Fort Myers FL
With a Sixt car rental you can be in the historic downtown of Fort Myers quickly and conveniently from RSW airport. The city itself has some fine attractions with many historic buildings dating from the turn of the 20th century. The Edison and Ford Winter Estates make for a compelling historical tour and you will learn much about the city itself from finding out more about these two leading historical figures of American industry. With your rent a car it is easy to make day trips to the incredible islands on the outskirts of Fort Myers to top destinations like Estero Island, Sanibel Island and Pine Island. They all have incredible beaches and access to fun outdoor activities. The wildlife is also spectacular with manatees, dolphins and birds of prey such as the bald eagle in abundance.
Additional Sixt services
*The offer is subject to availability and excludes one way rentals between airport and downtown locations in the same city. You can find a detailed explanation of our service in our Rental Information section.