Sixt rent a car in Palm Beach
Our Service
|
Traffic Information
|
Sixt Tips
|
Sightseeing Destinations
|
Business Travel
|
FAQs
When you rent a car in Palm Beach from Sixt you can expect a first class driving experience at economy price. We affordable rates on a diverse fleet of premium brand vehicles. Make a quick price comparison and see how you can get behind the wheel of a BMW or Mercedes-Benz for less than you think. Besides our deals on luxury car rental our Palm Beach we have a range of compact cars, sedans, SUVs, sports cars and convertibles. Find out what rental cars are available at each location by scrolling through our drop down branch menu. The Google Maps overview on the second tab will show you all our area locations.
Our Service
Whatever your reasons for seeking out car rental in Palm Beach, you can be sure our impressive fleet of quality vehicles will meet your needs. Once you have found your ideal rental vehicle, it's time to choose from our extensive list of options to make sure that your complete rental package fits your requirements. You can include a range of extras to give you an optimal ride. Include a GPS to stay on track or an additional driver to share the wheel. We also have coverage options and child seats suitable for babies to small children. Our Extended Roadside Protection option will quickly get you moving again should something go wrong and our Express Toll Service provides a trouble-free way to get around Florida. If you are driving far, look out for unlimited mileage options and many of our branches offer 24-hour rental return to fit in with your travel plans.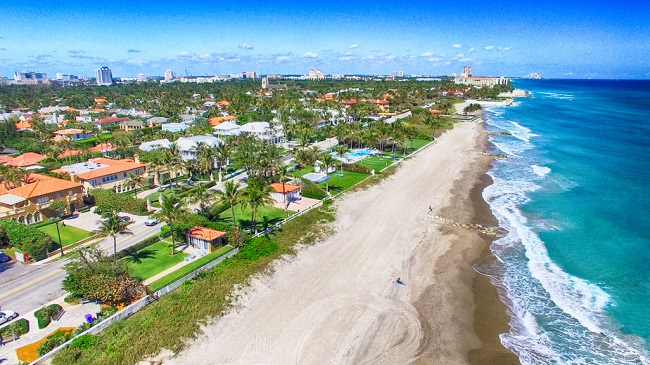 Traffic Information
If you are arriving by air, the drive from Palm Beach International Airport to the city center of Palm Beach should take around 15 minutes. US-1 is the major route but it can get busy with heavy traffic. In this case you can take Okeechobee Blvd or Australian Avenue to avoid some of the worst traffic. Our Boca Raton branch near Mizner Park is around 30 miles south of Palm Beach. It will take you around 40 minutes on the I-95 or you can use the Florida Turnpike when traffic is heavy. Our West Palm Beach branch is only around 4 miles from Palm Beach city center. It should take 10 minutes via S Australian Avenue or just a few minutes longer using Okeechobee Blvd or going via US-1 and Belvedere Road.
There is no doubt that driving is the easiest way to get around Palm Beach. The city's roads are laid out on a familiar grid system and this is reasonably simple to navigate when you rent a car. It is also a compact city and attractions such as The Flagler Museum, Norton Art Museum, Palm Beach Zoo and South Florida Science Center and Aquarium are all within reach. Parking in Palm Beach is relatively plentiful, with many garages and lots. When traveling further afield you can make use of Highway 1 and US-441, along with the I-95 and Florida Turnpike to reach other popular destinations. For a direct route west, US-98 and FL-80 W will take you to locations on the Gulf Coast and Fort Myers.

Sixt Tips
Palm Beach has some of the finest beaches in the state of Florida with more than 40 miles of coastline. It is also known for its upscale boutiques that line Worth Avenue, one of the most famous streets in the US. As the sun sets, those in the Palm Beach area head over to the West Palm Beach. Check out CityPlace, a few blocks west of the waterfront that hosts lots of restaurants and entertainment options. There is even a musical fountain complete with a stage that hosts local bands.
Your car rental can help you fully experience the natural beauty of the area. Head out to John D. MacArthur Beach State Park, where you can snorkel in the shallow reef, go for a hike or kayak in the mangrove swamps. Breakers Reef is another popular snorkeling site, located beside Breakers Hotel.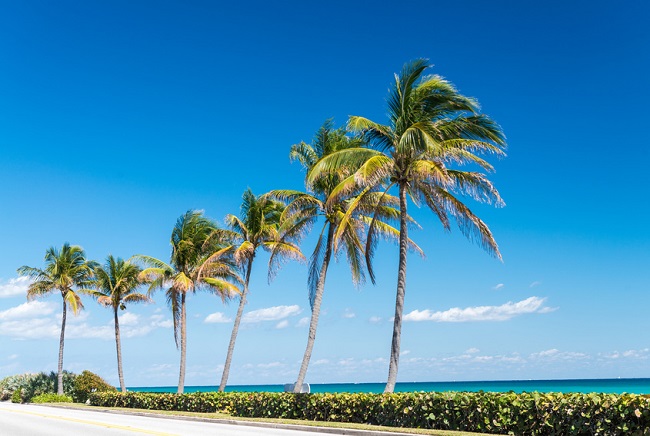 Sightseeing Destinations
Jupiter Island
Around 30 miles north of Palm Beach, lies Jupiter Island. This area is famous for the red brick Jupiter Inlet Lighthouse and for its golf courses. It also has an atmospheric old town at Abacoa, with some great restaurants and shops.
Distance to Jupiter Island
From Palm Beach International Airport: 28 miles, about 39 minutes
From West Palm Beach: 27 miles, about 43 minutes
From Boca Raton near Mizner Park: 52 miles, 1 hour, 6 minutes
Boca Raton Museum of Art
Spend some time enjoying the exhibitions and collections of this important cultural center. If you feel inspired by looking at the artworks visitors can gladly request materials such as clipboards, sketch books, and pencils at the front desk.
Distance to Boca Raton Museum of Art
From Palm Beach International Airport: 34 miles, about 47 minutes
From West Palm Beach: 35 miles, about 48 minutes

Business Travel
Palm Beach County is one of the wealthiest in the US and has a strategic location that is ideal for many industries. Situated between Miami and Orlando it is in close proximity to major air and sea transportation hubs, making it an ideal base for many manufacturing firms. Palm Beach is also home to various industry clusters, primarily in the communications and information technology, sectors as well as many others. The main conference center is the Palm Beach County Convention Center.
Distance to Palm Beach County Convention Center
From Palm Beach International Airport: 4 miles, about 8 minutes
From West Palm Beach: 2 miles, about 8 minutes
From Boca Raton near Mizner Park: 30 miles, about 40 minutes

FAQs
Which documents are needed to pick up a rental car?
What is included in the rental charges?
Can I rent a specific car model?
Can I change my booking and do I have to pay a cancellation fee?
Can I cross state lines and/or borders with my rental car?
Can I rent the car at one place and drop it off at another station?
What is Sixt's refueling policy?
What add-ons are available and how much do they cost?
Can I rent a car with unlimited mileage?
Does Sixt deliver and/or collect rental cars?
Do I have to pay a security deposit?
If you cannot find an answer to your question or require more details, please visit our car rental FAQs page.