Rent a car in Nevada with Sixt
Our Service
|
FAQs
|
Tips for the Region
|
Important Cities
|
Climate, Cuisine & Travel with children
Our branch at the McCarran Airport location is perfect way to begin a car rental road trip in Nevada. Our car rental deals in Nevada mean you can get behind the wheel of vehicles from premium brands such as Mercedes-Benz, Toyota, and Chevrolet among others. Have a look at the second tab our of branch menu to see a Google Maps overview how you can reach top destinations from our airport location. Read on down this page to gather information about our car rental in Nevada and helpful travel tips. We give you some suggestions on what to do in popular spots like Las Vegas, Reno, and Great Basin National Park. Book online and be ready to hit the road shortly after your arrival.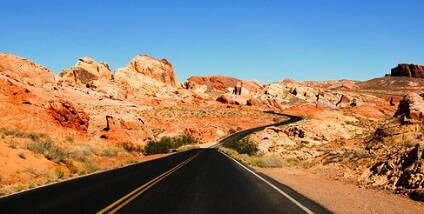 Our Service
Your car rental in Nevada can be outfitted with numerous add-ons to meet your travel needs. While on our online booking page you can see all the recommended extras which are available to include to your car rental.
Optional features
Child, baby and booster seats
GPS
Loss Damage Waiver, Personal Accident Protection and Supplemental Liability Insurance
Which rental vehicle class is for my trip?
Compact cars are ideal for those making a city trips and traveling with less cargo and travel companions.
Sports cars and convertibles can add some instant excitement to a road trip in Nevada or a weekend in Las Vegas.
SUVs are perfect for larger groups and those planning some outdoor adventures.
Station wagons and minivans are a good choice for family vacations.
Driving License
Americans must be in possession of a current US driver's license to rent a car in Nevada. Foreign visitors will need an international driver's permit.
Minimum age and additional drivers
Younger drivers are welcome to take advantage of our car rental deals in Nevada. Drivers must at least 21 and in possession of a valid driver's license for at least one year. However, drivers aged 21-24 will incur a young drivers surcharge on their car rental. Additional drivers are required to show an original, valid license on pick up the rental car.
Refueling
Every Sixt car rental in Nevada comes with a full tank of gas and should be returned full as well. We do, however, provide a prepaid refueling option which allows you to return the car on low and prepay for a full tank of gas at prices comparable to those at the pump.
Accidents
Drivers involved in an accident are instructed to contact the police immediately and to inform Sixt of any damages to the rental vehicle. In case of emergency, dial 911.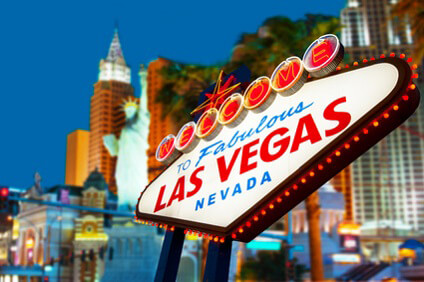 FAQs
What time periods does Sixt offer with car rental?
What documents do I need to rent a car?
Can I pick up a car and return it somewhere else?
Do I have to pay a deposit?
Can I rent a car with unlimited mileage?

Tips for the Region
Nevada, a mostly arid region, lies mainly within the Great Basi with the Snake River to the northeast, and the Mojave desert and the Colorado River to the south. The state is a favorite of gaming and entertainment enthusiasts who flock to places like Las Vegas, Reno and Tahoe. Nevada's western landscape is home to stunning mountain ranges. Take caution when traveling in the state's desert regions as gas stations are few and far between.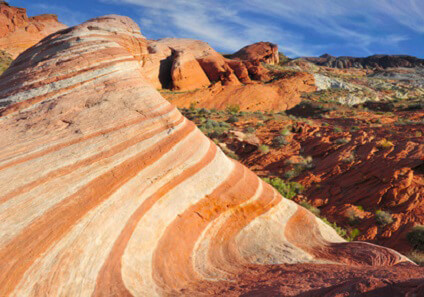 Important Cities
Las Vegas
Located in the Mojave Desert, Las Vegas is the largest city in the state. Known as the entertainment capital of the world, the city doesn't disappoint with an endless selection of luxury resorts, casinos, performance venues and first-rate restaurants. Chock full of fun for adults and children alike, Las Vegas can be both romantic and exciting.
Reno
Reno, also known as the Biggest Little City in the World, is situated in the stunning northwest region of Nevada at the foot of the Sierra Nevada mountain range. The city is also popular for its endless gaming, entertainment and cultural possibilities. The future location of the Tesla Gigafactory, the city is slowly transforming into a more youthful and vibrant destination.
Great Basin National Park
Situated near the Nevada-Utah border, the Great Basin National Park features an array of landscapes including the 13,063 feet high Wheeler Peak. Visitors also enjoy spending time exploring the ancient Lehman Caves, as well as the many trails that cut through lush meadows, lakes and glacial areas.

Climate, Cuisine & Travel with Children
Climate
The driest state in the Us, Nevada is known for its hot summers and cold winters. Spring and fall are the best times to visit since conditions are more moderate. Of course your rental car will come equipped with air conditioning so you can keep cool while touring around during the hotter months.
Cuisine
With world-class restaurants in Las Vegas and Reno, visitors to Nevada will find no shortage of outstanding international food selections, as well as classic American cuisine. In the north, there is a tradition of Basque cooking with unexpected dishes like chateaubriand, leg of lamb, and a variety of seafood, as well as Spanish mainstays like paella and chorizo.
Traveling with Children
Nevada is equipped with as much children's entertainment as it is adult diversion to explore on your car rental road trip in Nevada. From the Secret Garden and Dolphin Habitat at the Mirage to the Journey to the Center of the Earth at Excalibur and the Shark Reef Aquarium at Mandalay Bay Resort, Las Vegas is a hit with kids. For outdoor activities, Red Rock Canyon National Conservation Area features the Children's Discovery Trail, a half mile trek for kids to hike and learn about the desert, and Great Basin National Park offers forest trails, cave formations, outdoor sculpture gardens and ski slopes.