Our Service
|
FAQs
|
Tips for the Region
|
Important Cities
|
Climate, Cuisine & Travel with children
Our branches are conveniently located next to major transport hubs so you can start your car rental road trip in Scotland straight on arrival. Our car rental fleet features a diverse selection of premium brand vehicles in a range of styles. With our affordable rates you can drive around Scotland in an up-to-date Mercedes-Benz, Audi, BMW among other top manufacturers. Keep reading on to find out more about Edinburgh, Glasgow and Perth, our pick for Top 3 cities to visit, as well as useful information about our rental car services and tips for traveling in the region.
Our Service
With car rental locations near hotels and motorways, we can get help you plan a seamless trip when you rent a car in Scotland with Sixt. Our additional deals on add-ons provide you with easy solutions to customize your car rental in Scotland. To ensure the availability of the rental vehicle and optimal extras you desire make sure to book online in advance and have a better chance at our great car rental deals in Scotland.
Recommended optional features for your car rental
Additional drivers
Baby, child and booster seats
GPS
LDW, Roadside Protection, and Tire and Glass Protection
With our diverse range of vehicles you can be sure to choose a car rental in Scotland that suits your mobility needs. Our extensive fleet can accommodate a variety of budgets and travel plans. Below is a look at the rental vehicle types we have on offer for your road trip in Scotland.
Which vehicle class is right for me?
Compact cars are ideal for urban areas and maneuvering on narrow roads.
Sedans are perfect for long distances drives and provide plenty of luggage and leg room.
SUVs, station wagons and minivans are great for family vacations and group travel.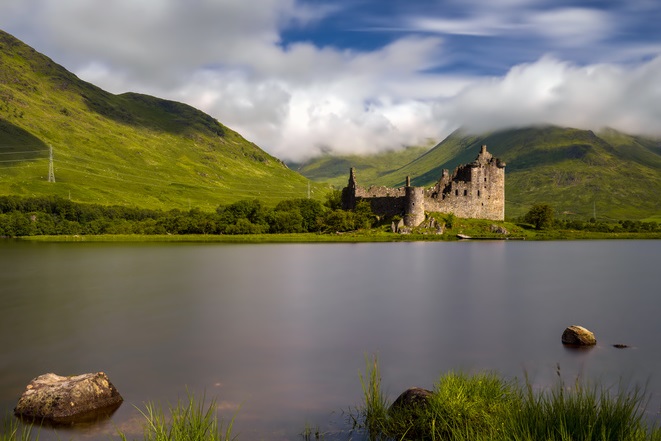 Driving license
With Sixt car rental in Scotland all non-UK residents are required to present a driving license that has been valid for at least one year, as well as a passport or ID card which is valid for a period of at least 3 months beyond the end of the rental period.
Minimum age and additional drivers
The minimum age to rent a car in Scotland is 21, a surcharge is applicable for drivers under 25. Further age restrictions may apply depending on the vehicle class, please check our rental information section on the booking page for more details.
Refueling
All of our car rentals in Scotland are provided with a full tank of gas, please refuel your vehicle when returning it to your pick-up location.
Accidents
In the event of an accident please contact the police right away and inform Sixt of any damage to the rental vehicle. You can contact all of the emergency services in Scotland on 999, for minor traffic accidents you can contact the police on 101.

FAQs
What time periods does Sixt offer with car rental?
What documents do I need to rent a car?
Can I pick up a car and return it somewhere else?
Do I have to pay a deposit?
Can I rent a car with unlimited mileage?

Tips for the Region
Scotland is famous for its huge amounts of lochs and castles and these can be useful landmarks to plan your trip around. Many people come to spend time in the Scottish Highlands where one can find a plethora of top attractions. One such is Loch Lomond, the biggest lake in Britain, surrounded by stunning scenery of and contains 30 small islands. The nearby Trossachs National Park is famous for its romantic beauty and varied scenery, the result of it being on the fault line between the Highlands and the Lowlands. Hiking in the area is superb with excellently marked and maintained footpaths. Also home to amazing nature and wildlife is Argyll Forest Park, a distinct area within the Loch Lomond and Trossachs National Park. There are many islands and archipelagos you can choose to visit as well like the Hebrides, the Orkney Islands and Shetland Islands.
Scotland is also home to many exciting cities, each home to a wealth of historical and cultural attractions to keep you busy. Many visitors stop in Dundee, which despite being slightly lesser known, is in no way less worthwhile. Here you can enjoy great shopping, family-friendly activities as well as fantastic museums. Dundee will be soon be host to the V&A Museum of Design, the first design museum in the country.
If you are traveling in the north in autumn or winter you have a good chance of seeing the northern lights with Northern Scotland being on the same latitude as Stavinger, Norway. If you are into rocky mountainous terrain you will be spoilt for choice with the Glens, the Munros, the Corbetts and the Grahams all offering high altitudes and majestic scenery. For iconic views and staggering geological formations the Isle of Sky is also a must-see. The island also has one of Scotland's new dark sky parks, which take advantage of Scotland's wilderness to enjoy the age old activity of stargazing.
How to get to the Isle of Sky from the Scottish mainland:
Take the Skye Bridge that connects the village Kyle of Localsh with Kyleakin on Skye
The privately owned Glenelg ferry connects Glenelg with Kylerhea on Skye
Take the Calmac ferry that goes from the port of Mallaig to Armadale in Sleat, in the south of the island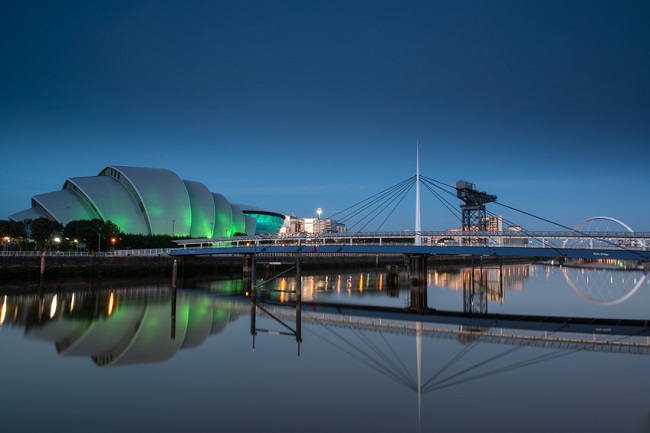 Important Cities
Edinburgh
Edinburgh is an architectural delight at every turn with fantastic medieval tenements, winding lanes and Georgian splendor. Besides its well preserved architecture and listing as a UNESCO World Heritage Site, Scotland's capital also boasts the famous Edinburgh Festival. Every summer people from all over the world come to the city for its hundreds of fringe theater and comedy shows. The city is also surrounded by the natural beauty of the Lothian's, which are well worth exploring in your rental car. A climb to the top of the prehistoric volcano Arthurs Seat for some of the best views of the city is also recommended.
Glasgow
Glasgow is Scotland's largest city and bursts with life and character. It has an amazing arts and music scene, hosting festivals including the one of a kind Celtic Connections annual winter music festival. Its architecture is stunning and diverse, with older buildings setting a stark contrast to bold, modern and contemporary buildings. The city's residents are known for their friendliness that gives charm to Glasgow's edgy urban and cosmopolitan sensibilities. Keep an eye out for buildings designed by the legendary Charles Rennie Mackintosh, they are scattered all over the city!
Perth
Another city of architectural splendor is Perth, connected to Edinburgh by the M90 to the south. Perth has exquisite restaurants, independent boutiques, excellent castles and traditional tearooms. We highly recommend taking a trip to the outskirts of Perth in your car rental to visit Scone Palace. The palace is a luxurious country house steeped in history, being the coronation place of many Scottish monarchs, and it is only two miles north of Perth's town center.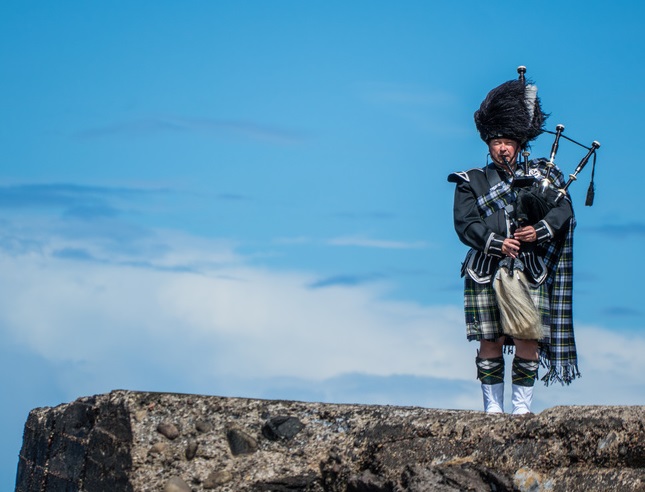 Climate, Cuisine & Travel with Children
Climate
Known for its unpredictable weather, Scotland can be rainy one second then bathed in glorious sunshine the next. The dramatic weather shifts add to the scenery with changing colors and moods. Mountainous regions are snowcapped in the summer and obviously much colder all year round, at lower altitudes there are many warm sunny micro-climates due to the gulf stream.
Cuisine
Scotland has had a food revival in recent years with restaurants selling more traditional dishes with locally sourced produce, meaning the days of the deep fried mars bar are over. Seafood is in abundance due to Scotland's large fishing industry, also expect brilliant cheeses and local meats.
Traveling with Children
Scotland is an excellent country for walking and camping, with many castles along the way which will delight and inspire kids. Being a country of the great outdoors there are a lot of adventure parks and activities such as climbing and kayaking. Scotland also has incredible wildlife including the highland cattle, puffins, sea eagles, Minke whales, dolphins and seals. The peak months for whale watching are June and July.