Rent a Car in Romania with Sixt
Click to jump to: Our Service | FAQs | Driving Tips | Places of Interest
With branches at Romania's major cities, airports and travel routes, Sixt can fit seamlessly with your travel plans and you will soon be on the road and enjoying the sights of Romania. You might be surprised at what Romania has to offer the visitor. You might even decide to drive on the Transfagarasan in your chosen vehicle, described by some as the most beautiful road in Europe.
What to Do in Romania in Winter 2019
Romania is a beautiful destination in winter. The first thing you should know is it will be cold. Temperatures can hover between 25 and 30 degrees between December and February, although can be much colder if you go to the mountains and add snow to the mix. Renting a 4-wheel-drive vehicle like an SUV is essential, as are winter tires. All that being said you can have a magical trip if you like skiing and enjoy winter fairs. There are several Christmas markets in December in cities like Bucharest. Poiana Brasov is a perfect place to go skiing at very reasonable prices. And to get out of the cold, be sure to visit Bran Castle, on the border of Transylvania and Wallachia outside of Bran.
Our Service
Choosing the right rental car for your trip is important. All visitors have different needs and preferences and that is why we provide such a wide choice of car categories on offer for car rental in Romania. Be sure also to check out our extensive options list as well so you can further tailor your rental to your needs. You can make sure that your rental vehicle fits with your preferences by selecting add-ons like enhanced coverage, child seats, navigation systems or winter tires. You can even specify a ski rack if you are heading for the slopes. Whatever your choice, it's a good idea to book early to ensure availability of your preferred car and options and to secure advantageous car rental deals in Romania.
What kind of car is right for my trip?
Compact cars and sedans are great for getting around urban areas in comfort and style.
SUVs are the perfect travel companion for exploring the countryside, giving you a reliable set of wheels with plenty of room.
Station wagons and minivans are ideal for family vacations or group trips, providing ample space and the ability to enjoy traveling together.
FAQs
Driver's license
When you rent a car with Sixt in Romania, you will need to present a valid ID card or passport as proof of identity. The renter and any other drivers will also need a valid driver's license. A standard US license is acceptable.
Age restrictions
You need to be at least 18 and have held your license for a minimum of one year to enjoy car rental in Romania with Sixt. There may be additional age restrictions for certain models of rental vehicle and drivers under 25 will pay a surcharge for certain classes of car. More details will be displayed while on the booking engine.
Payment Methods
Sixt accepts payment by major credit card including those from Visa, MasterCard/EuroCard and American Express. We are not able to accept payment by debit card or prepaid card.
Accidents
If you have a car accident in Romania you must report it to the police and obtain a report before leaving the scene of the accident. All accidents must be reported to the police, even if it didn't involve any other vehicle. The emergency services number is 112. You also need to inform Sixt immediately of any damage to the car and complete the provided Accident Report Form.
Crossing Borders
Cross border rentals are allowed to a number of European countries in Central and Eastern Europe. Charges apply and written permission is required before travel. You can find a list of countries and more details here: Rental Information. In case of offense against crossing borders and territorial restrictions coverage will be void of validity.
Driving Tips
Romanian roads are classified according to their importance and traffic rules. Motorways have an 'A' prefix and then a number, while expressways are noted as 'DX' followed by numbers. National roads get the 'DN' prefix, while country roads are labeled 'DJ' and local roads 'DC'. Major motorways are in good condition but the quality of country roads is variable and care should be taken when driving on them, especially at night. You will need to purchase a 'vignette' to use the motorways. These can be obtained from gas stations and border points.
Additional tips for driving in Romania:
Speed limits are generally 31 mph in urban areas and up to 74 mph on motorways.
Keep your license and documentation with you at all times in the rental vehicle.
All drivers and passengers must wear seatbelts.
Children under 12 must ride in the back, except in two-seater vehicles.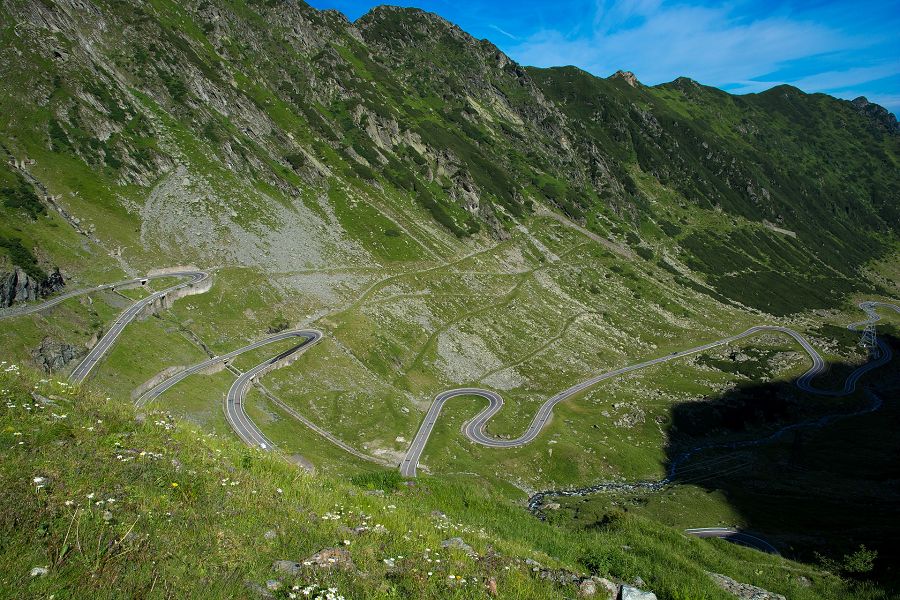 Places of Interest
Top 4 Architectural Sights
Wooden churches of Maramures
UNESCO World Heritage Site old town of Sighisoara
Palace of the Parliament, Bucharest
Villages with fortified churches in Transylvania
The Wooden Churches of Maramures in northern Transylvania number more than 100 and date from the 17th century. They typically have tall, slender towers and are known for their beauty. The UNESCO World Heritage Site old town of Sighisoara is an outstandingly preserved fortified medieval town. Beautifully painted buildings and narrow, winding streets make for a great place to visit. The Palace of the Parliamentin Bucharest is the second largest government building in the world (behind the Pentagon). It has more than 3,000 rooms and can be explored only by guided tour. You will need your passport to enter. One of the more unusual architectural features of Romania are the villages with fortified churches in Transylvania. These are found in seven villages across southeast Transylvania.
Top 4 Natural Sights
Danube Delta
Carpathian Mountains and Muntii Maramuresului Nature Park
Liberty Bear Sanctuary, Zarnesti
Balti Steppe
The Danube Delta is a UNESCO protected site and the second largest river delta in Europe (after the Volga). The delta empties into the Black Sea and is a haven for wildlife, especially birds, along its many channels. Among the marshes and woodland you will find everything from Egyptian pelicans to Arctic geese. The Carpathian Mountains and Muntii Maramuresului Nature Park encompass some of the last unspoiled wilderness areas in Europe. There are spectacular mountain peaks, cascading rivers and lush Alpine meadows to enjoy. You will also find wolves and the Carpathian chamois in the virgin forests. The Liberty Bear Sanctuary in Zarnesti does a great job in rescuing bears from exploitation. There are more than 70 bears in the sanctuary, which can be viewed as they enjoy their natural habitat in safety. The Balti Steppe is another area of unspoiled wilderness. The landscape includes steep gorges and barren highlands in a breathtaking high plain.