Rent a Volkswagen Eos with Sixt
Looking for a stylish drop-top with all of the bells and whistles? If so, opt for Volkswagen Eos car rental from Sixt. The Volkswagen Eos is a great rent a car option when you want fun and lots of extra features.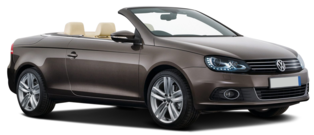 Doors
2
Seats
4
Transmission
Automatic
Air Conditioning
Yes
Minimum Age
25 Years
Luggage
2 Suitcases /
1 Bag
Benefits of the Volkswagen Eos Car Rental from Sixt
Not only does the Eos transform into a convertible in the blink of an eye, it also features an array of amenities. Here are some of its highlights:
Hardtop Convertible: With just the touch of a button, the hardtop fold flats in less than 30 seconds. Amazingly, its also is equipped with a power sunroof, a rare feature on a convertible.
Spirited Performance: Power is derived from a 2.0-liter, turbocharged four-cylinder engine that enables quick acceleration. The peppy engine amps up the fun with 200 horsepower and 207 pound-feet of torque. Gas mileage is also impressive at 30 mpg on the highway.
Styling: This VW Eos rental is refined and attractive whether the top is up or down. The innovative headlight design, stylish wheels and polished exhaust tips give it an extra sporty look.
Interior: With features like soft leather seating, a touch screen navigation system, premium sound system, wind deflector, and Bluetooth connectivity you will be driving in style with an EOS.
Safety: The Eos is equipped with an advanced airbag system and pop-out rollover bars offering an enhanced level of protection. Traction and stability control makes sure it stays well-planted and an anti-lock braking system providing strong stopping power.
Renting a Volkswagen Eos with Sixt
Browse our website for our latest deals and discounts and to check vehicle availability in your chosen location. Please note, Sixt cannot guarantee you to receive a VW Eos, however you will be able to get an equivalent vehicle in the same car category.