Sixt rent a car in Warsaw
Our Service
 |  
Traffic Information
 |  
Sixt Tips
 |  
Sightseeing Destinations
 |
Business Travel
Use our drop down branch menu above to gather all the information you need about our services for each location in Warsaw. You can see about our opening hours and available car categories on offer at each branch on the first tab. Click on the second tab to display our locations on Google Maps to get a better idea of where our branches are situated. You can rent a car with Sixt at Chopin Airport, Warsaw Modlin Airport or at the Warsaw Hotel Intercontinental. Once you have decided which branch works best for you, you can head to our booking page where you can make a quick price comparison between our top quality models before reserving online. Please note we can only guarantee you to receive a vehicle in your selected car category as specific models are subject to availability at each Warsaw car rental location.
Our Service
In Warsaw we have compact cars, sedans, sports cars, convertibles and SUVs at all our locations. You can opt for affordable add-ons on the bookings page that include comprehensive roadside protection, glass and tire coverage and personal accident protection. Winter tires will be included on your rental car during the winter months to keep you protected in ice and snow. Whether on a weekend city break, or a longer rental period we have great deals on all our up-to-date models.
Some more of our extra features
GPS Navigation System
Theft protection
Roadside Protection
Internet to go
Child, booster and baby seats

Traffic Information
Warsaw is densely populated so you can expect to encounter congestion when driving in the center. As the city is often under construction check your route online before you start off so you can avoid detours to road work. Though Warsaw's infrastructure is currently under redevelopment there is to-date no circular system around the city so the many roads that head into the center may cause further delays.
It is a legal requirement to drive with at least your low lights on, even in the daytime. The road quality on Poland's major motorways is now very good however but expect major roads to often only have two lanes. Warsaw is on the E30 which runs all the way from Cork to Moscow. The Polish part of the route is the A2, it runs from the East to the West of the country connecting Warsaw with Poznań and Łódź.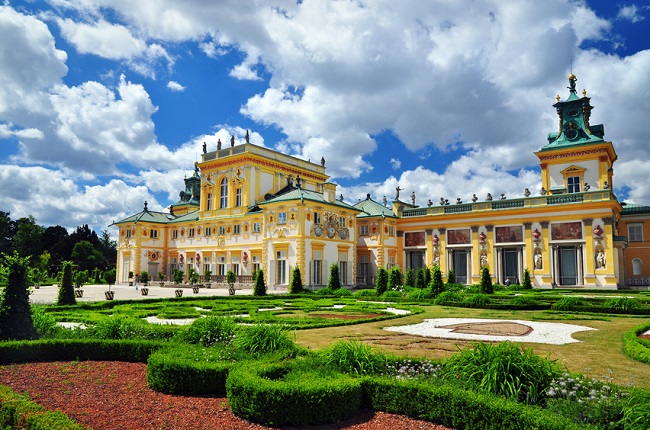 Sixt Tips
Warsaw has a thriving art scene, a complex history and impressive architecture. Despite its large size if you are landing at Chopin Airport it is only seven miles into the old center. The beautiful Old Town has been lovingly restored with elements of Renaissance, Baroque, Gothic and neoclassical architecture evident in its facades. In the Old Town Marketplace you can see the Mermaid Monument, Warsaw's city symbol. The symbol can be found in various places throughout the city, most recently on the clock faces of the Palace of Culture and Science. Though controversial, the Palace of Culture and Science is a must see. This massive Soviet construction in downtown Warsaw now houses offices, a cinema, the Museum of Evolution, the Museum of Technology and a large indoor swimming pool.
Warsaw's stories are told through its variety of compelling museums. Be dazzled by the Neon Museum which researches and restores electro graphic art from the Cold War era. Many of the artists employed to design the signs were also involved in the infamous Polish Poster School. Works from the poster school can be seen in the extensive collection of the Poster Museum in Wilanów which you can reach with your rent a car. It is not a far drive from the center of Warsaw heading south to Wilanów in the direction of The Wilanów Palace. The museum is part of the old palace complex.
If you are over for a weekend break be sure to spend some time digging for finds at the flea market Bazar Olimpia on Sunday morning. Or if it's summer time head go for a Sunday stroll in Royal Łazienki Park where you can often enjoy a free Chopin concert. The park is also a home to Łazienki Palace, a baroque palace surrounded by water.

Sightseeing Destinations
If you are a Chopin fan you might want to visit his birthplace, now a museum, in the picturesque Masovian village of Żelazowa Wola. While walking the grounds you will hear his music at various points. Żelazowa Wola is also right next to Kampinos National Park a greatp place to take in the scenic surrounds on various walking or cycling trails. The natural beauty of the area is a wonderful accompaniment to the music of Chopin.
Distance to Żelazowa Wola
From Warsaw Hotel Intercontinental via DW580: 38 miles, about 58 minutes
From Warsaw Chopin Airport via DW580: 36 miles, about 52 minutes
Northeast of Warsaw is the Treblinka Memorial, built to honor the over 850,000 Jews that were murdered in the Treblinka extermination camp. There is a small but informative museum at the site along with thousands of quarry stones that represent gravestones for the victims. It is an emotional experience and a memorial that deserves greater recognition.
Distance to Treblinka Memorial
From Hotel Intercontinental via S8: 70 miles, about 1 hour and 30 minutes
From Chopin Airport via S8: 74 miles, about 1 hour and 38 minutes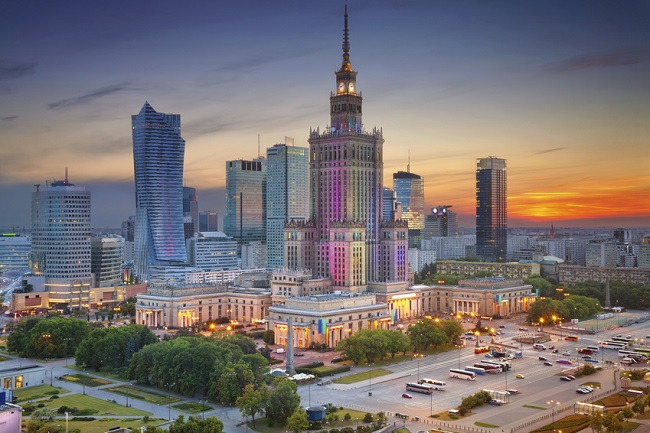 Business Travel
Warsaw's economy is growing rapidly and its business community is becoming more and more globally recognized. It is the center of the electronics and tech industry in Poland and the start-up scene in Warsaw is in full bloom. Hubs like Reaktor in the Żoliborz district offer workspace along with exciting collaboration and networking events.
Distance to Reaktor
From Hotel Intercontinental via Mickiewicza and Andersa: 3.5 miles, about 18 minutes
From Chopin Airport via S8 and S2: 22 miles, about 27 minutes