Having a rental car makes it easy to discover Naples in Italy
Our Service
 |  
Traffic Information
 |  
Sixt Tips
 |  
Sightseeing Destinations
 |
Business Travel
Our car rental in Naples offers a wide range of affordable rental vehicles for different traveling purposes. From compact cars to luxury sedans, you will be able to choose whatever suits your needs best. You can click on the second tab of the menu to display an overview of our branches on Google Maps and find out which is more convenient for you. In the drop down menu you will find more useful information, such as our opening times, addresses and vehicles available at each location. Choose your pick-up location, then continue to our booking page to make a reservation online. Please note that Sixt can only guarantee your reservation for the chosen rental vehicle category, as specific car models are subject to availability at each branch.
Our Service
Our wide-ranging fleet includes different car types so you can rent a car in Naples based on your budget and mobility needs. Head to our booking page to do a price comparison: you could rent a sleek sports car for a surprisingly affordable price, an elegant sedan for business trips or family vacations, an SUV for more adventurous outings. We also have comfortable compact cars to navigate the city with ease.
After choosing your rental car, make your reservation online or simply call us. During this process, you can select all the extras you need to make your car rental in Naples as convenient as possible. We offer a selection of inexpensive add-ons to provide you with an excellent ride.
Here are some of our available extras:
Child seat (guaranteed for babies: 0-13 kg / Group 0+)
Snow chains and ski rack
Coverages like Collision Damage Waiver and Theft protection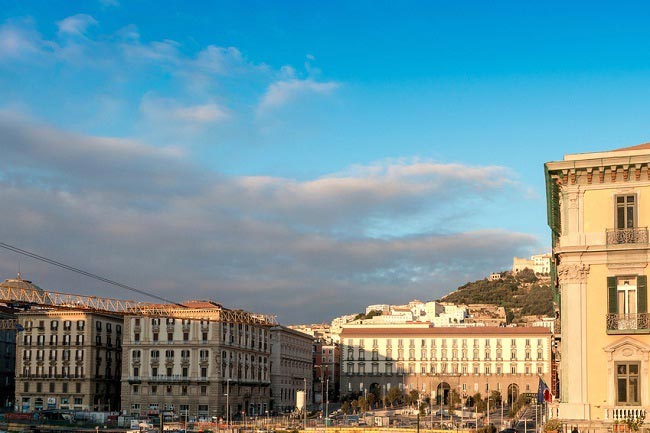 Traffic Information
If you fly into Naples, the city center is only a short drive away. You can pick up your car at our Naples Airport location and get downtown in about 20 minutes. Parking on the streets might prove difficult, but you can make use of the numerous parking garages that are scattered throughout the city: many of them are open 24/7. There is even a free one in Piazza Giuseppe Garibaldi, near the train station.
Travelers arriving at Naples Central Station will find our branch in a couple of minutes: just exit the station from the main entrance, head to the right and then turn right into Corso Meridionale.
If you want to visit other places, Naples is well-connected to the Italian highway network. It is one of the endpoints of the A1 freeway which stretches through Italy all the way to Milan, touching Rome in about two hours. If you want to head south instead, you can use the A3 freeway which runs through the regions of Campania, Basilicata and Calabria.

Sixt Tips
A historically important trade center, thanks to its strategic location in the Mediterranean, Naples was the meeting point of Roman and Greek culture. To delve in ancient history, go visit the National Archaeological Museum, the best of its kind in Italy. This cultural institution houses a large collection of Roman artifacts, a number of important mosaics recovered from the ruins of Pompeii and Herculaneum, and an impressive collection of Egyptian artifacts comprising 2,500 objects.
But don't believe that everything about Naples is ancient. The inhabitants pride themselves on modern Neapolitan culture, and you will be surprised at how deeply you will fall in love with this city. The concept of 'Napolitudine' refers to the melancholic feeling that both natives and tourists experience when leaving the city. An important element of the local culture is the passion for Nativity scenes, and the art of creating figurines: these are made of carved wood, terracotta and other materials, and are often dressed in miniature clothing. Every year, craftsmen create new figurines to sell, always reflecting events of the year. If you're going to visit around Christmas, make sure to visit the artisans of Via San Gregorio Armeno, the hotspot for Nativity scenes, to find something special to decorate your home and remember your trip. In the renowned workshops and stalls you might find figurines depicting politicians, soccer players, and other personalities.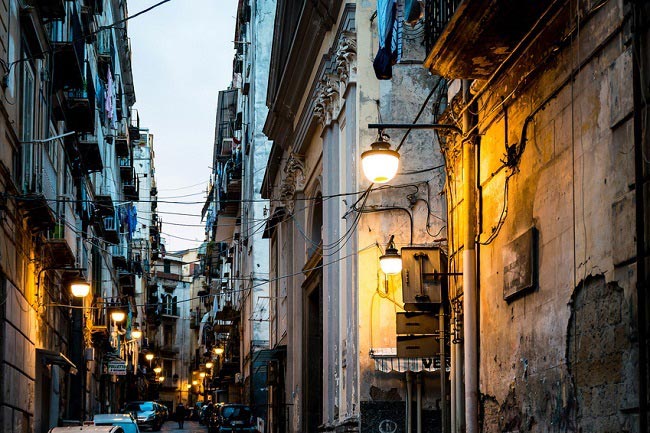 Sightseeing Destinations
With your rental car you can make a trip to Naples even more exciting by making day trips to nearby attractions. It is a great base to explore the Roman ruins of Pompeii and Herculaneum and nearby cities such as Sorrento, the gateway to the Amalfi Coast.
Mount Vesuvius and Pompeii
It is a great idea to couple a trip to Pompeii with a stop at Mount Vesuvius which is just a short drive from Naples. Although you can drive your car to quite close to this famous volcano, you won't be able to take it to the top. Most people, however, have no problem making the ascent to the crater on foot. Afterwards you can continue on to Pompeii and visit the five archealogical sites of the area. As there is little to no services at both locations, it is advised to carry along water, sunscreen and a hat. When parking at Pompeii be aware that the parking lot near the entrance costs 2 euro per hour, while parking down the hill in town can be much cheaper.
Distance to Vesuvius National Park from Naples
From Naples Aiport via E45: 11.8 miles, about 25 minutes
From Naples Central Station via A3: 9.6 miles, about 25 minutes
Distance to Pompeii from Naples
From Naples Airport via E45: 17.2 miles, about 26 minutes
From Naples Central Station via E45: 16 miles, about 26 minutes
Sorrento
A trip to the Naples area is not complete without a visit to the beautiful city of Sorrento. Whether staying a day or a weekend you have a wealth of opportunity. Enjoy touring the local attractions or head out for a scenic drive along the Amalfi Coast. While in Sorrento you can spend a day at the beach and your rental car allows you to head out to less crowded spots like Bagni Regina Giovanna. From Sorrento you can also make a quick trip to the Isle of Capri. When driving to Sorrento from Naples take the A3 motorway in the direction of Salerno-Reggio Calabria. Be aware the A3 is a tolled road. At Castellammare di Stabia the road turns into the SS145, often referred to as La Sorrentina, which winds along the peninsula. We recommend to check the prices on the different parking areas in Sorrento so you know which one you will want to use while sightseeing. If making an overnight trip ask your hotel about free parking or for advice about which parking area would be best suited to your stay.
Distance to Sorrento from Naples
From Naples Airport: 33 miles, about 1 hour and 10 minutes
From Naples Central Station via A3 and SS145: 30 miles, about 1 hour and 10 minutes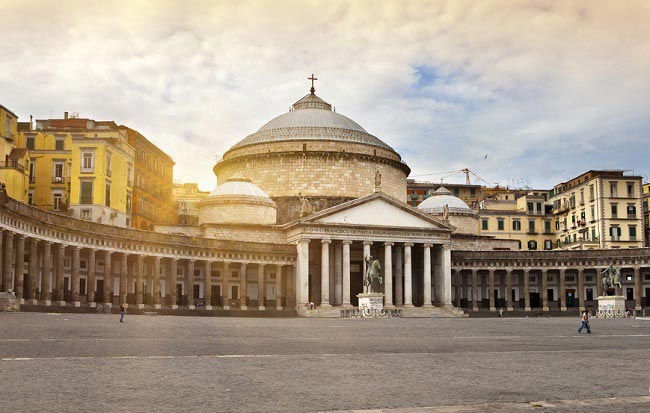 Business Travel
If you are going to Naples for work, chances are you are going to visit the Centro Direzionale business district. Situated near the center, the district was designed by Japanese architect Kenzo Tange and features the tallest skyscrapers in Southern Italy.
Distance to Centro Direzionale
From Naples Airport via Viale della Costituzione: 2.8 miles, about 9 minutes
From Naples Central Station via Via Taddeo da Sessa: 0.9 miles, about 4 minutes