Visiting Dublin with a rental car
Click to jump to: Our Services | Traffic Information | Sightseeing Destinations | Business Travel
Our many pick up locations in Dublin give you the flexibility to move around the city at your own pace. Use our convenient mobile app or book online to find the car that works best for you. Choose between trusted brands to get the best sedan, station wagon, SUV, or van rental for your needs when visiting Ireland's capital city. Upgrade to a luxury BMW SUV or sports car convertible to make that time you spend in the four leaf clover state feel even luckier. Details about our offers and availability at specific Dublin car rental branches can be found when booking on our site. Please take note that while we strive to meet your rental vehicle needs, we can only guarantee your specified car rental in Dublin category and not specific models.
What to Do in Dublin in Winter 2019
Dublin is already known for its wet weather so much of its main attractions are, thankfully, indoors. As cold or wet as it might be, the architecture of Dublin is always a sight to see. In fact, bundling up and exploring the city in winter can often be a more beautiful way to see it. The temperature averages are in the mid-40s and it can snow in January and February. One of the main attractions in Dublin is the Guiness Storehouse, covering seven floors exhibiting the process of making the famed beer, the final floor will have a pint waiting for you with incredible views of the city. Dublin is famous for its literature scene, and you can visit the James Joyce museum or the stunning Trinity Library. As for events, the Dublin International Film Festival is held in February and March, and you should definitely experience the St. Patricks Festival in March. It is recommended to rent a compact car for Dublin as roads can be narrow. If you plan to explore the countryside, then choose an SUV.
Our Services
With so much to see when visiting Ireland, it can be a pain to know where to go first! Use our additional GPS to get you where you need to go or upgrade to our premiere internet-to-go for access to all your favorite apps and programs while traveling. Most of our Dublin rental cars come with unlimited free miles so you are free to roam. Extra features including tire and windscreen protection options prepare you for the many notoriously rainy days in Dublin.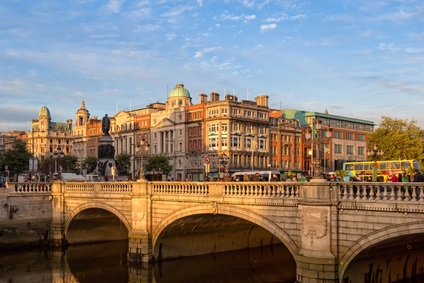 Traffic Information
Dublin's motorway infrastructure is still in development and as such traffic in Dublin can sometimes be worse that in New York. Roads in Ireland are classified into four different categories: motorway, national roads, regional roads, and local roads. The M1-M9 motorways are based centrally around transportation in Dublin with connections to Belfast, Galway, and Cork. It's important to note that in Ireland, roads distances are measured using the metric system of kilometers and driving takes place on the left hand side of the road. Remember the two most important rules of driving in Ireland: stay on the left hand side and go slow. Most of Ireland's motorways will have you going an average of 40 mph.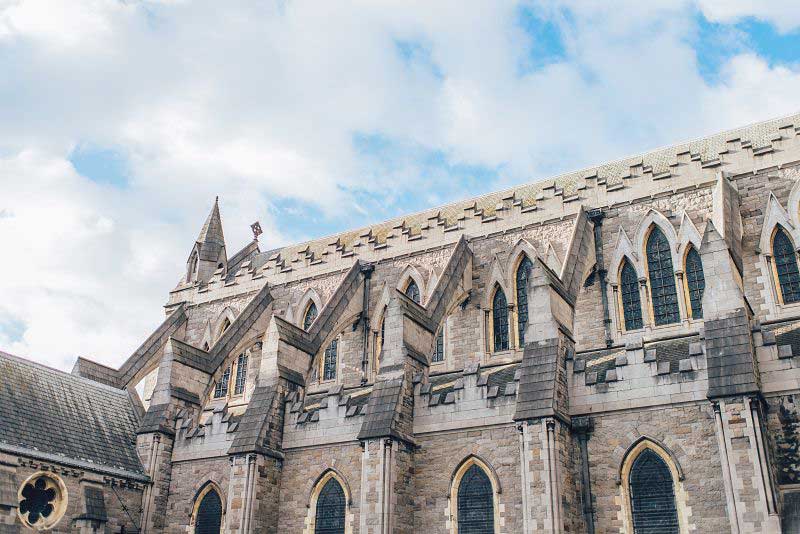 Sightseeing Destinations
Chester Beatty Library
The Chester Beatty Library located within Dublin Castle is a stunning example of Ireland's commitment to supporting the arts and education. The library holds a collection of ancient texts and artifacts from around the world, as well as conducting various workshops for children and adults alike. The Chester Beatty longroom offers a postcard perfect vantage point to snap photo to show your family back home. Entrance to the library is free and different language audio tours can be arranged to help guide you throughout your visit as well.
Guinness Storehouse
For those looking to do as the Dubliners do, take a trip to the famous Guinness Storehouse for a pint of the dark dry stout. The Irish like their Guinness like the English like their lager, and it shows in the many quaint pubs littered around the city. But there's nowhere like going for a drink at the source itself in the Liberties neighborhood of Dublin! For the most well rounded understanding about how the national drink is made, the Guinness Storehouse holds not only tastings but can give you more in depth knowledge about the brewing process.
Wicklow National Park
For more naturally breathtaking views of the Emerald Isles, rent a car for a weekend trip outside of Dublin to the nearby Wicklow National Park. The park has served as a backdrop to many famous films over the years including P.S I Love You and Braveheart. The quintessential Ireland you've imagined from the postcards, Wicklow's romantic rolling hills and meandering sheep will take you back to a simpler time in Ireland's long history.
Business Travel
The largest economic hub in Ireland, the city of Dublin is well regarded for its economic contributions to media, culture, and many multinational company headquarters. It's fame of being the "Silicon Valley of Europe" attracts many high tech information technology, financial service, and digital media companies. Europe's famous low budget airline Ryanair was also originated in Ireland and is one of the most successful small airline companies within the 33 neighboring countries in Europe. The Convention Center Dublin consolidates all of these industries into one top of the line commercial exhibition space located right along the Liffey River in the North Wall neighborhood. The Convention Center's close proximity to downtown and its many cultural attractions make networking after your event natural and accessible when you rent a car in Dublin.

Additional Sixt Services