Sixt Car Rental in Munich
Our Service
|
Traffic Information
|
Sixt Tips
|
Sightseeing Destinations
|
Business Travel
Browse our selection of branch locations in Munich to see what kinds of special services are provided by each branch such as 24 hour vehicle returns or the chance to reserve the rent a car of your choice with our Sixt app 30 mintues prior to pickup. You can easily reserve a rental car online, and planning ahead allows you to view our diverse fleet of vehicles. You can also choose from our selection of bookable extras.
What to Do in Munich in Winter 2019
Munich is a winter and Christmas wonderland. The Christmas market on Marienplatz will be crowded, but it is a must-see. If you are into playing or watching the ice game of curling, check out the track in front of the Nymphenburg Palace. During Advent, hop aboard the Christmas tram (after buying a ticket!) to escape the cold. If the weather gets to be too cold, there are many spas in Munich, or you can also go to the Botanical Gardens. Take a 2-hour drive from the city to the highest mountain in Germany, the Zugspitze. Once there you can go hiking or skiing and enjoy the views. The roads within Munich can be traversed in a luxury sedan, but if heading out of the city, an SUV or 4-wheel-drive vehicle with winter tires is recommended. And be sure to check the availability of ski racks.
Our Service
Our extensive fleet of premium rental cars range from affordable compact cars to luxury sedans, plus all kinds of SUVs, sports cars and convertibles. No matter if on a weekend away, a business trip or a family vacation we can accommodate your budget and style with our up-to-date selection of leading brand models. You can drive in comfort by booking an automatic rental car. Some of our Munich branches also offer deals on a selection of vans and trucks. Whether needing a larger vehicle for personal or commercial use you can make use of our reliable cargo vans or moving trucks. Once you have chosen your car rental, see about customizing your car rental with our useful add-ons for a tailor made driving experience. Extras such as an additional driver, protection plans, GPS or a child seat can be easily included while you book. Here are some of our other special features you can tack onto your rental.
Car rental in Munich add-ons
Roadside Protection
Tire and Windscreen Coverage
Winter equipment such as snow chains and ski racks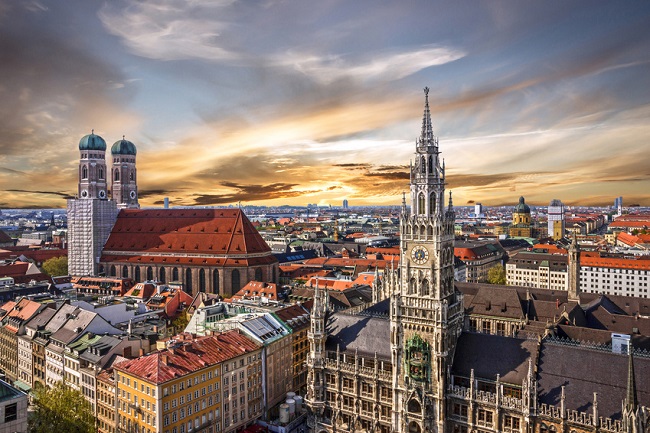 Traffic Information
Driving in Munich is generally low key and easy, as the main roadways are clearly marked and safe. In 2008, the city of Munich established a "low emission zone", thus all of our vehicles provide the necessary sticker to prove that they meet emission standards. There are several main roads that lead to Munich. The Autobahn 8, A8, runs from Stuttgart-Munich and the A9 between Nuernberg and Munich, which is also considered to be one of the busier roads in the area. To avoid congestion at rush hour, there are smaller roadways that are known as B service roads that can be taken. When driving near or around the urban center there are several parking garages available, the biggest one located at the Munich Hauptbahnhof.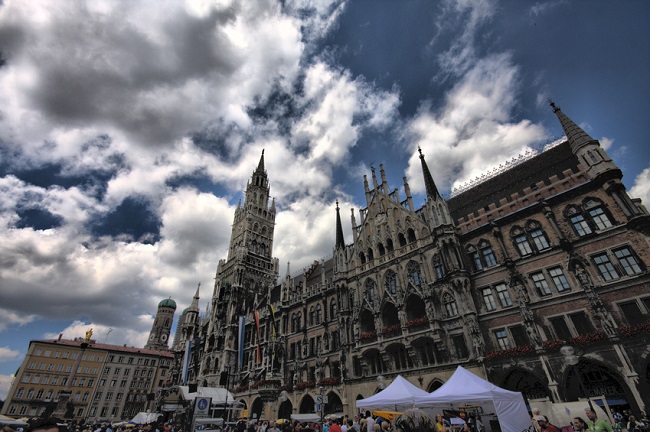 Sightseeing Destinations
Linderhof Palace
When you rent a car in Munich you have the opportunity to explore Bavaria, taking small trips to surrounding areas. Schloss Linderhof, or the Linderhof Palace, is a remaining symbol of German royalty, as it was a residence of King Ludwig II. Inspired by the great Versailles, Schloss Linderhof is situated in a large and impressive garden that drew reference from the Italian Renaissance gardens. Inside the palace, there are many ornate details, such as an ivory chandelier and a carpet made from Ostrich feathers. Linderhof is also home to the Hall of Mirrors, creating the feeling that you are walking through a never-ending pathway.
BMW Museum
Of course, you can't visit Germany and not pay homage to their historical contribution to the automobile industry. Located near Munich's Olympiapark, which hosted the Olympics in 1972, BMW Welt, is perfect for car enthusiasts and those interested in contemporary German history. Various exhibitions and events are hosted at the BMW Museum, such as the Night of the White Gloves where visitors are permitted to touch the vehicles, with the gloves on of course! There are both permanent and temporary exhibitions, from BMW Art Cars to Rolls-Royce Motor Cars, so there's something exciting for everyone.
Business Travel
Like many major German cities, Munich is considered to be a center for business in commerce in Europe. Munich also holds the honor of being of the main high-tech industries in the EU, as well as a booming financial sector. As a result, there are many trade fairs that happen on an annual basis, organized by Messe München in Messerstadt Ost. Every year there are around 40 fairs, catering to consumer and capital goods as well as new technologies.
Additional Sixt Services