Sixt rent a car in Copenhagen
Click to jump to: Our Service  |  Traffic Information  |  Sixt Sightseeing Tips  |  Business Travel
Our Service
This diverse city attracts a huge variety of visitors and we have vehicles to suit every eventuality. An affordable city car can help you get the most from your weekend break in Copenhagen, making it easier to get around all of the area's attractions. Refined sedans are perfect for that important business trip but if you prefer a little glamour, why not consider one of our exciting convertibles or sports cars. If you are venturing into the countryside, meanwhile, an SUV could be the ideal partner. Do a quick price comparison when you book online or use our iPhone app and find out which prestige models are within your budget.
We enhance our superb rental fleet with a selection of features and options. For example, many rental vehicles come with free cancellation and unlimited mileage. This means that you can secure your chosen vehicle even if your plans might change and you won't be charged extra if you need to drive extensively during your visit. Additional coverages and protections are available to give you extra peace of mind and navigation systems can be supplied to help you find your way around. If visiting during winter we recommend that you book winter tires, while additional driver cover allows you to share driving duties with others in your party. We also offer a range of child seats for those visiting with younger children.
What to Do in Copenhagen in Winter 2019
You will find a lot to like about Copenhagen in the winter. Yes, temperatures will be chilly from December to February, on average from the upper 30s to just below freezing. The good news is there are plenty of activities both indoors and outdoors to enjoy. Late November until early January is a magical time in the city, with Christmas markets everywhere. The most well-known is in Tivoli Gardens, the iconic amusement park in the city center. There are plenty of boat and canal tours through the city waterways, and some of them even serve mulled wine and other drinks to keep warm. For indoor activities, there are several historic places to see like Amalienborg, Rosenborg Castle and Christiansborg Palace. Visit a museum like the Ny Carlsberg Glyptotek and the National Museum of Denmark. Stroll along the water to see the brightly colored houses of Nyhavn. And get out of cold by wandering through Torvehallerne and grabbing something to eat.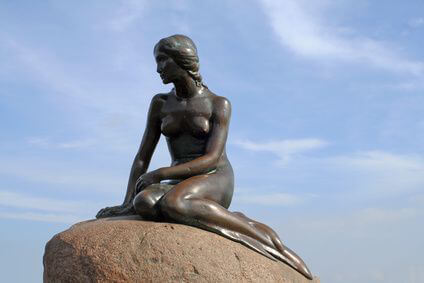 Traffic Information
Arriving by air, you will find the airport just around 8 miles to the south of the city center. The quickest route is usually to take the E20 and then Orestads Boulevard but you can also take Englandsvej or just continue on the E20 all the way to the center. In normal traffic your journey should take just under 20 minutes. Copenhagen has an excellent network of motorways with no tolls, so is ideal for car rental. These connect the city to the rest of the country and to Northern Europe. Route 21 is the major road to the west, passing through Roskilde. Route 16 goes north to Hillerod, while the E47 follows the coast northeast to Helsingor and then crosses the sea to Helsingborg in Sweden. The E20 also crosses into Sweden at Malmo.
On-street parking in Copenhagen is zoned into three areas - red, green and blue. Charges increase as you get closer to the city center. The blue zone is cheapest with green next and red most expensive. Charges are in operation from 8am Monday until 5pm on Saturday. Charges vary according to the time of day, with night parking being cheapest. The city also has a number of large car parks.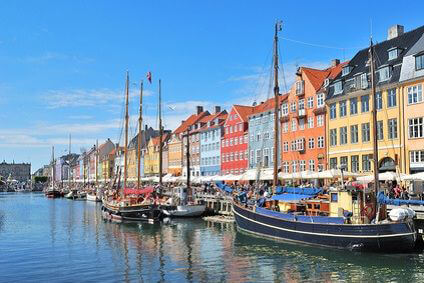 Sixt Sightseeing Tips
Copenhagen is a diverse city representing both a physical and cultural link between Scandinavia and Europe. It is steeped in tradition but is also a renowned center of modern design and fashion. Indre By is the ancient city center, with lots of narrow streets, historic buildings and great shopping. Just across the water to the southeast is Christianshavn. Built 300 years ago, this originally working class neighborhood is now a hip district with many pretty canals. Just to the east is Christiania, a self-governing free town with a liberal ethos that is a popular tourist destination. Vesterbro lies just to the southwest of the city center and is one of the most fashionable areas in the city, with lots of good bars and restaurants. Norrebro is another vibrant neighborhood and Frederiksberg with its castle is a unique former independent town now completely surrounded by the modern city. During the summer months you can swim at the urban beaches of Copencabana and Havnebadet and you can enjoy the city's two historic amusement parks all year round. Bakken and Tivoli are the oldest amusement parks in the world. Bakken is the oldest and less touristy, while the iconic Tivoli is right in the city center in a pretty park.
Business Travel
Copenhagen is the major financial and business center of Denmark, boasting an economy based around banking, shipping, pharmaceuticals and services. Innovation in the city has been driven by the creation of business clusters in key industries including biotechnology, IT, pharmaceuticals and clean technologies. One of the most important of these clusters is the life sciences cluster at Medicon Valley, a leading European center for research and development in this industry.