Zagreb Airport Car Rental
Customer Reviews About Sixt





| 05.07.2015 11:53
| 24.06.2015 17:37 the customer service reps at Zagreb Airport were competent, cheerful and friendly. It was a great experience.
| 23.06.2015 13:40 Luka and Tiana helped me at the kiosk in ZAG when I arrived. They were very helpful and when faced with a complicated request they went out of their way to help solve my issue. I have never rented from Sixt before but will do so again based SOLELY on my interaction with them.
| 23.06.2015 11:38
| 18.06.2015 10:31 Fantastic!
| 14.06.2015 10:31 I'm very pleased with Sixt and l strongly recommended you to all due very good fleet and prices as well with professionalism of your employees.
| 08.06.2015 13:36 Please continue to manage your employees the way you apparently do, it obviously works excellent
| 06.06.2015 16:50
| 04.06.2015 21:37 Overall it was a great rental experience with friendly and helpful staff, competitive prices and good value. My flight to Zagreb was full and there were only 2 people at the checkout so it did make the pick up process a little slow. Otherwise great service!
| 03.06.2015 11:48 It was easy to access your service counter. The employees were polite and helpful. The car was clean and road ready.
| 30.05.2015 18:00 Our car was in perfect condition (believe it was brand new), great free mileage. Desk was prepared for us when we arrived. Rental of GPS was not too costly. Very friendly service guys at desk at airport. Made our arrival to Croatia very positive. Great car performance!!
| 25.05.2015 19:55 ALL THE BEST EXPERIENCE WITH SIXT- Rent a car office in Pleso Zagreb.I will recomend all my client's (I am ASTA Travel Agent) to SIXT rent a car Pleso Zagreb CroatiaThank you to alll esspecialy to Daniel Drenski
| 17.05.2015 21:49 I really enjoyed my holidays in Croatia. Thanks to Sixt I was able to travel much easier that time we took flight from Warsaw to Zagreb Airport. Than we have rented our car at the Airport - I was offered at the same price even biger and better car than I have booked. Car was brand new - clean and really nice to drive. 200 km to Lovran...
| 28.04.2015 11:38 It is about good service, and good cars, with competitive prices, SIXT CROATIA is there
| 18.04.2015 11:40 all around a great experience. congratulations. I will definitely make Sixt a first option in future bookings
| 12.04.2015 13:46 Your Zagreb crew is outstanding!
| 02.04.2015 12:25 Ivan at the Zagreb airport while picking up the car was super helpful and friendly. Was really nice and made a good start to our trip in Croatia!
| 24.03.2015 11:19 Very friendly staff.
| 20.03.2015 15:13 Have used your Zagreb Airport office 2 - 3 times in last six months and have always been impressed and satisfied with staff's professional but at same time friendly attitude toward as clients. Will certainly use again as preferred car rental company.
| 14.03.2015 20:20 perfect ,clean,fast very frendly. thanks !
| 25.02.2015 09:59 As with previous rentals the service at the Sixt desk at Zagreb airport was excellent . The process , both hire and return , was quick and efficient with the empolyees being helpful and efficient.
| 24.02.2015 11:06 cuando entregue el vehiculo, la persona de sixt que se me acerco para revisar el vehiculo no estaba identificada, sin ropa de sixt o distintivo de sixt
| 22.02.2015 11:58 1) Coffret secours ampoules inexploitable (coffret incomplets: ampoules manquantes...2) Véhicule approprié à la demande (5/5)
| 18.02.2015 05:27 sehr freundliche Mitarbeiter
| 16.02.2015 16:36 Un grand bravo à toute l'équipe de cette agence !Très courtois, souriants,....10/10
| 26.01.2015 11:42
| 24.01.2015 16:00 Great service very professional!
| 14.01.2015 21:29 Excellent service and lower prices compared to other major rent a car companies. No hidden costs. Some companies have various hidden costs but Sixt were honest and excellent overall.
| 07.01.2015 11:39 I had a problem with the car during the rental period (the car had to be towed to a Opel service ) and the support from the sixt helpdesk was very good.
| 06.01.2015 11:05 Main reason for using Sixt is that your price was lower than other companies. If you keep your price competitively lower and your vehicles comparable to other companies I will always rent from you.
| 02.01.2015 11:40 Super uvjek cu uzeti kod vas auto stvarno sve super
| 01.01.2015 19:29 Friendly staff, good vehicle, good price. Very happy overall.
| 29.11.2014 10:57 Very satisfied with everything Will return next summer as usual Thank you
| 19.11.2014 17:58 Best price and best service! Thanks guys at Zagreb Airport!
| 13.11.2014 10:55 Excellent service, professional personnel, all 5!
| 13.11.2014 10:44 One of the most polite and proffesional services I had in Croatia in a long time. Well done!!!
| 09.11.2014 11:51 Many thanks for high quality service
| 07.11.2014 16:09 continue with great work
| 02.11.2014 22:19 Friendly and helpful staff, well maintained vehicle provided, efficient return and charging procedures.
| 18.10.2014 11:24
| 13.10.2014 18:38 Every one of the three employees with whom I dealt with was friendly and professional. I especially appreciated not being hassled about my decision to decline the excess insurance coverage (my credit card company provides excess coverage). The vehicle was clean and in good working order (seemed like a newer car). I would definitely...
| 12.10.2014 04:55 I was extremely happy with the vehicle and with the professionalism of the staff, and certainly will again hire with Sixt
| 10.10.2014 09:54 In Zagreb (Kroatien) waren am Flughafen quasi keine Schilder mit "Rental Car Return"
| 06.10.2014 11:20 I had never rented from Sixt before and I had read a few negative reviews, so I was a little concerned. I was very happy with the staff at Zagreb, the efficient rental process, & the vehicle.I understand there are branches in the states at some locations I travel to & I will certainly use Sixt again.
| 24.09.2014 06:46 It was my wife's and my postponed honeymoon trip and it all went as planned; we didn't experience any problems with the car, the service and Sixt team at the airport were straightforward in explaining any queries that we had. I will definitely recommend Sixt to our friends and family.
| 22.09.2014 11:08 I will definitely rent from Sixt again, both at Zagreb Airport and elsewhere in Europe.
| 20.09.2014 15:10 Sixt is right now the BEST in Croaatia. Location , staf , and booking style espesially with my new Sixt member cart is TOP CLASS.Thank you Mr. Daniel Drenski who explaine to me all details apsolutno professionaly. Thank you to all SIXT staff on Pleso AIrport ZagrebSee you soon.Senad Kulenovic ASTA-TRAVEL AGENT SAn Francisco USA
| 11.09.2014 12:38
| 22.08.2014 16:02 The pick up and drop off were easy. The staff spoke good English and were very helpful and professional. The car was almost new and in very good condition. The price was reasonably high but it was matched by the quality of service. Thank you.
| 16.08.2014 06:02 Really great customer service from the staff at Zagreb airport.
| 11.08.2014 14:19 When I picked up my rental car at the Zagreb airport, the employee at the rental car desk that I dealt with, named Ivan (with glasses), was a superb example of great customer service. He answered all my questions clearly and efficiently. He had my rental car and GPS ready for me, he explained the insurance options to me in simple...
| 11.08.2014 11:16 All dobro!!
| 07.08.2014 13:45 The service Sixt Croatia has provided me in the last three years has been phenomenal. By far, the most professional rental-car company in all of Europe, not just Croatia. The staff in Split in 2011/12 were absolutely amazing, but the staff in Zagreb were even better. I approached them after a long flight and they served me as if they...
| 07.08.2014 01:51 siempre OK
| 31.07.2014 14:11 etc
| 31.07.2014 10:27 Daniel was extremly helpful, professional and its people that make Sixt my favorite company to use.
| 26.07.2014 10:04
| 24.07.2014 11:04 I want to add also friendliness and professionalism of the staff.
| 24.07.2014 03:00 The service was great, the vehicle was excellent. The whole process of pick up and return was smooth and quick. A great value!
| 21.07.2014 11:04 Zg airport station very pro. Smile, quick respone, excelent service.Thank you Zg airport team
| 12.07.2014 19:41 We organised the car through easy car the whole process was quick and efficient as was collecting and returning the car.
| 11.07.2014 12:53 I was so worried about renting because I had a bad experience last year with another company. SIXT was really easy...we got an Automatic (which is tough in Europe) The Zagreb location was easy and the SIXT employees that helped us were friendly and courteous. It was super easy and the car was awesome! I will definitely rent from you...
| 07.07.2014 21:07 The employees at the Zagreb airport Sixt were fantastic.
| 07.07.2014 14:05 Dear Daniel!Everything worked out perfect.Thanks a lot for the support & service of you & your team.If you ever travel throughout Germany, please come visit the Mercedes-Benz Museum in Stuttgart. You & your family will love it.Kind regards!Donald Walter
| 04.07.2014 07:11 I got a brand new Opel Vivaro with only 10 km - what more can you ask for!!!! :-)
| 22.06.2014 15:23 Very satisfied with everything from start, very polite and courteous staff nice vehicles love the prepaid fuel option.will be back soon Thanks
| 22.06.2014 00:43 Hvala,odlican servis,kvalitetno vozilo ,veoma usluzno osoblje. Vidimo se druge godine
| 21.06.2014 21:16 Great team at Zagreb airport and in Sixt Croatia. Joy to work with.
| 10.06.2014 11:43 The staff at the Zagreb airport were exceptionally helpful and courteous.
| 26.05.2014 16:37 Nice people working in the office. I didn`t like vehicle I received. I booked Opel Insignia but i got Skoda Octavia. But never mind that, think I`m gonna rent from you again.
| 16.05.2014 20:03 Thank You
| 08.05.2014 02:14 It was a very good process and easy from start to finish.
| 11.02.2014 11:16 Good services!!
| 04.02.2014 03:29 I was most impressed with the staff when I returned the car.I left my expensive sunglasses in the car and had already cleared the Carina, However Sixt, found the glasses, paged me and was able to return them to me via a security guard through to the Departure Gate.Well done and many thanks!!
| 08.11.2013 16:55 Excellent !
| 03.11.2013 06:44 i am and old and repeating customer of yours all over the world mainly due to the excellent service i am getting personally from your branch manager in Croatia-Daniel Drenski.shalom mor.
| 09.10.2013 02:44 Excellent service at Zagreb airport including Daniel waiting for my late arriving flight.As usual a good car and no problems.Will be back again before long!Thanks.
| 07.10.2013 15:04 As always when renting from Sixt I'm very satisfied with the whole service provided by sixt employee. The car was clean and in great condition. the instructions were clear and helpful. See you next time!
| 07.10.2013 11:47 I like your people at the counter they are helpful and not only with my rental but they even showed me how to use my cell phone which was loaned to me by a friend. Another helpful thing is that I had friends fly in on the different date they let me park the car in your parking lot and not have to pay for parking and walk long ways...
| 05.10.2013 10:14 Very good, professional rent-a-car I have been using it's service in the last four years regularly.
| 08.09.2013 21:07 Fantastic service! Friendly staff! Expedient email handling!
| 07.09.2013 17:10 Received free and agreeable upgrade at Zagreb airport.
| 02.09.2013 17:30 I will be definitly renting here again,and highley recomending to other people.Keep up the great work and service.
| 26.08.2013 19:29 Everything was great,looking forward to my next trip
| 26.08.2013 17:51 Thank you so much for your service!
| 11.08.2013 10:51 Great service and staff. Will definitely rent in the same branch again. Thanks heaps
| 24.07.2013 16:47 Overall a very positive experience, no issues. Will definitely consider SIXT for future rentals.
| 06.07.2013 15:57 The car was very good and she was very clean and we had a very big fun in the driving time.
| 15.06.2013 02:03 Speedy and professional pickup. Great vehicle with no problems. Pleasant and efficient dropoff experience. Professional staff (all 3 gentlemen). Will rent from Sixt Zagreb Airport location again.
| 06.06.2013 21:57 very helpful polite staff from collection to return
| 24.05.2013 10:50 Guys were helpful and friendly, car was amazing and the ride was smooth :) Thank you, Sixt! We`ll meet again!
| 16.05.2013 18:55 The people we dealt with at the rental office and car return were very helpful and informed.
| 18.04.2013 00:00 I loved the overall experience with SIXT rental and its staff. It was convenient to pick up and drop off the rental car. Staff at the location was very professional and courteous. I loved the car that I rented. This is my second time renting with SIXT and I was extremely impressed both times. You will refer SIXT agency at Zagreb...
| 12.04.2013 00:00 Excellent vehicle and customer service. Thank you.
| 05.04.2013 00:00 Very good service nice team and nice layout of the car.Thank you. John
| 03.04.2013 00:00 The car model we ordered was not available and the upgraded vehicle was very nice and made our trip to Plitvice Lakes even more comfortable and enjoyable. The staff were very friendly and provided helpful assistance with the GPS navigation device before leaving and parking on our return.
| 19.03.2013 00:00 I could have used an ice scraper for the windshield, but otherwise no complaints. Car rode beautifully. Pick up and return were easy.
| 18.03.2013 00:00 Ich bin mit dem Service,den ich am Zagreber Flughafen bekommen habe, sehr zufrieden. Der Wagen war sauber und voll getank, alles wurde deutlich erklärt. Der Angestellte war sehr angenehm und zuvorkommend. Die Kundenbetreuung war ausgezeichnet!
| 17.03.2013 00:00 I have been very happy with your service every time. Most of the time you had very good upgrade for my booking and I will be your client for very long time. Thank you.Dr Robert Gobac
| 27.11.2012 00:00 Service was great. The car that was promised to me was delivered. Well done!!
|
|
Location Details
Address:
Zracna luka Zagreb, Pleso b.b.
10150 Zagreb HR +385-1-6219900
Location:
airport
GDS - Code:
ZAG
SIXT #:
2568
Opening Hours
Mo. - Su.
07:00 - 22:00
Bank holiday
07:00 - 22:00
24 h pickup
24 h return

Welcome to Zagreb Airport Sixt rent a car
Welcome to Sixt rent a car at the Zagreb Airport! Our experienced team of rental agents will help ensure you the best stay possible in Zagreb and its surrounding area. Our rental car fleet offers modern vehicles at affordable prices that cater to just about any and all driving needs. We are happy answer any questions you may have about renting a car with us and can gladly offer advice on what might suit your travels best. We wish you a safe trip and a pleasant stay in Croatia.
Kristijan Jurcevic ( Branch Manager )
Sixt Car Rental at Zagreb Airport
Sixt is ready to provide you with our excellent customer service and a premium quality rent a car at the Zagreb Airport. We have a large selection of vehicles waiting for you from a variety of car categories. You can choose from our compact cars and sedans, sports cars and convertibles, plus SUVs and and larger vans. Whatever your budget, style or driving needs might require, we have a rental car to match. We know convenience is of utmost importance when traveling and we offer 24 hour vehicle pick up and return to accommodate. You can also select and reserve your car rental shortly prior to collection with our iPhone app.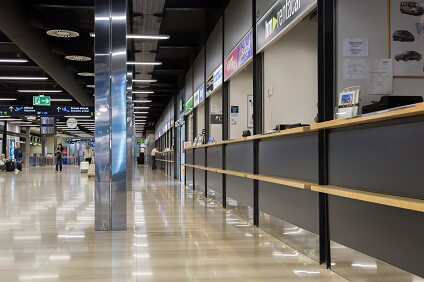 Copyright: Zagreb Airport
Zagreb Airport
Zagreb Airport (ZAG), also known as Pleso Airport, is just a little over 10 miles from the city center. You will find our counter in the arrivals hall of the Zagreb Airport where we will gladly get you as quickly as possible behind the wheel of a quality rental car. The airport and our services are also easily reached by a direct bus from the central bus station.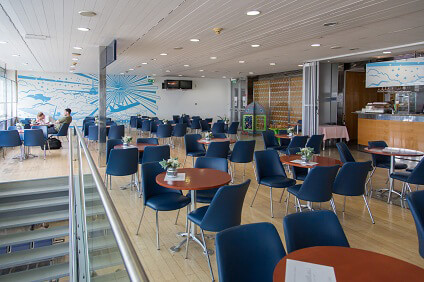 Copyright: Zagreb Airport
Things to do in Zagreb with your Sixt Rent a Car
A visit to Zagreb puts you in reach with all Croatia has to offer. The city itself has numerous dining and shopping opportunities plus fantastic museums. Spend time exploring Gradec and Kaptol with its mix of medieval and urban atmosphere. Of course with your car rental you can hit up the beautiful nature found in places like UNESCO listed Plitvice Lakes or at any of the towns along the Adriatic. Another popular destination is making the drive to Varazdin and Trakosan Castle. No matter what direction you head in from Zagreb, with your Sixt rental car have the means to make a smooth and comfortable trip.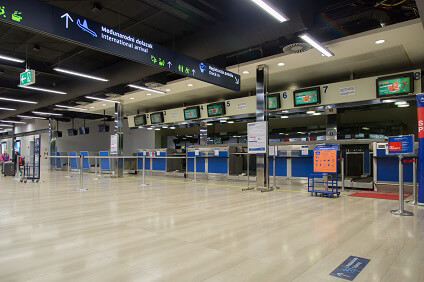 Copyright: Zagreb Airport
Location details
Opening Hours
| | |
| --- | --- |
| Mo. - Su. | 07:00 - 22:00 |
| Bank holiday | 07:00 - 22:00 |
Contacts / Lost & Found
SIXT # Zagreb Airport ZAG
Zracna luka Zagreb, Pleso b.b.
10150
Zagreb
45.743056, 16.068889
+385-1-6219900
+385-1-6219911
SIXT # Zagreb Airport ZAG
Zracna luka Zagreb, Pleso b.b.
10150 Zagreb
Phone no.
+385-1-6219900
Fax
+385-1-6219911
Location plan - how to find us
Location
The Sixt Station is situated in the arrival hall of the airport.
From the City and from the Highway
Folow directions for highway towards Slavonski brod . take exit Zagreb jug ( Zagreb South) turn left and after 7 km you are on Airport.
From the Bus Station
ROUTE OF THE DIRECT LINEDIRECT LINE (Bus shuttle) The Pleso prijevoz company provides direct lines (bus shuttles) to and from the airport. The shuttle terminal is located at the ground floor of the Central bus station.
Outside open hours - pick-up & return
Out of hour pickup possible. Out of hour return possible.
Categories and services at this location
Compact Cars & Sedans
Sports cars & convertibles
4x4 / SUV
Truck
Select vehicle for pick-up using iPhone
24 h pickup
24 h return