Rent a Volvo XC90 with Sixt
When looking for a luxurious and safe SUV a Volvo XC90 rent a car from Sixt can be the perfect choice. Enjoy a stylish and smooth ride with a Volvo XC90 for your next business or other travels.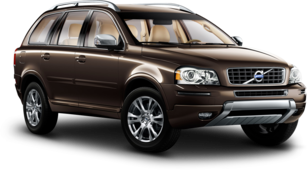 Doors
4
Seats
5
Transmission
Automatic
Air Conditioning
Yes
Minimum Age
25 Years
Luggage
2 Suitcases /
2 Bags
Advantages of Volvo XC90 Car Rental from Sixt
Treat yourself to some affordable luxury with a high performing Volvo XC90 rent a car from Sixt. Here are some of its stand out features:
Strong Engine and Transmission: Propelled by a 3.2-liter, inline-six engine that boasts 240 horsepower and 236 pound feet of torque it has enough pep to carry a full load of passengers and cargo. The stout engine is mated with a six-speed automatic transmission that delivers smooth and timely gear shifts and the automatic gearbox comes with a manual gear control feature for enhanced driving.
Features: The XC90 can seat up to 7 adults comfortably and still has plenty of cargo space. Enjoy a quiet ride and standard amenities like a sunroof, eight-speaker sound system, leather upholstery, rear-parking sensors, heated mirrors, and dual-zone automatic climate control.
Safety: The XC90 is equipped with plenty of airbags and its combination of traction and stability control makes it surefooted on all surfaces. Quick emergency stopping power is provided by its anti-lock braking system.
Renting the Volvo XC90 with Sixt
When wanting a SUV with an extra touch of class the Volvo XC90 makes for an idea Sixt car rental. Browse our website for our latest deals and discounts for the Volvo XC90 and other rent a car models. Please note, Sixt cannot guarantee you to receive a Volvo XC90, however you will be able to get an equivalent vehicle in the same chosen category.