Rent a Volvo XC60 with Sixt
The Volvo XC60 is one of the best-selling models from Volvo, and makes a great choice for car rental with Sixt when looking for a luxury SUV. With spacious comforts and can-do capability you can enjoy all kinds of travel with a Volvo XC60 rent a car.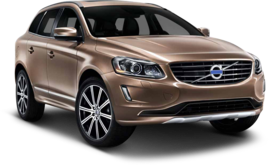 Doors
4
Seats
5
Transmission
Automatic
Air Conditioning
Yes
Minimum Age
25 Years
Luggage
4 Suitcases /
3 Bags
Benefits of Volvo XC60 Car Rental from Sixt
Give yourself the chance to drive around in utmost style and class with a Volvo XC60 car rental from Sixt. It?s an ideal rent a car choice when you want to get your passengers from A to B in comfort and convenience. Below you can find out about some of its stand out features.
Interior: The cabin features high quality materials that provide ultimate comfort on both short and long journeys. Its three split 40/20/40 rear seat and backrest makes for two separate seats with an armrest in the middle, or three seats with safety belts for all.
Performance: The XC60 makes you feel in charge of the road with its generous ground clearance yet its design keeps it feeling just as agile as a standard height vehicle. It is equipped with Corner Traction Control, shock absorber springs and anti-roll bars for a sporty, road-gripping ride.
Quality Exterior: The same attention to detail that was given to the interior extends outwards. The XC60 looks as good as it drives, and there is nothing wrong with taking style into consideration when getting behind the wheel of a Sixt car rental.
Renting a Volvo XC60 with Sixt
Sixt rent a car has over 4,000 locations worldwide where we provide our premium car rental services. Browse our website to find the best price on a Volvo XC60 rent a car by checking out our regularly updated deals and discounts. Please note, Sixt cannot guarantee you to receive a Volvo XC60, however you will be able to get an equivalent vehicle in the same chosen category.