Rent a Smart Fortwo with Sixt
Sixt presents you with the chance to deftly maneuver about with a Smart Fortwo coupe car rental. This unique subcompact car offers great fuel efficiency, easy parking, and a surprisingly spacious cabin.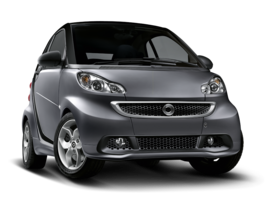 | | |
| --- | --- |
| Doors | 2 |
| Seats | 2 |
| Transmission | Automatic |
| Air Conditioning | Yes |
| Minimum Age | 21 Years |
| Luggage | 2 Bags |
Adantages of Smart Fortwo Car Rental from Sixt
Although small, the Smart Fortwo offers big benefits. Here are some of the standout features of a Smart Fortwo car rental:
Competent Engine: Do not underestimate the power output of the Fortwo coupe. The peppy three-cylinder engine musters up enough vigor to easily move the lightweight chassis of the Fortwo coupe. The best part is the Fortwo coupe is still able to yield feul efficiency with 38 mpg.
Easy to Drive: Unlike some of the larger sedans on the market, the Fortwo coupe should have no problems fitting into tight parking spaces. Its large windshield gives the driver a complete view of the road ahead. Its small stature also helps it nimbly maneuver around traffic.
Spacious Cabin: The Fortwo appears small on the outside, its interior reveals a surprisingly spacious cabin.
Safety Features: Safety features consist of stability and traction control, antilock braking, hill-start assist, and of course eight standard airbags.
Enjoy the Smart Car Fortwo with Sixt
The Smart Fortwo makes a fun, economical and reliable option for car rental. Browse our website to find the best price on a rent a car for your travels and the availability of your selected model in your chosen location. Be sure to check out our latest deals and discounts. Please note, Sixt cannot guarantee you to receive a Smart fortwo, however you will be able to get an equivalent vehicle in the same chosen category.