Sixt car rental: Nissan Pathfinder
Nissan Pathfinders are famed for their practicality and comfort and make it a great car rental choice for larger parties. Designed for versatility, a Nissan Pathfinder rent car provides just the right elements to be suitable for all types of travel.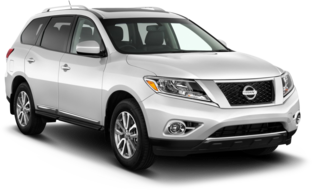 Doors
4
Seats
5
Transmission
Automatic
Air Conditioning
Yes
Minimum Age
25 Years
Luggage
2 Suitcases /
2 Bags
Enjoy a Nissan Pathfinder Car Rental from Sixt
A Pathfinder is a great option for car rental as it can handle just about any situation with comfort and ease. Here are some of the highlights of a Nissan Pathfinder rent a car:
Plenty of space: Whether traveling with a family or friends, you can fit everyone and everything comfortably within the 7 seats provided by the Pathfinder. The third row reclines for an enjoyable ride for passengers or can be folded down to make create even more cargo room.
Flexibility: The Pathfinder has the option to switch between two and four wheel drive, or it can be left on its auto setting.
Safety: Pathfinders provide the option for a tire pressure monitoring system, smart auto headlights, and a front and rear camera and monitor for parking assistance with a sonar alert system.
Excellence: The Nissan Pathfinder has won awards in many categories. It has been praised as being the best Family SUV, Best Interior, Best Crossover and Large Utility Vehicle, among other accolades.
Renting a Nissan Pathfinder with Sixt
When you want to rent a crossover, performance vehicle with all the extras without the extra cost, consider a Nissan Pathfinder rental with Sixt. You can make your reservation easily online or by contacting our team directly. Please note, Sixt cannot guarantee you to receive a Nissan Pathfinder, however you will be able to get an equivalent vehicle in the same chosen category.