Nissan Armada Car Rental with Sixt
The Nissan Armada is a high performance SUV and makes for an ideal car rental for both short and long distance travel. Equally adept at handling busy city streets and open motorways, a Nissan Aramada rent a car from Sixt is a great choice when traveling as a group or with extra gear.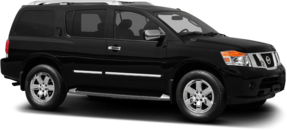 Doors
4
Seats
7
Transmission
Automatic
Air Conditioning
Yes
Minimum Age
25 Years
Luggage
3 Suitcases /
3 Bags
What to Expect with a Nissan Armada Car Rental
The Nissan Armada offers premium style and comforts. Here are just some of the benefits and advantages of a Nissan Armada car rental:
Premium Comfort: The Armada offers enough room to seat up to 8 adults comfortably and still have plenty of cargo space.
Maximum Power: Equipped with a 32 valve, 5.6 liter V8 engine, the Armada demands both attention and control of the road. Its 317 horsepower and towing capacity up to 9,000 lbs make it a powerful SUV.
Rugged Design: The Armada allows you to go anywhere you want with whatever you want. Equipped with a standard roof rack, the Armada can haul anything from kayaks to snowboards. Designed with durability and versatility in mind you can undertake just about anything with an Armada.
Renting a Nissan Armada with Sixt
A Nissan Armada car rental is a top quality, reliable option for a variety of group travel. Browse our website to find the best deals and discounts available for your travels. Please note, Sixt cannot guarantee you to receive a Nissan Armada, however you will be able to get an equivalent vehicle in the same car category.