Nissan Altima Car Rental with Sixt
The Nissan Altima makes for a sleek and powerful car rental option from Sixt. Offering luxurious comforts, top safety features and fuel efficiency, the Nissan Altima is an ideal rent a car for a range of travel.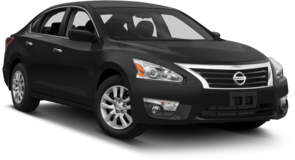 Doors
4
Seats
5
Transmission
Automatic
Air Conditioning
Yes
Minimum Age
21 Years
Luggage
2 Suitcases /
2 Bags
Benefits of Nissan Altima Car Rental from Sixt
Whether taking care of business or taking a vacation a Nissan Altima car rental can accommodate. Here are just a few of its top features:
Luxury: The Nissan Altima takes the sedan to a new level, offering a more deluxe model for drivers who want practicality mixed with style.
Performance: This car was designed with the traveler in mind with fast acceleration balanced with high fuel efficiency. Equipped with the most up to date safety features, this car ensures a safe and smooth ride.
Sit back and relax: The Nissan Altima features a plush interior with maximum leg and head room. The trunk also offers a plenty of cargo space for your belongings with you. You can also listen to the music you like off your MP3 player or iPod with auxiliary input, USB, and Bluetooth connectivity.
Renting a Nissan Altima with Sixt
Altima car rental from Sixt. You can book easily online or directly with one of our team members. Please note, however, Sixt cannot guarantee you to receive for a Nissan Altima, however you  are guaranteed to get an equivalent vehicle in the same chosen category.