BMW MINI Paceman Rental with Sixt
Sixt offers an unparalleled car rental experience with the BMW MINI Paceman. Unlike other rental cars, this sporty and classy compact car offers exceptional luxury, impressive handling and money saving fuel efficiency.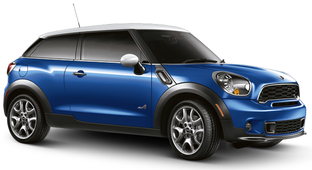 Doors
4
Seats
4
Transmission
Automatic
Air Conditioning
Yes
Minimum Age
21 Years
Luggage
1 Suitcases /
2 Bags
Advantages of a MINI Paceman Car Rental
The MINI Paceman from BMW is an ideal choice for a luxurious yet affordable car rental experience. Along with clearly defined style and class, the MINI Pacemen offers exceptional features. Here are just some of its highlights:
Quality Handling: Unlike other compact rental cars, the BMW MINI Pacemen feature a 181 horsepower, 1.6-liter engine.
Efficiency: With an average 434 miles per gallon on the highway, you'll have the freedom to zoom around town without constantly checking your fuel gauge, or your bank account.
Storage Space: With 38.1 cubic feet of cargo space, the storage capacity of this MINI model also set is apart from others in its class.
Entertainment Options: Enjoy your favorite songs in stunning clarity thanks to the six speaker premium sound system. With high definition radio, Bluetooth connectivity and a CD player, your entertainment options are practically limitless.
Safety Features: MINI Cooper's are renowned for their compact size and professional-grade handling. Safety features such as first and second row airbags, side impact beams, dual stage driver and passenger airbags, as well as driveline traction control, the BMW MINI Paceman acts like a strong cocoon during unfortunate collisions.
Renting a BMW MINI Paceman with Sixt
Sixt offers its premium car rental services in over 4,000 locations worldwide. Find the best price on a car rental for your travels by browsing our deals and discounts on our website. Please be aware that we cannot guarantee your reservation for a specific car model, only for the car category.