Experience a MINI Countryman Rental
When looking for a compact rent a car that doesn't lack on power, choose a MINI Countryman. Keeping true to its racing roots, the MINI Countryman makes for a powerful and fun car rental and still offers plenty of cargo space.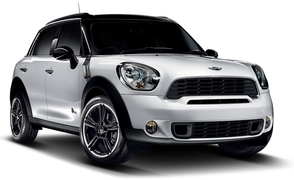 Doors
4
Seats
4
Transmission
Automatic
Air Conditioning
Yes
Minimum Age
21 Years
Luggage
1 Suitcases /
1 Bags
Benefits of MINI Countryman Car Rental from Sixt
The four-door MINI Countryman, the largest of the MINI models, offers spaciousness without bulk. Available for car rental in both two and four wheel drive, means you can plan for just about any kind of adventure. Here are a few of its highlights:
MINI in Name, Not in Size: For those who travel with lots of luggage in tow, no longer will you have to sacrifice storage for style. With 4 doors and 5 seats you can comfortably bring along family or friends. Throw your luggage into the trunk, pack the bicycles on top of the roof rack, and test just how high performance this MINI truly is.
Be Sporty: With all-wheel drive, the Countryman has a driving Sport mode so you can really experience what responsiveness and tight steering feels like. With its classic bulldog stance the MINI maximizes balance and a low center of gravity, so you really get that Formula 1 feel while driving.
Functional Where it Matters: The MINI Countryman is also equipped with fuel efficiency and numerous safety features. Drive reassured with its sturdy frame and seven airbags.
Renting a MINI Countryman with Sixt
Sixt can help you save on car rental with its continual deals and discounts. Browse our website to find what is available in your chosen location and search your options for the best price. You can also enhance your rental experience with the addition of useful upgrades or add-ons. Find out more below.