Mercedes Sprinter Rental with Sixt
With seating for up to two people and an extra large cargo area to store everything from furniture to moving boxes, the Mercedes Sprinter van rental is perfect for all your moving and transportation needs. With a brand so closely associated with luxury as Mercedes-Benz, you can rest assured your cargo will make it to its destination safely.

Check out all our Mercedes-Benz Sprinter van rental options below to find the perfect fit for your transportation needs.
11 ft. Truck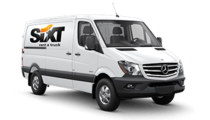 14 ft. Truck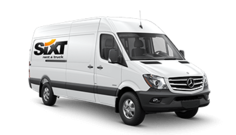 16 ft. Truck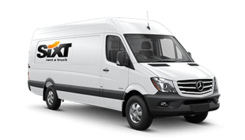 The Sprinter Van Rental from Mercedes-Benz
BlueEFFICIENCY: This Mercedes technology represents all the fuel-saving and emission-reducing technologies found in the Sprinter Van's standard 4-cylinder turbo diesel engine.
Safety Features: Mercedes-Benz puts your safety first as the only van in its segment that features standard Load-Adaptive ESP, the Sprinter Van helps you perform your job with greater safety and less worry.
Blind Spot Assistance: Mercedes recognized that driving a large van can be tough, so they included four radar sensors to help monitor the surroundings of the Sprinter Van.
Ultimate Capacity: With a max holding weight of 8,500 pounds, towing weight of 5,000 pounds and 319 cubic feet of cargo volume, you will have no problem with transporting anything with your Mercedes Sprinter cargo van rental.
Book your Mercedes Sprinter Van Rental from Sixt
For all your Mercedes van rental needs, Sixt has you covered. Your Sprinter rental can be upgraded with some of our most popular add-ons including a vast array of insurance options and the possibility to add an additional driver. Rent a Sprinter van today and get the job done!