Rent a Mercedes-Benz GL-Class from Sixt
For a powerful SUV that doesn't withhold on luxury and style, choose the Mercedes-Benz GL-Class from Sixt rent a car. The Mercedes GL-Class series of SUVs come with a wide range of premium features that make them a dream to drive. Combining grace with practicality and power, this car rental will be sure to make any vacation or cross-country road trip thrilling and unforgettable.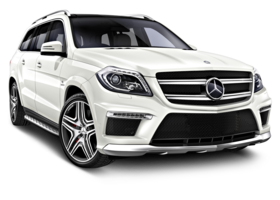 Doors
4
Seats
5
Transmission
Automatic
Air Conditioning
Yes
Minimum Age
25 Years
Luggage
4 Suitcases /
4 Bags
Experience a Mercedes-Benz GL-Class Rental
Great Handling: The Mercedes-Benz GL-Class vehicles come with the 4-Wheel Electric Traction System, ensuring that the power from the engine is always evenly distributed to all four tires of the vehicle for unbeatable traction.
Plenty of Space: The GL-Class has seating for up to seven or the rear seats can be folded down to provide room for cargo.
Towing Power: With the GL-Class, there is no problem harnessing the 7,500 pounds of towing power with the easy 7-speed automatic transmission.
Attractive Features: It is a delight to open up the large sun roof on a nice day to soak up the sunshine. This rental vehicle is also very quiet, blocking out highway noise even at speeds in excess of 70 miles per hour. The seats are as comfortable as a plush sofa and the state-of-the-art entertainment system will keep all passengers content.
Feel the Thrill in a Mercedes-Benz GL-Class SUV Rental
Go on the drive of a lifetime in this luxurious, powerful rental car from Sixt. With plenty of room, everyone will feel comfortable and content no matter how far you drive. If you are searching for a trustworthy car rental company that offers top quality vehicles and charges fair prices, choose Sixt rent a car. Sixt cannot guarantee you will receive a Mercedes-Benz GL-Class SUV but you will get a similar rental car from your chosen category.