Rent a Mercedes-Benz E-Class
Mercedes-Benz has long been known as the exclusive manufacturer of high-class sedans for luxury markets, and the E-Class rental car from Sixt is no exception. In fact, "E-Class" itself stands for "Executive Class?. Enhance your next special vacation or business trip in one of these beautiful, sleek sedan rentals with Sixt.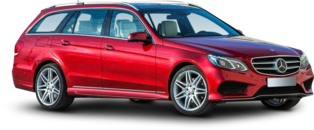 Doors
4
Seats
5
Transmission
Automatic
Air Conditioning
Yes
Minimum Age
25 Years
Luggage
2 Suitcases /
2 Bags
Mercedes E-Class Rental: Affordable Elegance
Interior Comfort: The Mercedes-Benz E-Class offered by Sixt rent a car is one of the few cars on the market that offers both heated and fully ventilated seats to increase operator comfort. When paired with personalized climate control, each passenger is happy and content on any distance of drives.
World-Class Engines: With excellent acceleration from a standstill, the Mercedes-Benz E-Class is easy to operate on highways at peak speed. Stability and traction control, refined handling, and perfect power steering make this car a maneuvering masterpiece.
Iconic Style: This Sixt car rental sedan offers excellent exterior construction that is eye-catching and refined. There is also dent-free panels and high-end metallic parts, giving it a shine that captures attention from all angles.
Safety Features: State-of-the-art sensory airbags keep everyone well protected in case of an untimely incident. You can also be kept at ease with the E-Class security system, panic alarm and brake assist.
An Impressive Mercedes-Benz Model from Sixt Rent a Car
Sixt is proud to offer the Mercedes-Benz E-Class, which offers you excellent luxury features, lavish interior and superior handling. Those who need a full-size sedan can count on Sixt to offer the E-Class and many other models that are similar to this Mercedes-Benz. Sixt cannot guarantee you to receive a Mercedes-Benz E-Class, however you will be able to get an equivalent vehicle in the same chosen category.