Mercedes-Benz C-Class Rental
For a Sixt car rental that goes beyond the ordinary, the Mercedes-Benz C-Class is a natural choice. This Mercedes is known for its entry-level luxury and more compact size. Don't be fooled, the C-Class is still ready to deliver an incomparable ride and thrilling performance during every moment of a Sixt car rental.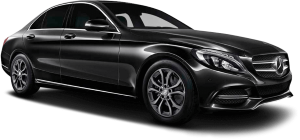 Doors
4
Seats
5
Transmission
Automatic
Air Conditioning
Yes
Minimum Age
25 Years
Luggage
2 Suitcases /
2 Bags
Feel the Quality of a Mercedes C-Class Rental
Powerful Performance: The power of German engineering is obvious in the Mercedes-Benz C-Class featuring a powerful engine that produces more than 200 horsepower for driving of all occasions.
Refined Interiors: Although it is the smallest Mercedes sedan, the C-Class is well appointed with leather interiors and soft-touch dashboard materials to keep each passenger in a unique state of comfort.
Overall Safety: One of the safest sedans on the market, the Mercedes-Benz C-Class features anti-lock disc brakes on all four wheels and front and side airbags. It is no wonder the C-Class is consistently at the top of all safety rankings.
Special Features: With a central infotainment and navigation system and refined climate control, the Mercedes-Benz C-Class car rental features entertainment, efficiency and comfort.
360° View: Mercedes-Benz C-Class Interior
Let Sixt Take Care of Comfort, Control and Safety
With cars like the Mercedes-Benz C-Class offering class-leading power, safety, and interior refinements, drivers will be able to enjoy every moment of their rental. It's a commitment to peace of mind and overall luxury that can only be offered by Mercedes-Benz's smallest and most universally adored sedan. Sixt cannot guarantee you to receive a Mercedes-Benz C-Class, however you will be able to get an equivalent vehicle in the same chosen category.