Rent a Mazda2 with Sixt
Enjoy the ride with a Mazda2 car rental from Sixt. This charming subcompact is a great rent a car option when you want to feel the road and have fun while driving. This quirky and stylish compact car is perfect for smaller families and groups looking for a powerful, reliable and safe rental vehicle on their next trip. Due to its economical and fuel-efficient engine, the Mazda2 delivers on performance while saving you money.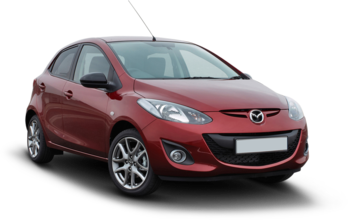 Doors
4
Seats
5
Transmission
Automatic
Air Conditioning
Yes
Minimum Age
25 Years
Luggage
2 Suitcases /
2 Bags
Advantages of a Mazda2 Car Rental
The Mazda2 is not your typical subcompact car rental. Its unique style is just one the way this car stands out. Here are some of its benefits:
Design: The look of the Mazda2 has function and flash. Its wide headlights make night driving easier and its aerodynamic lines improve fuel efficiency. Its size makes it easy to maneuver in the city and fit into parking spaces.
Interior: The interior features a contemporary dash and its carefully designed cabin also reduces road noise. When needing more cargo space the rear hatch can be expanded by folding down the 60/40 split rear seat.
Performance: The Mazda2 beats rivals in terms of horsepower. Its refined handling allows it to maintain speed even on curves and Vehicle Stability Control ensures the right brake-force for every tire. Its also an economical choice with 29 mpg in city and 35 mpg on the highway.
Safety: The Mazda2 has six airbags plus active head restraints to prevent neck injuries. The collapsible steering column and foldaway pedals help protect the driver. Traction control and brake-force balancing systems also work to prevent accidents
Renting a Mazda2 with Sixt
If you like a sporty car that gives you the chance to engage with the drive, the Mazda2 is a great choice for a Sixt car rental. Browse our website to find the best price on a rent a car for your travels and its availability in your chosen location. Please note, Sixt cannot guarantee you to receive a Mazda2, however you will be able to get an equivalent vehicle in the same chosen category.